Inquest hears of shortcomings in Deepcut recruit's death probe
The investigation into the death of an Army recruit from gunshot wounds at Deepcut barracks has been hampered by inadequate initial analysis, an inquest has been told.
Private Sean Benton, 20, was found with five bullets in his chest in June 1995, shortly after he had been told he was to be discharged from the Army.
The fresh inquest into his death at Woking Coroner's Court has been told there was inadequate scene investigation, scene photographs were of poor quality and did not allow for detailed assessment of specific gunshot wounds.
Home Office pathologist Nathaniel Cary, who produced a report in September 2011 based on the documentary evidence surrounding the case, also found there were no post-mortem photographs to assess and there was a lack of adequate post-mortem description in relation to internal and external gunshot wounds.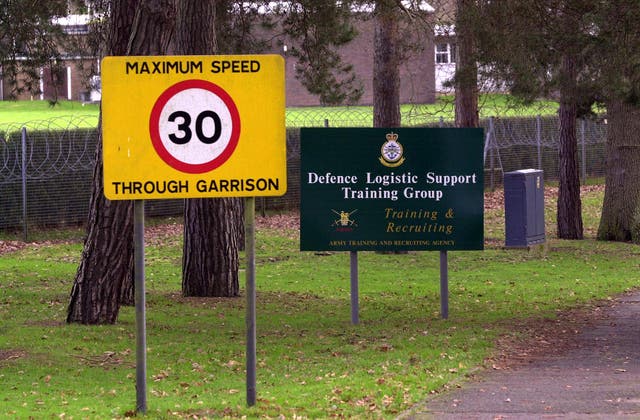 The inquest was told that BKA, the German investigators called in by Surrey Police to look into the ballistics evidence surrounding Pte Benton's death, found six shots had been fired in two bursts at close range and one of them missed.
BKA stated it would have been possible for the victim to have fired those shots given the way the injuries fell, the inquest was told.
There was "no grounds" to suggest it was not the result of self-harm, according to BKA.
The inquest was also told that a mortuary assistant washed Pte Benton's jacket which was full of blood and body tissue.
No further explanation was given about why he did this.
It was brought out to show visitors and kept in a cupboard for seven years, the court heard.
Reading from an agreed statement from Dr Cary and pathologist Professor Jack Crane, inquest counsel Bridget Dolan QC said: "We agree that the gunshot wound to the heart would have been rapidly fatal although further shots can still occur if this was part of automatic fire.
"Due to a lack of detail concerning internal findings and a lack of post-mortem photographs, it is difficult to determine the likely effect of each of the other gunshots with both rapid mobilisation and some further purposeful activity possible."
The agreed statement adds there is "nothing inconsistent with self-infliction" and the court may decide if someone else pulled the trigger.
The statement adds: "We agree that there is nothing inconsistent with infliction of the gunshot wounds by another person from a forensic pathology point of view; this is a matter for the court to determine on the basis of assessment of witness evidence."
Pte Benton's family have campaigned for years for a full investigation into his death amid allegations he suffered prolonged physical and psychological bullying.
A first hearing led to an initial inquest finding of suicide in 1995, even though no evidence was given about his experiences at Deepcut.
(function(i,s,o,g,r,a,m){i['GoogleAnalyticsObject']=r;i[r]=i[r]||function(){ (i[r].q=i[r].q||[]).push(arguments)},i[r].l=1*new Date();a=s.createElement(o), m=s.getElementsByTagName(o)[0];a.async=1;a.src=g;m.parentNode.insertBefore(a,m) })(window,document,'script','//www.google-analytics.com/analytics.js','ga'); ga('create', 'UA-72310761-1', 'auto', {'name': 'pacontentapi'}); ga('pacontentapi.set', 'referrer', location.origin); ga('pacontentapi.set', 'dimension1', 'By Helen William, Press Association reporter'); ga('pacontentapi.set', 'dimension2', '2e09a560-d225-48c2-ac5c-c414723a6214'); ga('pacontentapi.set', 'dimension3', 'paservice:news,paservice:news:uk'); ga('pacontentapi.set', 'dimension6', 'story'); ga('pacontentapi.set', 'dimension7', 'composite'); ga('pacontentapi.set', 'dimension8', null); ga('pacontentapi.set', 'dimension9', null); ga('pacontentapi.send', 'pageview', { 'location': location.href, 'page': (location.pathname + location.search + location.hash), 'title': 'Inquest hears of shortcomings in Deepcut recruit\u2019s death probe'});
Read Full Story