Theresa May welcomes EU exemption from US steel tariffs
Prime Minister Theresa May has welcomed the 11th-hour suspension of threatened US tariffs on British steel imports and said work must start now on making it permanent.
Mrs May dropped plans to fly home from the European Council summit in Brussels overnight in order to stay on for discussions on the development with fellow EU leaders.
The White House announced a temporary exemption for the EU and six other  countries - Canada, Mexico, Australia, Argentina, Brazil, South Korea - from tariffs of 25% on steel and 10% on aluminium which came into effect on Friday.
Mrs May said: "We have been working very hard to secure an EU-wide exemption to the steel tariffs that the Americans have announced.
"I am pleased that they have announced a temporary exemption for the EU. What I will be working with my fellow EU leaders today on is to see how we can secure a permanent exemption for the EU from these steel tariffs.
"We will be talking about what the next steps might be. I have stayed on to talk about these next steps because the steel industry is hugely important to the UK and the British Government  and I want to ensure that steel workers and their jobs are properly safeguarded."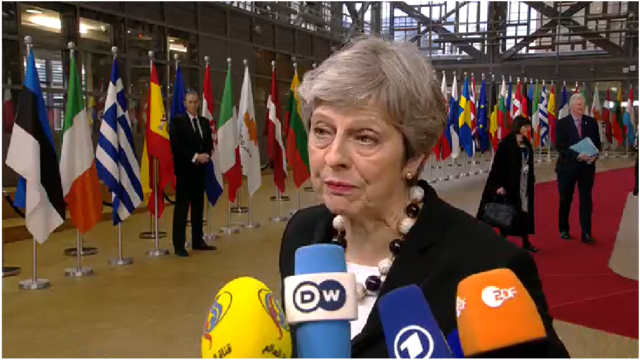 The temporary exemption lasting until May 1 was announced as President Donald Trump signed an order for £43 billion of tariffs on imports from China in response to the challenge posed by cheap overseas metals to the US industry.
The White House said other countries not included in the exemption list are welcome to open discussions with the US "based on a shared commitment to addressing global excess steel and aluminium capacity and production".
China threatened retaliatory action, releasing a list, worth more than £2 billion annually, of US goods including pork, apples and steel pipe that could face levies in return.
China's Commerce Ministry said the higher US tariffs "seriously undermine" the global trading system and appealed for dialogue with Washington to resolve the situation as soon as possible.
The imposition of tariffs, which were announced by President Trump earlier this year, was greeted with consternation on the markets, with shares tumbling on Wall Street and in Asia.
But the British steel industry expressed relief.
UK Steel director Gareth Stace said: "For the last few weeks the UK steel sector has held on to the hope that an exemption could be secured before tomorrow's deadline and today we have finally been given cause for optimism.
"The announcement that the EU will be given a temporary exemption will be greeted with an enormous sigh of relief from the sector and it now provides us with the breathing room to find a more permanent solution.
"Every effort must now be made by the UK and EU authorities to ensure that this happens swiftly.
"The alternative would be a severe curtailment of our ability to export to the US.
"With some 350,000 tonnes of steel sold to the US last year, 7% of our total exports, it is clear any tariffs would ultimately hit the sector hard. There is surely no reasonable justification for allowing this to happen."
Mr Stace warned the European industry will face increased competition from imports from major producing countries like Turkey and Russia, as they seek new markets for millions of tonnes of steel diverted from the US market.
"The top priority here must be for the EU Commission to swiftly introduce safeguard measures to guard against further expected import surges," he said.
"It is vital we do not leave large segments of the sector exposed and scupper the sector's fragile and nascent recovery from the crisis of recent years."
Read Full Story