Sainsbury's announces largest gender pay gap of high street banks
Sainsbury's has announced the largest gender pay gap of all high street banks who have submitted their figures to the Government.
With less than two weeks to go before the deadline for companies to publish their statistics, Sainsbury's Bank revealed a median gender pay gap of 45.3%.
The company said it is because more men hold senior positions, not because there is a wage disparity between genders who do the same job.
It added that 79.3% of senior managers and directors at the bank are male.
Steven Davis, HR Director at Sainsbury's Bank, said: "At Sainsbury's Bank, all colleagues are paid according to their role.

"Our gender pay gap figures are determined by our structure which is unique within our sector. We directly employ all of our colleagues working in Travel Money bureaux in our stores. These colleagues are paid an hourly rate and the majority of them are women, many of whom choose to work part time.

"Additionally, most of our senior management roles are held by men. We have set ourselves the target of appointing women to 30% of senior management roles by 2020."
None of the high street banks who have reported their figures so far have no gender gap, or pay women more than men on average.
Marks & Spencer has the lowest gender pay gap of the banks at 2%, whereas Lloyds Bank has the second highest after Sainsbury's at 42.7%.
Lloyds Banking Group as a whole has a slightly lower figure of 32.8%.
HSBC, Santander and the Royal Bank of Scotland all pay women more than a quarter less than men on average.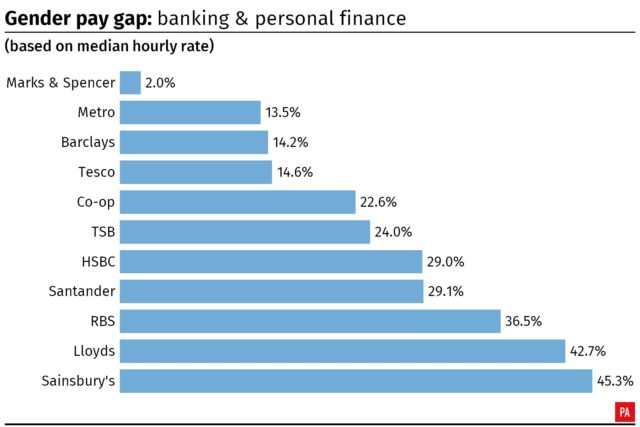 By April 4 companies and public bodies with 250 employees or more are required to have submitted their median and mean gender pay gap figures to the Government.
The national median gender pay gap is 18.4%.
An estimated 9,000 employers are expected to have to submit such data, with those who miss the deadline potentially facing legal action.
From high to low, here is a list of the gender pay gaps revealed by each high street bank:
- Sainsbury's Bank - 45.3%
- Lloyds Bank - 42.7%
- The Royal Bank of Scotland - 36.5%
- Santander UK - 29.1%
- HSBC Bank - 29%
- TSB Bank - 24%
- Co-operative Bank - 22.6%
- Tesco Personal Finance - 14.6%
- Barclays Bank UK - 14.2 %
- Metro Bank - 13.5%
- Marks & Spencer Financial Services - 2%
Read Full Story