Rail workers vote for more strikes in dispute over guards
Workers at two of the train companies embroiled in bitter disputes over the role of guards have voted overwhelmingly to continue with industrial action.
Members of the Rail, Maritime and Transport union at South Western Railway (SWR) and Greater Anglia backed a renewal of a mandate for strikes and other forms of action.
The vote was over 80% in favour at Greater Anglia on a turnout of more than 80%, with a yes vote of 73% on SWR on a 63% turnout.
The union had to hold a fresh ballot under new laws on industrial action.
RMT general secretary Mick Cash said: "RMT has been forced under the latest wave of Tory anti-union laws to re-ballot in the rail safety disputes on both Greater Anglia and South Western Railway and once again our members at both companies have stood united and solid and have renewed the mandate to carry on the fight to put public safety before private profit.
"Both Greater Anglia and South Western Railway have opted to play for time over the past six months rather than acting responsibly and getting round the table with the union to work out a solution to these separate disputes that puts safety and the guard guarantee centre stage.
"That is the package we have successfully negotiated in both Wales and Scotland and it defies belief that we are being denied the same positive outcome on these English franchises.
"Now that the staff have spoken the ball is in the court of both Greater Anglia and South Western Railway and we expect a swift and positive response to the union's call for genuine and meaningful talks to commence immediately."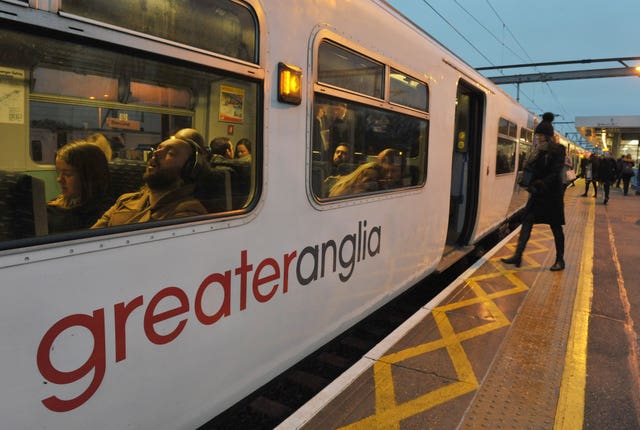 Similar disputes are also affecting Southern Railway, Merseyrail and Arriva Rail North, with all the companies hit by waves of strikes stretching back almost two years.
The next bout of action will over the Easter weekend when RMT members on SWR will refuse to work rest days.
Richard Dean, Greater Anglia Train service delivery director, said: "We are disappointed that our conductors have voted for further industrial action, although it should be noted that the number in favour of strikes is smaller than before.
"We have had some very constructive talks with RMT union officials and we still hope we can resolve this issue by talking.
"Our position remains the same. We highly value our conductors, we're keeping them on our trains but we want them to concentrate on customer service rather than opening and closing doors."
The company said it would continue to run a full service during any proposed strike action using stand-in conductors.
It said they have been trained to the same standards as the usual conductors for the routes they operate.
Read Full Story