Brexit talks hindered by Westminster's 'lack of knowledge' about devolution
A lack of "detailed knowledge" about devolution within Whitehall has hindered crucial talks between the Scottish and UK governments over key Brexit legislation, MSPs have been told.
Scottish Brexit Minister Mike Russell said he had encountered a "lack of detailed knowledge of devolution in some places within the UK Government and its officials".
He spoke out as he updated MSPs on the Scottish Parliament's Europe Committee about the latest round of talks between Edinburgh, Cardiff and London in a bid to break the stalemate over the European Union (Withdrawal) Bill.
Prime Minister Theresa May met Nicola Sturgeon and Welsh counterpart Carwyn Jones in Downing Street on Wednesday - with the SNP leader saying afterwards the differences between the governments were "not insignificant but neither are they insurmountable".
She also warned there was now "real urgency" to reach a deal.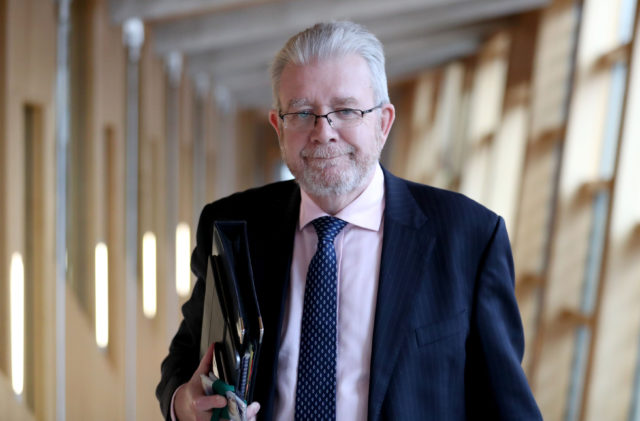 Mr Russell was due to be in those talks, but had to stay in Holyrood for marathon committee meetings scrutinising the Scottish Government's own Brexit continuity bill.
The Scottish and Welsh administrations have been clear they can not give formal consent to the UK legislation as it currently stands, deeming it to be a Westminster "power grab", with both bringing forward their own alternative to the legislation.
Mr Russell said talks between the different administrations had been "bedevilled" by the issue of consent, with both Scotland and Wales saying they must agree if powers due to go to the devolved assemblies post-Brexit should first go to Westminster for UK wide frameworks to be drawn up.
"If there is an intention by the UK Government to seek the consent of the legislatures... then agreement can be found," Mr Russell said.
"If there is no willingness to do that then agreement can't be found and that is where we find ourselves."
He went on to say "many fine minds in the civil service on both sides of the border have been devoted to this issue of finessing the issue" in a bid to broker a deal.
He added: "By finesse we do not mean fudge, there can not be a fudge of this."
He insisted the Scottish Government understood the concerns of Westminster that the devolved administrations may act in a way UK ministers deem "unreasonable" - but added the Scotland Act had always allowed for the UK Parliament to override Holyrood.
Mr Russell said: "A lack of knowledge - and I don't say that critically - I just say a lack of knowledge of the devolution settlement and the particular fact that they do have a power to stop things happening, or to reverse decisions of this place which exists within the Scotland Act.
"I don't say that with any happiness, that's not what I want to happen, but that is the reality.
"If the issue is, as I believe it is, that they are afraid that we will behave in an irrational manner as far as we can see it, or in a manner contrary to what they believe to be the United Kingdom's interests to put it more positively, then they want the ability of stop us doing so.
"They have that power, the Scotland Act gives them that power. So why would they want another power so to do?
"It took a long time for that issue to be understood in London that that exists."
Read Full Story