Brave police dog to receive 'George Cross for animals'
A police dog who protected his handler after he was stabbed with a 10-inch knife will be honoured with the George Cross for animals for his bravery.
Police Dog Finn, a German Shepherd, underwent emergency surgery for injuries sustained while protecting his handler, Pc Dave Wardell, during a chase in Stevenage on October 5 2016.
PD Finn was stabbed twice with a hunting knife after grabbing the leg of an armed suspect who was attempting to jump over a fence.
The assailant also stabbed Pc Wardell in the hand but was prevented from landing a fatal blow thanks to Finn who pulled him back until back up arrived.
A 16-year-old boy from London, who cannot be named for legal reasons, was found guilty of stabbing Finn and wounding Pc Wardell last year.
Pc Wardell said: "Finn's determination, even after he'd been seriously hurt, was absolutely faultless.
"He definitely saved my life that night and stopped an armed criminal from posing a threat to other officers or the public.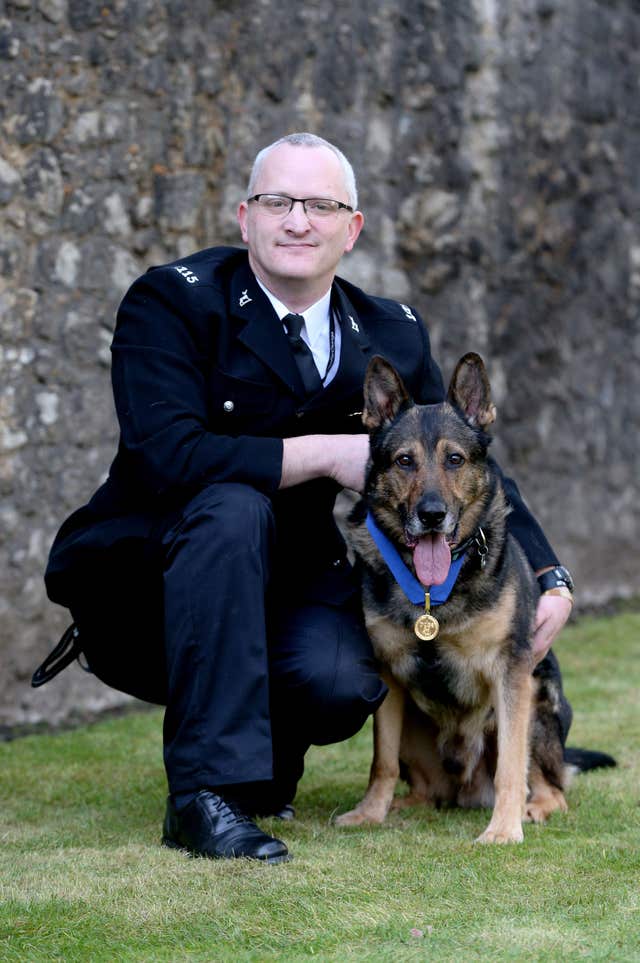 "I am bursting with pride that Finn is receiving this award, he is a true gem and embodies everything that is special about police dogs in this country.
"He is my best friend and I owe him my life."
The incident inspired the #Finnslaw campaign that seeks to introduce laws giving greater protection to service animals.
Finn, now retired from service, will be awarded with the Gold Medal from the animal welfare charity, the PDSA, at a presentation in May.
Jan McLoughlin, PDSA's director general, said: "Finn displayed outstanding devotion that night, both to his duties and to his handler.
"For his actions, Finn is an extremely worthy recipient of the PDSA Gold Medal."
Read Full Story