M1 death crash trial: Full justice has not been served, say family
The family of a father killed when a minibus was crushed between two lorries do not believe "full justice" has been served after one of the motorists was cleared of dangerous driving.
Eight people died in the early morning crash on the M1 when a drink driver without a professional licence fell asleep and stopped his lorry in the slow lane, before another ploughed into the minibus while in cruise control and on a hands free call.
The victim's family also called for a rethink on the law around mobile phone calls while driving following the crash, which also left four passengers seriously injured.
Graphic footage released by police from the scene showed Ryszard Masierak's lorry parked up on the road as other vehicles passed by, before the deadly collision on the August bank holiday weekend last year.
The passengers had been en route to Disneyland when driver Cyriac Joseph paused with his hazard lights on, waiting for the chance to go around Masierak's lorry.
Another lorry, driven by David Wagstaff, came behind the minibus at 56mph and crushed it, forcing it into and under Masierak's vehicle.
Masierak should not have been driving, having had his professional licence revoked, and was likely twice the legal limit for alcohol, police said.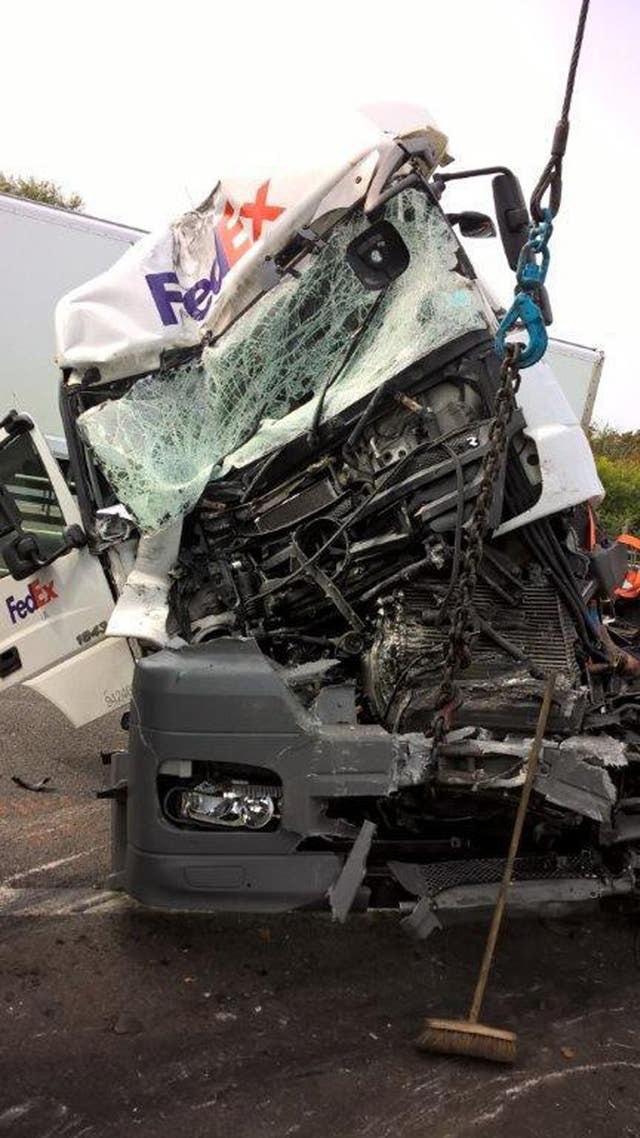 Wagstaff would have had the obstruction ahead in his sight for nine seconds but did not brake or try to turn the wheel before the crash at around 3am on August 26.
He admitted causing the eight deaths as well as serious injury to four others by careless driving, but was cleared at Reading Crown Court of dangerous driving.
Masierak was convicted of eight counts of causing death by dangerous driving and four of causing serious injury by dangerous driving.
Mr Joseph's widow Ancy was emotional as her cousin Matthew John told reporters outside the court of their pain following the crash.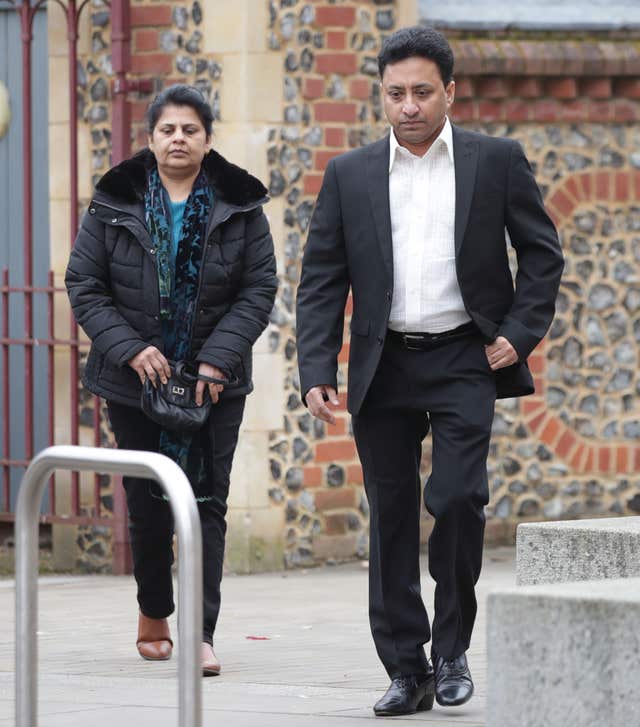 Describing Mr Jospeh as a "great father, loving husband and a very good friend", he added: "I don't think we have got full justice."
He said they were left disappointed by the verdict on Mr Wagstaff.
He added: "It's probably the time to think about the law around using mobile phones while driving.
"I think there should be monitoring cameras in the cabin to see what actually these drivers are doing.
"I hope the Highways Agency and the other appropriate authorities will do something to prevent these sort of accidents in the future."
He said lessons must be learned in the wake of such "horrible" incidents, claiming the system had failed to alert other road users to the fact Masierak had been stationary on the motorway for 12 minutes.
Wagstaff, a HGV driver for 12 years with a clean licence until the crash, held his head in his hands after he was cleared on Wednesday.
The 54-year-old Fed Ex driver had put what happened down to a "lack of concentration".
Chief Inspector Andy Storey, from Thames Valley Police and Hampshire's Roads Policing Unit, said he hoped the convictions would serve as a deterrent to others.
Louise Attrill, from the Crown Prosecution Service, said the collision had been "entirely avoidable" and that both men had shown "flagrant disregard for the safety of other road users"
Judge Francis Sheridan praised the families of the deceased for their behaviour throughout the legal proceedings.
He said: "I pay tribute to their constant dignity in a dreadful case with very sad, tragic consequences."
Six men and two women were killed in the crash as the passengers travelled from Nottingham to London to catch a coach to Disneyland.
Mr Joseph, from Nottingham, died alongside Panneerselvam Annamalai, Rishi Ranjeev Kumar, Vivek Baskaran, Lavanyalakshmi Seetharaman, Karthikeyan Pugalur Ramasubramanian, Subramaniyan Arachelvan and Tamilmani Arachelvan, all from India.
Four other minibus passengers, including a four-year-old girl, were seriously injured in the collision on the southbound M1, near Milton Keynes.
Wagstaff, from Stoke, was released on continuing bail.
He will be sentenced alongside Masierak, a 31-year-old Polish national, of Evesham, Worcestershire, at Aylesbury Crown Court on March 23.
(function(i,s,o,g,r,a,m){i['GoogleAnalyticsObject']=r;i[r]=i[r]||function(){ (i[r].q=i[r].q||[]).push(arguments)},i[r].l=1*new Date();a=s.createElement(o), m=s.getElementsByTagName(o)[0];a.async=1;a.src=g;m.parentNode.insertBefore(a,m) })(window,document,'script','//www.google-analytics.com/analytics.js','ga'); ga('create', 'UA-72310761-1', 'auto', {'name': 'pacontentapi'}); ga('pacontentapi.set', 'referrer', location.origin); ga('pacontentapi.set', 'dimension1', 'By Aine Fox, Press Association'); ga('pacontentapi.set', 'dimension2', '1297862d-1bbc-48b0-aee3-0295576e58e3'); ga('pacontentapi.set', 'dimension3', 'paservice:news,paservice:news:uk'); ga('pacontentapi.set', 'dimension6', 'story'); ga('pacontentapi.set', 'dimension7', 'composite'); ga('pacontentapi.set', 'dimension8', null); ga('pacontentapi.set', 'dimension9', null); ga('pacontentapi.send', 'pageview', { 'location': location.href, 'page': (location.pathname + location.search + location.hash), 'title': 'M1 death crash trial: Full justice has not been served, say family'});
Read Full Story