Lower fuel costs help profits at British Airways owner IAG take off
British Airways owner IAG saw profits soar 15% in 2017 as the group benefited from a drop in fuel costs and strengthening economies in North and South America.
The company reported pre-tax profits of 2.78 billion euros (£2.45 billion) for the year to December 31, up from 2.36 billion euros (£2.08 billion) a year earlier.
That was amid a 1.8% rise in total revenues to 22.97 billion euros (£20.25 billion).
IAG reaped the benefits of a 5.4% fall in total fuel costs thanks to lower average prices including applied hedges, as well as "efficiencies" from its new fleet and "improved operational procedures".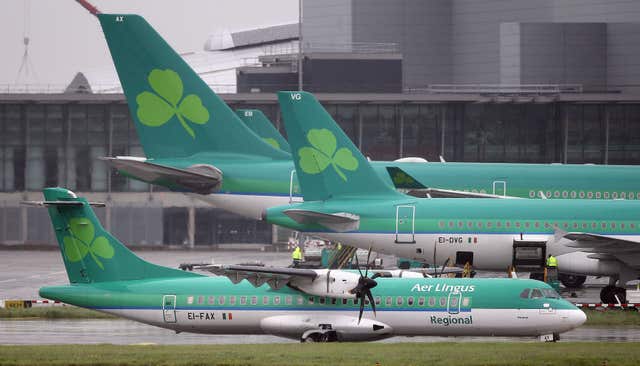 It added that the results reflected "a better macro-economic environment" with improvements in strategic markets including North America and South America.
The group said it was demonstrating its confidence in IAG's future by announcing plans for a 500 million euro (£441 million) share buyback over 2018, after proposing a final dividend of 14.5 cents per share (13p).
IAG shares fell as much as 4.9%, making it the worst performer on the FTSE 100.
George Salmon, an equity analyst at Hargreaves Lansdown, said: "Cheap fuel and stronger economic growth have helped IAG fly with tailwinds over 2017.
"However, neither of these factors are under IAG's control, so to some extent, the group's recent success has been a function of being in the right place at the right time. What investors will really crave is underlying improvements, not shots in the arm from favourable external factors.
"The boost from cheaper oil will start unwinding from here on, so it would be great to see some meaningful progress made on non-fuel operating costs, which have so far ticked up broadly in line with the extra capacity added."
Revenues from its Aer Lingus airline rose 5.3% to 1.86 billion euros (£16.4 billion euros),  while Vueling increased 2.9% to 2.12 billion euros (£1.87 billion), and Iberia grew 5.8% to 4.85 billion euros (£4.28 billion).
British Airways, meanwhile, reported a 7.2% rise in revenues to £12.27 billion.
IAG acknowledged that, despite the strong financial results, British Airways faced major challenges earlier in the year when an extensive power failure caused travel chaos for tens of thousands of passengers.
Compensation costs and baggage claims related to the disruption were bundled into its handling, catering and other operating costs, which rose 6.5% at constant currencies to 2.7 billion euros (£2.3 billion).
"Improving the customer experience remains a key focus for the airline," IAG said.
IAG chief executive Willie Walsh said: "All our airlines performed extremely well with their best-ever individual financial results, strong operational performances and commitment to customer service.
"The turnaround in Vueling, following the challenges of 2016, has been particularly outstanding."
IAG is now expecting a year-on-year increase in operating profit for 2018, with both passenger unit revenue and non-fuel unit costs expected to "improve" on a constant currency basis.
(function(i,s,o,g,r,a,m){i['GoogleAnalyticsObject']=r;i[r]=i[r]||function(){ (i[r].q=i[r].q||[]).push(arguments)},i[r].l=1*new Date();a=s.createElement(o), m=s.getElementsByTagName(o)[0];a.async=1;a.src=g;m.parentNode.insertBefore(a,m) })(window,document,'script','//www.google-analytics.com/analytics.js','ga'); ga('create', 'UA-72310761-1', 'auto', {'name': 'pacontentapi'}); ga('pacontentapi.set', 'referrer', location.origin); ga('pacontentapi.set', 'dimension1', 'By Kalyeena Makortoff, Press Association City Correspondent'); ga('pacontentapi.set', 'dimension2', '20a21bf4-fcce-4e20-8fb8-dfd1af1b0ab7'); ga('pacontentapi.set', 'dimension3', 'paservice:finance,paservice:finance:city,paservice:news,paservice:news:uk'); ga('pacontentapi.set', 'dimension6', 'story'); ga('pacontentapi.set', 'dimension7', 'composite'); ga('pacontentapi.set', 'dimension8', null); ga('pacontentapi.set', 'dimension9', null); ga('pacontentapi.send', 'pageview', { 'location': location.href, 'page': (location.pathname + location.search + location.hash), 'title': 'Lower fuel costs help profits at British Airways owner IAG take off'});
Read Full Story