Animal welfare a 'public good' which farmers could be paid for - Michael Gove
Enhancing animal welfare and maintaining beautiful landscapes are "public goods" which could receive funding after Brexit, Michael Gove will tell farmers.
Speaking at the National Farmers' Union annual conference in Birmingham, the Environment Secretary will also seek to reassure the farming sector that it is at the heart of Government thinking.
Concerns have been raised that barriers to trade and free movement could hit the agricultural sector, while deals with countries including the US could see cheap imports of produce such as chlorinated chicken and hormone-fed beef.
Mr Gove will face warnings from NFU president Meurig Raymond that farmers "must have frictionless trade with the EU" after Brexit, and food and farming standards should not slip or be undermined by bad trade deals.
The Environment Secretary, who has previously said farming subsidies should be replaced by payments for public goods after the UK quits the EU, will repeat his support for funding measures such as planting woods to stop flooding and creating wildlife habitats.
But he will also say future methods of agricultural support should preserve the heritage and culture of farming communities which maintain precious landscapes.
He will point to how the countryside of Devon and Somerset is shaped by dairy farmers and how Cumbria, Northumberland, the Pennines and Yorkshire Dales would not be "breathtakingly beautiful" and resilient without upland farmers.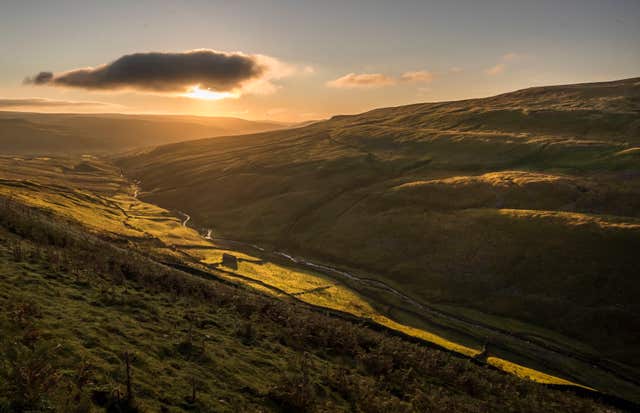 "Preserving profitable farm businesses in those communities is just as much a public good as investment in anything I know," he will say.
"I also believe investing in higher animal welfare standards and investing in improved training and education for those in agriculture and food production are clear public goods.
"We have a high baseline for animal health standards, which we will continue to enforce.
"However, we could also support industry-led initiatives to improve these standards, especially in cases where animal welfare remains at the legislative minimum."
He will suggest pilot schemes could offer payments to farmers delivering higher welfare outcomes or running trial approaches to boost animal wellbeing that are not yet standard in the industry.
And while people should not "ride or walk roughshod" through working areas, access to the countryside is a public good and the more people know about food production, the more they will support what farmers do, he will say.
Mr Gove is also expected to say: "The voices of farmers and food producers, their hopes and concerns, expectations and ambitions, and indeed obligations and duties, are now more central to Government thinking than at any time for fifty years."
He will add that Brexit will allow for the design of better policies for the UK's £110 billion food and farmer sector.
In his speech to the conference, Mr Raymond will warn everything in the sector, including the final shape of any domestic agricultural policy, will be dependent on the must-have of frictionless trade with the EU.
"And of course, those who advocate a cheap food policy, of scouring the world for low-cost food should bear in mind the price paid in traceability, in standards and in the off-shoring of environmental impact," he will say.
"British farmers are extremely proud of the standards they adhere to - most of them linked to the Red Tractor, which ensures the very best in traceability.
"We mustn't let those standards slip and be undermined by a bad trade deal during Brexit negotiations."
With a growing population, he will say it is unwise to depend on "whoever and wherever in the world to feed us", and thriving food businesses are needed to look after the countryside.
"Britain's farms need access to the EU market, we need access to a reliable workforce and we need measures to help our food and farming industry be more productive."
(function(i,s,o,g,r,a,m){i['GoogleAnalyticsObject']=r;i[r]=i[r]||function(){ (i[r].q=i[r].q||[]).push(arguments)},i[r].l=1*new Date();a=s.createElement(o), m=s.getElementsByTagName(o)[0];a.async=1;a.src=g;m.parentNode.insertBefore(a,m) })(window,document,'script','//www.google-analytics.com/analytics.js','ga'); ga('create', 'UA-72310761-1', 'auto', {'name': 'pacontentapi'}); ga('pacontentapi.set', 'referrer', location.origin); ga('pacontentapi.set', 'dimension1', 'By Emily Beament, Press Association Environment Correspondent'); ga('pacontentapi.set', 'dimension2', 'ef9bc2e6-9cc4-4d1f-afbb-b339a841ca30'); ga('pacontentapi.set', 'dimension3', 'paservice:news,paservice:news:uk'); ga('pacontentapi.set', 'dimension6', 'story'); ga('pacontentapi.set', 'dimension7', 'composite'); ga('pacontentapi.set', 'dimension8', null); ga('pacontentapi.set', 'dimension9', null); ga('pacontentapi.send', 'pageview', { 'location': location.href, 'page': (location.pathname + location.search + location.hash), 'title': 'Animal welfare a \u2018public good\u2019 which farmers could be paid for \u2013 Michael Gove'});
Read Full Story
Click here to comment