Carillion subsidiary companies put into liquidation at High Court
A judge has ordered the winding up of 10 Carillion companies at the High Court.
Mr Justice Nugee, sitting in London on Friday, heard directors of the crisis-hit construction firm concluded there was no alternative but to place the subsidiary companies into compulsory liquidation.
Lawyers for Carillion said the 10 companies, including Carillion Holdings Ltd and Carillion JM Ltd, are "cash flow insolvent".
Matthew Abraham, representing the firm's directors, told the court: "The companies have run out of cash and cannot continue trading any longer."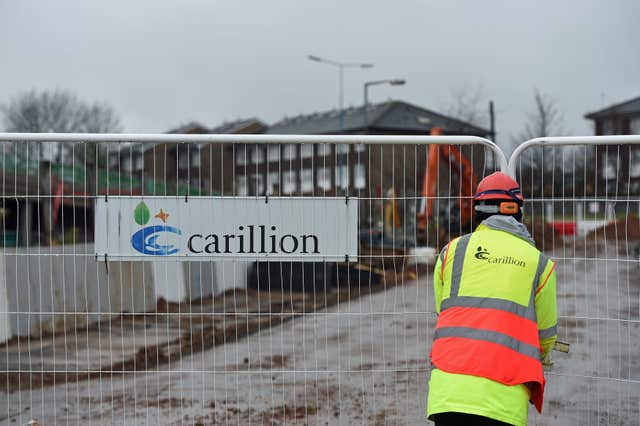 Carillion, which delivered a number of Government contracts for services including schools, hospitals and transport, collapsed last month with debts of £1.3 billion and pension liabilities of £587 million.
The group, which also owes £75 million to HMRC, announced it would be seeking compulsory liquidation after being refused an 11th-hour £20 million Government lifeline.
Mr Abraham told the court the Government classified Carillion as a "key strategic supplier" and held crisis talks in the weeks leading up to its collapse.
He said: "The group was aware, and made clear to the Government, that the consequences of a failed restructuring would go beyond those typically associated with a major corporate insolvency and would include, among other things, a material adverse impact on the public sector and very significant job losses (of approximately 44,000 staff which the group employed)."
The parent company, Carillion PLC and five subsidiaries were wound up on January 15 and the court heard a further 11 Carillion companies have been wound up since.
The court heard there are more than 100 Carillion group companies in England and Wales, plus more companies in other jurisdictions.
Mr Justice Nugee ordered that the Official Receiver should become the liquidator of the 10 companies and that partners from Pricewaterhouse Coopers be appointed as special managers.
Some of the companies were part of Carillion's pensions arm and the court heard the public Pension Protection Fund (PPF) supports their entry into liquidation.
It was previously reported the group's pension schemes are being transferred to the PPF, which means eligible staff are likely to receive just a portion of their promised pensions.
Read Full Story