Get up close and personal with Nelson's betrothal ring for Valentine's Day
A betrothal ring Vice Admiral Lord Nelson presented to his mistress on the eve of his departure to his final battle is to go on show outside its display case for Valentine's Day.
The national hero scandalised the society of the early 19th century with his affair with Emma Hamilton and just before the Battle of Trafalgar in which he lost his life, Nelson gave her the ring during an imitation marriage ceremony.
The fede gold ring, on display at Portsmouth Historic Dockyard, is one of two exchanged by the couple at the service, during which they received Holy Communion, held in Merton parish church on September 13 1805.
He shortly afterwards returned to active duty and led the British fleet to victory at Trafalgar, where he was killed on board HMS Victory on October 21.
Visitors to the Nelson Gallery at the National Museum Of The Royal Navy will be able to have a detailed look at the ring as it is on show outside its display case between 1.30pm and 2.30pm only on Valentine's Day.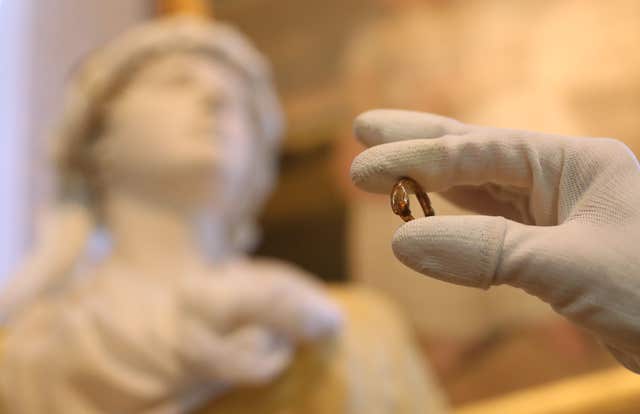 Featuring two clasped hands, the ring was inspired by a design which dates back to Roman times.
Rebecca Drummond, curator at the museum, said: "Nelson was still married to Lady Nelson, so it was a private ceremony in Merton, close to where they lived, openly, together.
"He wrote a passionate love letter to her from on board HMS Victory just before the battle.
"The ring is usually displayed behind glass so we can't think of a better way to mark Valentine's Day than by letting visitors get up close and personal to it for one day only."
Read Full Story
Click here to comment