Watchdog urged to investigate special advisers' involvement in FOI requests
A watchdog has been urged to investigate the involvement of special advisers in the handling of freedom of information (FOI) requests.
Liberal Democrat MSP Tavish Scott has written to the Scottish Information Commissioner Daren Fitzhenry requesting a probe into the office of Deputy First Minister John Swinney.
The move follows research by lecturer and journalist James McEnaney which suggested that documents were removed from an FOI release at the request of Mr Swinney and his special adviser Colin McAllister.
The Scottish Conservatives have separately called for parliamentary business minister Joe Fitzpatrick to return to Holyrood to answer claims he "misled" MSPs during a debate on the issue in June.
Asked by Mr Scott whether requests were being screened for potential political damage by special advisers, Mr Fitzpatrick told parliament they were not, insisting that special advisers were only involved in "assessing draft responses for accuracy."
Mr Scott said:  "I am writing to the Information Commissioner to ask it to urgently investigate this serious matter.
"These new documents suggest that special advisers were interfering in the content of replies to freedom of information requests in the very same week that ministers told me and Parliament they weren't.
"If information scheduled for release into the public domain was withheld solely on the basis that a minister would "prefer" it was not released, it would seriously damage public confidence in their right to information."
The commissioner has set out plans for an "intervention" to review the government's handling of FOIs after MSPs unanimously condemned it and called for an inquiry in the same debate last summer.
Nicola Sturgeon was forced to defend the government's record during First Minister's Questions at Holyrood after being pressed on the issue by Labour's Rhoda Grant.
Ms Sturgeon said: "FOI requests are handled by Scottish Government officials, they seek comments from relevant parts of the Scottish Government and consider whether Ministerial clearance should be sought.
"That's entirely appropriate because the legal duty to comply with FOI legislation lies with Scottish Ministers."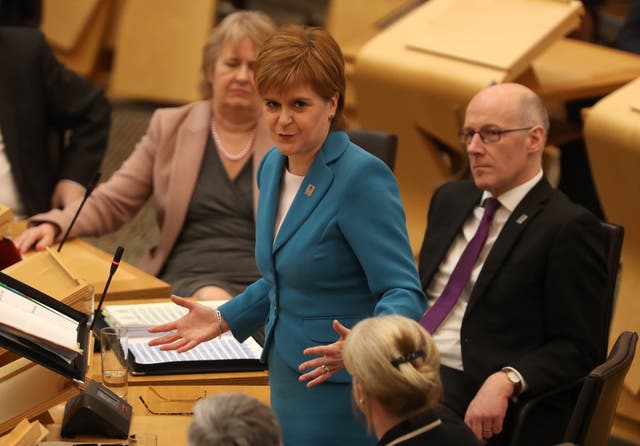 She said FOI requests are handled in line with the legislation at all times.
Ms Sturgeon's spokesman added: "It is very, very routine for ministers to have oversight of information being released by the Government.
"Special advisers are civil servants and have always been involved in the FOI process, right back to before we were in office. That has always been the case."
Read Full Story