Tories branded 'cavemen' in PMQs clash over votes at 16
Theresa May's effective deputy told Emily Thornberry to "grow up" as the pair clashed over votes at 16 during Prime Minister's Questions.
Shadow foreign secretary Ms Thornberry labelled the Conservatives and the DUP a "coalition of cavemen" for their opposition to the change, advising them to learn the lessons of 100 years ago which ultimately secured women the vote.
Cabinet Office minister David Lidington, deputising for Mrs May during her visit to China, suggested Ms Thornberry should "ween herself off the habit of watching old versions of The Flintstones".
He added the Youth Parliament, schools and other organisations should be saluted in getting children to take an interest in current affairs and then seek to vote at 18 onwards.
Mr Lidington said: "The situation we have here with the national voting age at 18 is one that is followed by 26 of the 27 other members of the European Union, by the United States, Canada, New Zealand and Australia.
"Unless she's going to denounce all of those countries as somehow inadequate to her own particular standards, then quite honestly I wish she ought to grow up and try and treat this subject with a greater degree of seriousness."
Labour's Ms Thornberry had told Mr Lidington: "What these discussions have revealed is there's no logical principled objection to votes at 16.
"That is why the Welsh and Scottish governments support it, that is why every single political party in this House supports it - except the Conservative Party and the DUP.
"Once again, joined in opposition to change. They're not the coalition of chaos, they're the coalition of cavemen."
She added: "Why doesn't the minister realise the lesson that we women taught his predecessors 100 years ago - when change is right it cannot be resisted forever, and this is a change whose time has come."
Speaker John Bercow earlier had to intervene to calm MPs after they shouted over Ms Thornberry as she attempted to ask a question.
He said: "Order! Order! I'm sure it'll not have escaped public notice, and it is rather a sad irony, that when a woman is addressing the House, quite a lot of noisy, boorish and in one case a rather stupid individual trying to shout the right honourable lady down.
"Cut it out."
A robin could be seen watching the exchanges in the Commons chamber, perched near a side gallery where visitors were based.
Ms Thornberry opened her PMQs questioning by noting: "I am the only Emily elected since 1918 and he is one of 155 Davids.
"The women behind me on these benches represent one quarter of all the women elected in the last 100 years but it's still not good enough."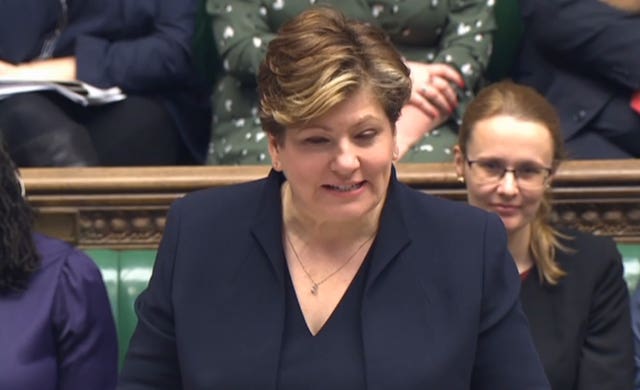 She asked Mr Lidington how female representation could be increased in the Commons, with the minister initially saying he was delighted to see her in place when "no fewer than 97 members of her frontbench have either been sacked or resigned" since Jeremy Corbyn became Labour leader.
Mr Lidington agreed that all political parties want to encourage more female candidates to come forward, noting there is more to be done and saying Labour has a "bit of catching up to do" given there have been two female Tory leaders.
Ms Thornberry replied: "I've got to say, if the party opposite is so proud of having a female leader, why are so many of them trying to get rid of her - and why has she had to run away to China to get away from them?"
Read Full Story