'Hard Brexiteers' will not hesitate to destroy Tories and PM, says Anna Soubry
A Tory former minister has launched a scathing attack on her "hard Brexiteer" colleagues, saying they would "destroy" the party and the Prime Minister to get the Brexit they wanted.
Anna Soubry said 35 of her colleagues had been "banging on about Europe" for decades in a way that was not "particularly good for their mental health".
In an impassioned Commons speech Ms Soubry called on the Government to "get a grip", park the Brexiteers and build a consensus across the House.
She said the Government's "inability to grasp Brexit and do the right thing frankly is now at a point where as I say, it has got to stop".
"There are millions and millions of people in this country who do not believe that either of the two political parties in this country represent their views," she told the Commons.
"I see it in these terms, I think there's a group of people, the hard Brexiteers, and you aren't going to change them.
"In my own party my Government believes that somehow they can manage the 35 hard Brexiteers, who've been banging on about Europe in a way at times which I think is not particularly good for their mental health for decades.
"They think they can manage them, you can't manage them. Even if you gave them what they wanted today they would complain that you hadn't done it yesterday.
"It's a battle to death as far as many of them are concerned and they will not hesitate to destroy this party, to destroy our Prime Minister to get what they want. They can see the prize and they're damned if anybody is going to get in their way.
"The Government needs to wake up to that reality."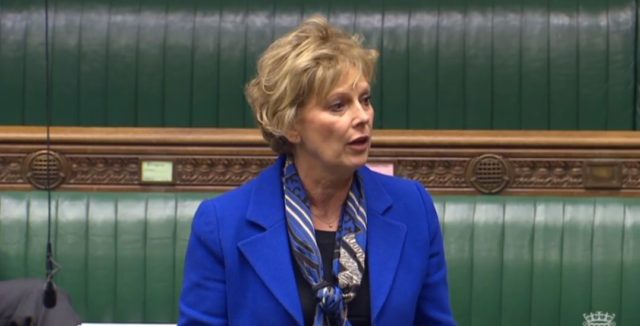 Her remarks came after Brexit minister Robin Walker confirmed the Government would release a leaked economic analysis to the Exiting the European Union Select Committee following pressure from Labour.
But Mr Walker urged the committee against making the analysis public, describing it as preliminary, "unfinished" and said there are aspects of it which "remain negotiation-sensitive and should not be put in the public domain".
He also said the document contains a "large number of caveats", adding it is "not yet anywhere near being approved" by ministers.
Labour used an arcane parliamentary procedure to attempt to force ministers to release the analysis leaked to BuzzFeed News earlier this week.
The Government intends to allow MPs and peers a chance to view a hard copy of the analysis in a "confidential reading room".
Following the debate, the motion was approved without a division.
Commons Speaker John Bercow, responding to a point of order by shadow Brexit secretary Sir Keir Starmer, said the motion was "binding" and added: "There is reference to a matter of urgency and therefore the expectation must be that the report which is the subject of the debate, will be released, published, made available to those persons mentioned in the motion as a matter of urgency."
Tory former chancellor Ken Clarke welcomed the "common-sense decision" to stop trying to withhold the documents, but accused the Government of adopting a "cult of secrecy".
Explaining the Government's decision, Mr Walker praised the "hard work of our officials" before noting: "If every time any element of their work leaks we are forced to present unfinished work to the scrutiny of Parliament, the public and press, there is a very real chance that the quality of that work would suffer."
He said it would not be conducive for the process of "open, honest" policy-making on any topic for any Government, adding: "I urge the select committee... to provide some assurances in good faith that for these reasons, and reflecting on the words of the motion which recognise the confidential nature of this document, that this preliminary analysis will not be made public."
(function(i,s,o,g,r,a,m){i['GoogleAnalyticsObject']=r;i[r]=i[r]||function(){ (i[r].q=i[r].q||[]).push(arguments)},i[r].l=1*new Date();a=s.createElement(o), m=s.getElementsByTagName(o)[0];a.async=1;a.src=g;m.parentNode.insertBefore(a,m) })(window,document,'script','//www.google-analytics.com/analytics.js','ga'); ga('create', 'UA-72310761-1', 'auto', {'name': 'pacontentapi'}); ga('pacontentapi.set', 'referrer', location.origin); ga('pacontentapi.set', 'dimension1', 'By Dan O'Donoghue and Harriet Line, Press Association Political Staff'); ga('pacontentapi.set', 'dimension2', '79fa9343-4d7e-4026-b0ea-135089b4da3c'); ga('pacontentapi.set', 'dimension3', 'paservice:news,paservice:news:uk'); ga('pacontentapi.set', 'dimension6', 'story'); ga('pacontentapi.set', 'dimension7', 'composite'); ga('pacontentapi.set', 'dimension8', null); ga('pacontentapi.set', 'dimension9', null); ga('pacontentapi.send', 'pageview', { 'location': location.href, 'page': (location.pathname + location.search + location.hash), 'title': '\u2018Hard Brexiteers\u2019 will not hesitate to destroy Tories and PM, says Anna Soubry'});
Read Full Story