Victim of 'well-spoken' burglar says she thought she would be killed
A victim of the "well-spoken" burglar has described how she feared she would be raped and killed during the raid on her home.
Susan Morris, 61, was alone working on her computer at her home in Kingswood, Surrey, on October 26 2017, when the burglar, dressed in black with a balaclava, crept up behind her before yelling at her: "I want the jewellery, take me to the safe."
She said: "It all happened incredibly quickly, it is still very vivid though in my mind.
"He came towards me and I realised he had a sawn-off shotgun and he grabbed hold of me, he was holding me the whole time of the burglary and never let go of me.
"I have actually got bruises all over my body where he had hold of me.
"All I want to do is get him out of the house as quickly as possible, give him what he wants and get him out."
She continued: "So I took him to the jewellery, gave him the jewellery, it has already been very frightening, but he actually said to me 'get on the floor'.
"I actually thought he was going to rape me, I was very, very frightened.
"I gave him a lot of jewellery from the safe and I said to him 'You have got very valuable stuff there, now get out,' but he wasn't happy with that, he asked for more jewellery, I gave him some more jewellery and he then wanted more jewellery, and this is when he really got angry and started to hit me.
"He hit me very hard on my face, not enough to knock me out, he knew exactly how hard to hit me, he hit me three times on my face, it was very painful, I couldn't believe the blows kept coming."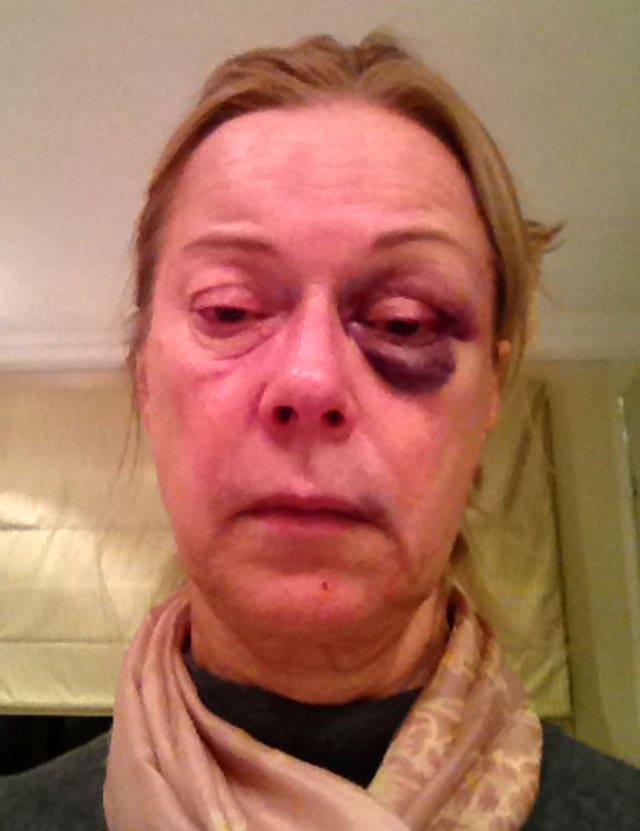 Mrs Morris suffered a broken jaw, lost a tooth and suffered bruising to her face in the assault.
The burglar then tied her hands with cable ties and dragged her by her hair to another part of the house.
She said: "He has got very angry as he is hitting me, he has also taken something out of his pocket, and I didn't know what they were.
"I saw what appeared like wire, I couldn't get one ring and bracelet off and I actually thought 'He's going to cut my finger off to get the ring and bracelet'.
"I was really frightened."
Mrs Morris said that the ordeal came to an end after she told the raider that her husband, Stephen, 61, was due home soon.
Mr Morris, a businessman, said that when he arrived his wife was hiding in a bedroom still with her wrists tied.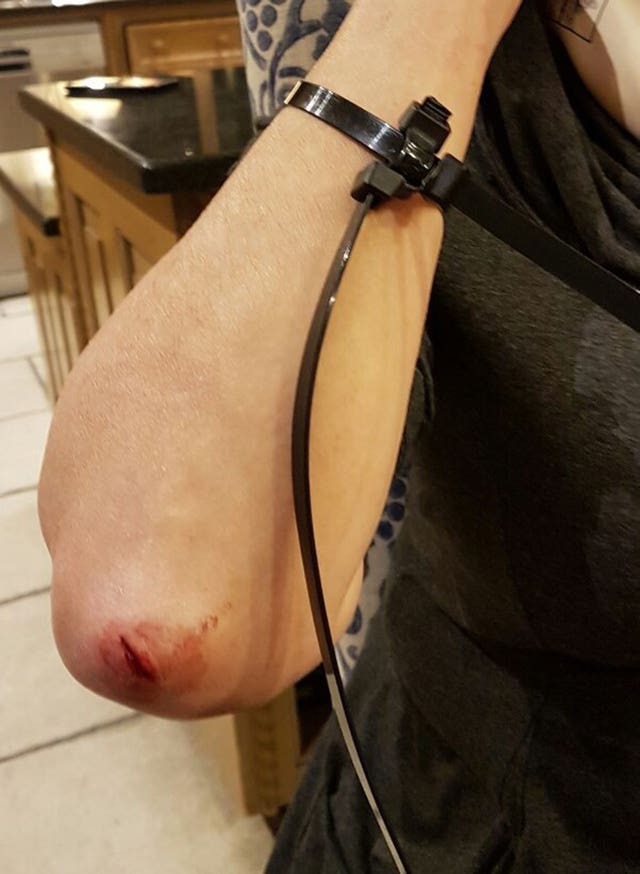 He said: "It was pretty horrid and then you start feeling guilty that you weren't there, it might have been a different outcome, it might have been worse, it might have been better."
Mr Morris said that they had since upgraded security "massively" and added: "Our lives have changed since then considerably, whether we stay where we are living I don't know.
"We don't want to make any knee-jerk reactions but it certainly affects us quite badly and our wider family."
Describing the thief Mrs Morris said: "I was asked by the police about his accent, I would say he spoke well, he had no accent, he didn't have bad grammar, he's an intelligent man, he knows how to assess the situation and carry this out."
She added: "The way he hit me, I think he has been trained on how hard to hit someone to not knock them unconscious but to frighten them.
"One point when he was hitting me, with the gun pointing at me, at that moment I did actually think, this is it, it's all over."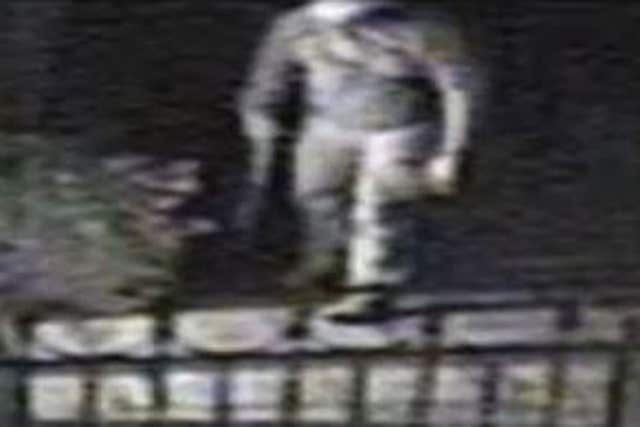 Mr Morris said that he escaped with items worth hundreds of thousands of pounds, including three rings which belonged to his mother, who died last year, and a brooch belonging to the mother of Mrs Morris, who died when she was 17.
Mrs Morris said: "It's not about what was stolen, there were some very emotional things that were stolen that will never be replaced, it's more about the effect it has had upon our lives and our relationship.
"It's very tense and we have had professional help, but I am told we will always suffer, we will improve but you can't take it away - the tension, the anxiety and fear will always be there."
Mr Morris added: "He needs to be caught so he can't do it to anybody else and ruin someone else's life, and if anyone does know anything, although he's obviously a very clever person, they really better say something because there are so many other people.
"We were lucky in a way that no-one was killed or maimed."
He added: "The only thing I would make a plea for is, politicians from either persuasion, to actually realise a lack of funding for police and emergency services is causing a crisis in the country."
Read Full Story