UK to have no say on EU decisions during Brexit transition under new guidelines
Britain will have to obey the EU rule-book in full during a transition period after Brexit while having no voice in decision-making bodies, under proposals agreed by the remaining 27 member states.
In a brief meeting in Brussels, the EU27 gave their approval to new guidelines for chief Brexit negotiator Michel Barnier, ahead of talks expected to conclude in March.
Speaking ahead of the publication of Mr Barnier's new mandate, Downing Street acknowledged that "differences" remain between the views of London and Brussels on the nature of the transition, expected to last around two years from the official date of Brexit in March 2019.
In a statement released after the Brussels meeting, Bulgarian Deputy Prime Minister Ekaterina Zaharieva said: "EU ministers have given a clear mandate to the Commission on what is the type of transition period that we envisage: full EU acquis to be applied in the UK and no participation in the EU institutions and decision-making.
"The 27 adopted the text speedily today and we hope an agreement on this with the UK can also be closed swiftly."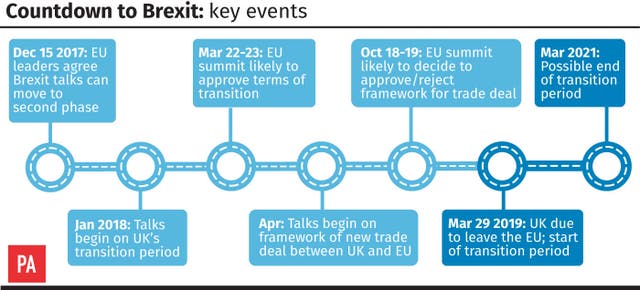 Mrs May's official spokesman told reporters that "there will naturally be some distance in the detail of our starting positions" for negotiations.
"I think there is broad agreement on the principle of an implementation period being in the interests of both sides, but on the specific detail you would expect there to be some differences," said the spokesman. "That is obviously what will be negotiated."
The spokesman gave no indication of where Number 10 expects the points of friction to arise during transition negotiations.
To the consternation of Brexiteers, the Government has already indicated it is willing to comply with most of the EU's demands to secure what ministers refer to as an "implementation period".
But Brexit Secretary David Davis indicated in a speech last week that the UK will insist on a mechanism allowing it to challenge the application of any new EU laws which come into effect during the "implementation period".
And he said that Britain wants to continue to enjoy the advantages during the transition of around 750 international agreements to which it is signed up by virtue of its EU membership.
The Prime Minister is facing increasingly vocal complaints from Leavers in her own party that she is preparing to deliver a Brexit "in name only".
And she came under attack from the Labour chairman of the Commons Exiting the EU committee, Hilary Benn, who said it was "extraordinary and unacceptable" that the Government had so far failed to spell out exactly what it wants from Brexit negotiations.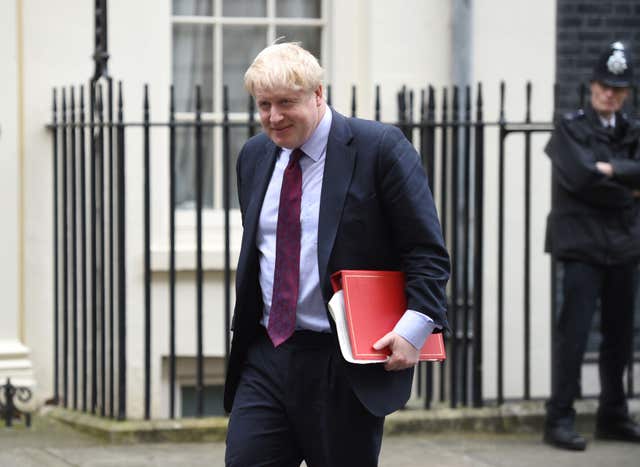 Downing Street declined to comment on reports that German Chancellor Angela Merkel had told reporters in a private meeting that whenever she asks Mrs May what she is seeking, the Prime Minister responds: "Make me an offer."
Mr Benn said: "We are now 19 months on from the referendum and neither Parliament nor the rest of EU are any the wiser about what the Government actually wants from the Brexit negotiations. Extraordinary and unacceptable."
Mrs May met her Brexit "inner circle" of senior ministers including Boris Johnson, Michael Gove and Amber Rudd at Downing Street to discuss the UK's approach to negotiations.
In a series of tweets, hardline Eurosceptic John Redwood said: "Britain has fallen over backwards to please the EU. We now need to be tough and say 'do you want a trade deal or not?'
"Many of us want new borders, fishing and agriculture policies and the reduction of taxes the EU insists on where we do not agree. To get on with improving these we do not want a two-year so-called transitional period if that means we can't take control of our laws, borders and money."
In what appeared to be an encouragement to Mrs May to emulate Sir Winston Churchill, the former cabinet minister added: "The Darkest Hour is a moving reminder of how dire the UK position was in 1940, and how brave were the people and their new Prime Minister in deciding to fight on against the odds."
International Trade Secretary Liam Fox told Bloomberg News that pro-Brexit Tories "would be foolish to do anything to destabilise the Government and the Prime Minister".
Dr Fox said Mrs May had shown the "resilience" needed to deliver Brexit, and added: "Ultimately we have to get an agreement that will please different wings of the Conservative Party but most importantly that is good for the country and delivers on what the electorate have instructed us to do."
(function(i,s,o,g,r,a,m){i['GoogleAnalyticsObject']=r;i[r]=i[r]||function(){ (i[r].q=i[r].q||[]).push(arguments)},i[r].l=1*new Date();a=s.createElement(o), m=s.getElementsByTagName(o)[0];a.async=1;a.src=g;m.parentNode.insertBefore(a,m) })(window,document,'script','//www.google-analytics.com/analytics.js','ga'); ga('create', 'UA-72310761-1', 'auto', {'name': 'pacontentapi'}); ga('pacontentapi.set', 'referrer', location.origin); ga('pacontentapi.set', 'dimension1', 'By Andrew Woodcock, Press Association Political Editor'); ga('pacontentapi.set', 'dimension2', '42ea256c-7851-419c-95df-5052b38d87e5'); ga('pacontentapi.set', 'dimension3', 'paservice:news,paservice:news:uk'); ga('pacontentapi.set', 'dimension6', 'story'); ga('pacontentapi.set', 'dimension7', 'composite'); ga('pacontentapi.set', 'dimension8', null); ga('pacontentapi.set', 'dimension9', null); ga('pacontentapi.send', 'pageview', { 'location': location.href, 'page': (location.pathname + location.search + location.hash), 'title': 'UK to have no say on EU decisions during Brexit transition under new guidelines'});
Read Full Story