Parliament needs huge big kick up the backside, says SNP MP
Parliament's culture is "arcane" and the sooner it "gets a huge big kick up the backside and a good shake up the better", according to the SNP's newest MP.
David Linden said he was determined to "move some of the furniture about a wee bit" after becoming MP for Glasgow East following Theresa May's snap election in 2017.
He argued the Palace of Westminster's refurbishment offers a chance to move out of the "Westminster bubble", with the current site turned into a museum and a new "modest" parliament developed in the Midlands.
The MP also voiced his frustration at the late sitting hours of the Commons, the knock on impact on staff and the tactic of filibustering which he claimed was "just an absolute nonsensical way of running a legislature".
The 27-year-old told the Press Association: "I've never been in an institution where it is commonplace for folk to drink very late into the evening and hurl abuse at each other in a debating environment."
He added: "I think you either settle into this place and just become part of the furniture or you try and move some of the furniture about a wee bit and I would prefer to do the latter."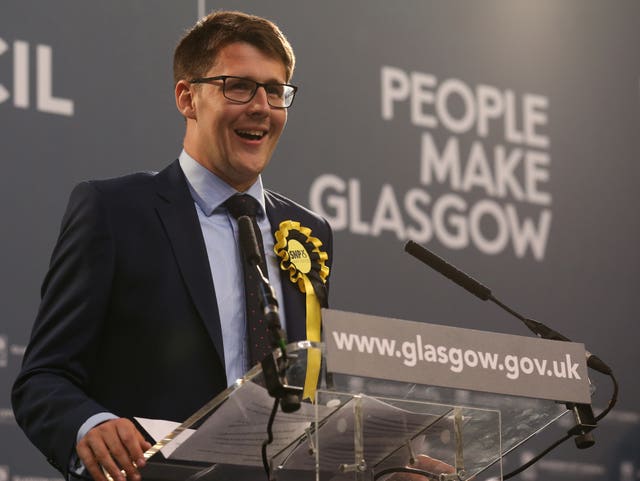 Mr Linden left school at 16 and did not go to university, later becoming a research assistant for fellow SNP MP Alison Thewliss.
On the restoration of Parliament, he said: "I would be quite happy for the place to be turned into a museum, I'd be quite happy for us to spend a lot less on building a modest new parliament somewhere in the Midlands."
Mr Linden added: "You can't have absolutely everything just concentrated in this small corner of the UK. If you're truly going to be a kingdom of equals then start spreading some of the jobs and power about a wee bit."
Responding to the "Pestminster" revelations, he said: "I very much hope that some of the stuff that we've seen reported will change, but if there's one thing that this building does not do well is adapt to change and change its culture."
Mr Linden said he viewed his MP's role as an opportunity to "stand up for folk, to be their voice" and he was undeterred about "unashamedly" raising constituency cases in the Commons.
But he was candid about finding his constituency work "emotionally quite draining" and the impact of working an average 75-80 hours per week on his family and young son who are based 300 miles away in Scotland.
He said: "I don't have any hesitation in saying that I broke down a bit (at one point last year) because my wife texted me to say that my son ran through to the bedroom on Thursday morning expecting that I would be in the bed because I got home on Wednesday night, I wasn't there and he started crying, saying where's daddy.
"Likewise he goes out to the park and he'll point up to the sky when a plane goes by and say 'oh daddy's on a plane' because he just associates that that's where daddy goes, daddy's on the plane all the time and daddy goes to London... it's rubbish."
He added: "The public quite rightly don't have a lot of sympathy for MPs, I don't think they necessarily always think of that and let's be honest MPs are paid an absolute fortune."
Mr Linden said he did not want to be in London for "very long", noting: "I grew up in the shadow of a water tower on a housing estate and I now work in the shadow of Big Ben, so I feel like I've already achieved way over and above what I expected."
(function(i,s,o,g,r,a,m){i['GoogleAnalyticsObject']=r;i[r]=i[r]||function(){ (i[r].q=i[r].q||[]).push(arguments)},i[r].l=1*new Date();a=s.createElement(o), m=s.getElementsByTagName(o)[0];a.async=1;a.src=g;m.parentNode.insertBefore(a,m) })(window,document,'script','//www.google-analytics.com/analytics.js','ga'); ga('create', 'UA-72310761-1', 'auto', {'name': 'pacontentapi'}); ga('pacontentapi.set', 'referrer', location.origin); ga('pacontentapi.set', 'dimension1', 'By Elizabeth Arnold, Press Association Political Staff'); ga('pacontentapi.set', 'dimension2', 'd4cd6cf4-498a-49cb-a61e-4245f5e55f61'); ga('pacontentapi.set', 'dimension3', 'paservice:news,paservice:news:uk'); ga('pacontentapi.set', 'dimension6', 'story'); ga('pacontentapi.set', 'dimension7', 'composite'); ga('pacontentapi.set', 'dimension8', null); ga('pacontentapi.set', 'dimension9', null); ga('pacontentapi.send', 'pageview', { 'location': location.href, 'page': (location.pathname + location.search + location.hash), 'title': 'Parliament needs huge big kick up the backside, says SNP MP'});
Read Full Story