Mother plans another expedition in memory of five-year-old daughter
A grieving mother who completed a 6,000-mile walk around the coast of Britain in memory of her five-year-old daughter is planning another expedition - and will not stop until she has raised £1 million.
Natalia Spencer, 42, is yet to decide where she will walk but wants to hit the fundraising target in memory of her daughter Elizabeth.
Last year, Ms Spencer walked around the coast of Britain - a journey that took her almost 12 months - and she will start her new trip on Mothering Sunday.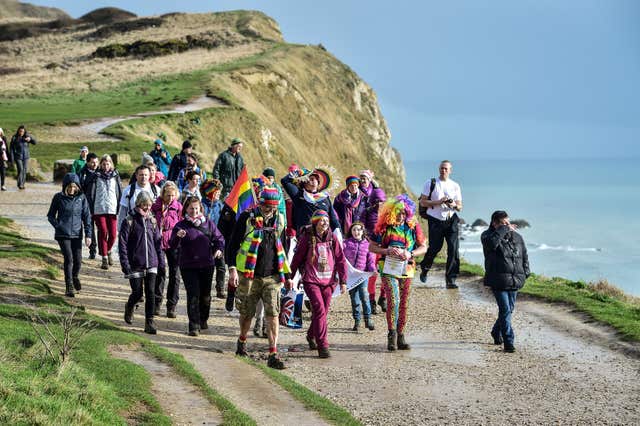 Her epic walk raised £130,000 for Bristol Children's Hospital charity, The Grand Appeal, smashing her aim of raising £100,000 and other events has taken that total to nearly £200,000.
Elizabeth became ill in November 2015 with a relatively common virus which triggered a rare autoimmune condition known as hemophagocytic lymphohistiocytosis.
This caused her body to go into septic shock, shutting down her major organs and cutting off the blood supply to her limbs. She died on December 10 after 18 days on life support.
Ukraine-born Ms Spencer now lives in the Western Isles having moved from Cheltenham, Gloucestershire.
She announced her new adventure in a post on Facebook.
"They say that grief is love. Love with no place to go. But I can add that such love is like a fire - it can destroy you or it can be your fuel," she wrote.
"I know because I am the owner of the ever burning flame that lives inside of my heart. And it is so difficult to keep it under the control. But I am trying. I am honestly trying my best.
"And I would like to let you know that once again l am determined to use my grief and my love to Elizabeth as a positive force.
"I am planning to start my next fundraising challenge on Mother's Day, March 11.
"This is so important for me to start something special and positive on this particular date. Because I am a mother without my daughter. And because l am a daughter without my mother...
"Since I still cannot do anything else apart of putting one foot in front of the other, so be it - I will keep walking.
"But this time I will keep walking until Elizabeth's Footprint raise million pounds for the critically ill children."
Ms Spencer said the trip would be in Britain and was asking supporters to suggest where she could walk.
To sponsor Ms Spencer's walk, visit www.elizabethsfootprint.com.
Read Full Story