Government sets up company to take over Carillion's work on prison facilities
Around 1,000 prison facilities workers previously employed by collapsed outsourcing firm Carillion will move across to a new company set up by the Government, the Justice Secretary announced.
David Gauke said the move would reassure staff that their jobs are secure despite Carillion's liquidation.
But shadow justice secretary Richard Burgon said the failings of the privatisation of prison maintenance contracts "extend way beyond Carillion", stressing Labour would look at bringing all of them back "in-house".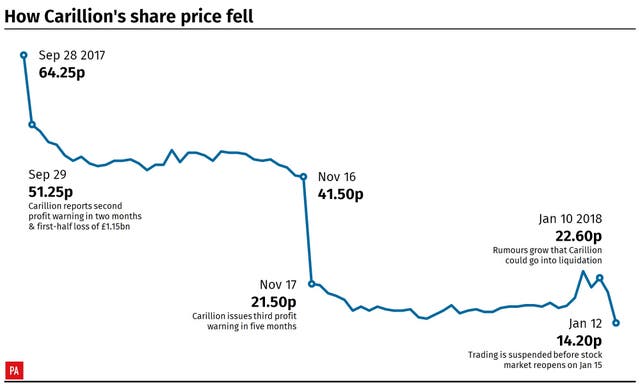 Services such as cleaning, maintenance, landscaping and building repairs previously provided by Carillion will now move to the new company, Gov Facility Services Limited.
Around 1,000 staff, including 100 contractors, will have their terms and conditions of employment preserved and will continue to provide services at 52 prisons across England.
Mr Gauke said: "We have robust contingency plans and are taking appropriate action to ensure that the prison FM (facilities management) services continue to operate normally.
"I want to reassure staff that their jobs are secure and essential to making prisons safer and more decent."
MoJ permanent secretary Richard Heaton said: "The Ministry of Justice's priority is to ensure continuity of service. We are implementing our contingency plan for the prisons facilities management contracts held by Carillion.
"This means the work that was undertaken by Carillion will move to a new government-owned company set up for this purpose. I'd like to thank all the Carillion staff who are moving across into the new company, and reassure them that their jobs are secure. The vital work they do to maintain and improve our prisons is greatly valued and appreciated."
Mr Burgon said: "This should be the final nail in the coffin for the Tories' privatisation agenda. The Government has finally seen sense and secured the jobs of 1,000 workers as Labour called for.
"The failings of the privatisation of prison maintenance contracts extend way beyond Carillion, as shown by last week's damning report into the Dickensian conditions at Liverpool prison managed by Amey.
"It is unacceptable that any private contractor continues to receive public money when it is clearly failing to complete thousands of prison maintenance jobs.
"The next Labour Government would look at bringing all prison maintenance contracts back in-house. The Government must now do the same at the earliest possible opportunity."
(function(i,s,o,g,r,a,m){i['GoogleAnalyticsObject']=r;i[r]=i[r]||function(){ (i[r].q=i[r].q||[]).push(arguments)},i[r].l=1*new Date();a=s.createElement(o), m=s.getElementsByTagName(o)[0];a.async=1;a.src=g;m.parentNode.insertBefore(a,m) })(window,document,'script','//www.google-analytics.com/analytics.js','ga'); ga('create', 'UA-72310761-1', 'auto', {'name': 'pacontentapi'}); ga('pacontentapi.set', 'referrer', location.origin); ga('pacontentapi.set', 'dimension1', 'By Arj Singh, Press Association Political Correspondent'); ga('pacontentapi.set', 'dimension2', '48953967-bd7e-4292-8522-666fb5033942'); ga('pacontentapi.set', 'dimension3', 'paservice:news,paservice:news:uk'); ga('pacontentapi.set', 'dimension6', 'story'); ga('pacontentapi.set', 'dimension7', 'composite'); ga('pacontentapi.set', 'dimension8', null); ga('pacontentapi.set', 'dimension9', null); ga('pacontentapi.send', 'pageview', { 'location': location.href, 'page': (location.pathname + location.search + location.hash), 'title': 'Government sets up company to take over Carillion\u2019s work on prison facilities'});
Read Full Story