Assange arrest warrant has 'lost its purpose and its function', lawyer tells court
Julian Assange has complained of a "terrible bad tooth, frozen shoulder and depression" in a legal challenge to his UK arrest warrant.
The WikiLeaks founder has been living in the Ecuadorian embassy in London for more than five years after he was wanted for questioning by Swedish prosecutors.
A European Arrest Warrant was issued but the Swedish prosecutor dropped its investigation last year.
Mr Assange believes he faces extradition to the United States for questioning over the activities of WikiLeaks if he leaves the embassy.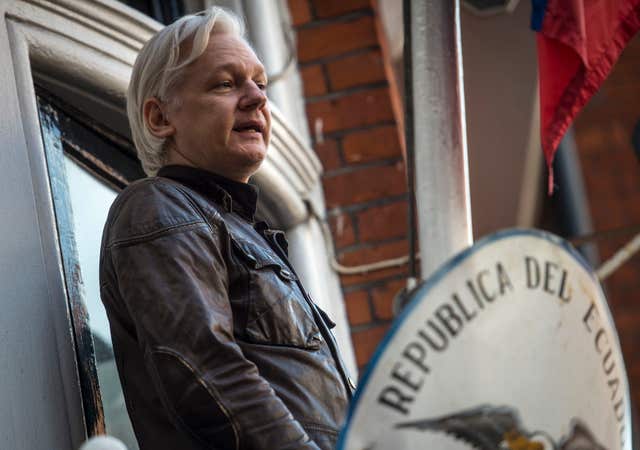 His lawyers made an application at Westminster Magistrates' Court for the UK warrant to be withdrawn.
Mark Summers QC said on Friday that the warrant had "lost its purpose and its function".
Defence papers stated: "He has spent five-and-a-half years in conditions which, on any view, are akin to imprisonment, without access to adequate medical care or sunlight, in circumstances where his physical and psychological health have deteriorated and are in serious peril."
Senior district judge Emma Arbuthnot said evidence handed to the court concerning Mr Assange's medical problems included "a terrible bad tooth, frozen shoulder and depression".
Prosecutor Aaron Watkins said the UK arrest warrant is still valid because Mr Assange has failed to surrender to custody.
"Mr Assange had been released on bail in proceedings; he was under a duty to surrender to the custody of the court and he failed to surrender at the appointed time for him to do so," he added.
"Therefore a warrant stands."
He continued: "The position that Mr Assange contends is absurd - were a defendant effectively to be rewarded with effective immunity by having managed to avoid proceedings sufficiently well that they fell away, for whatever reason.
"The proper approach is that when a discrete, standalone offence of failing to surrender occurs, it always remains open to this court to secure the arrest."
Judgment will be given at 2pm on February 6.
(function(i,s,o,g,r,a,m){i['GoogleAnalyticsObject']=r;i[r]=i[r]||function(){ (i[r].q=i[r].q||[]).push(arguments)},i[r].l=1*new Date();a=s.createElement(o), m=s.getElementsByTagName(o)[0];a.async=1;a.src=g;m.parentNode.insertBefore(a,m) })(window,document,'script','//www.google-analytics.com/analytics.js','ga'); ga('create', 'UA-72310761-1', 'auto', {'name': 'pacontentapi'}); ga('pacontentapi.set', 'referrer', location.origin); ga('pacontentapi.set', 'dimension1', 'By Alan Jones and Rachael Burnett, Press Association\xA0'); ga('pacontentapi.set', 'dimension2', '5335d6a8-e3f4-4b5b-b6df-5100ae8d3490'); ga('pacontentapi.set', 'dimension3', 'paservice:news,paservice:news:uk'); ga('pacontentapi.set', 'dimension6', 'story'); ga('pacontentapi.set', 'dimension7', 'composite'); ga('pacontentapi.set', 'dimension8', null); ga('pacontentapi.set', 'dimension9', null); ga('pacontentapi.send', 'pageview', { 'location': location.href, 'page': (location.pathname + location.search + location.hash), 'title': 'Assange arrest warrant has \u2018lost its purpose and its function\u2019, lawyer tells court'});
Read Full Story