Trump thinks May needs to focus on Brexit - Tillerson
Donald Trump's decision to cancel a trip to London will allow Theresa May to focus on Brexit, US secretary of state Rex Tillerson has suggested.
The US president publicly claimed that he did not want to come to the UK to open the new US embassy in Nine Elms, south London, because it was in an "off location" and had been a poor deal for America.
But there has also been speculation that the prospect of demonstrations against the controversial president could have been a factor in him putting off a visit, and now Mr Tillerson has suggested Brexit was also a reason.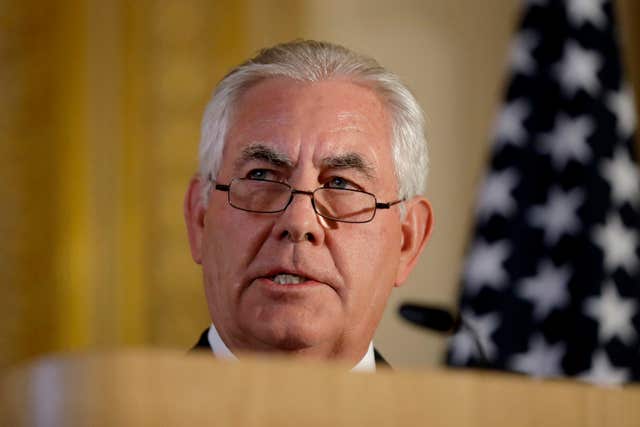 Mr Tillerson told reporters: "President Trump was supportive of the UK's exit from the EU.
"He still thinks that was the right decision for them.
"Britain needs to focus on those Brexit negotiations right now, which is really important to them, and I think the president realises that's where Prime Minister May really needs to focus her attention, working through the negotiation around the exit."
Mr Tillerson is due to come to London next week and could visit the new embassy.
He said Foreign Secretary Boris Johnson is packing the agenda for his visit, "but I hope to get by the embassy".
Number 10 said Mr Trump had set out the reason for his cancelled visit in his Twitter post, which focused on the embassy's location and cost.
A Downing Street spokesman said: "The president himself set out some of the reasons when he tweeted."
But Labour MP Chris Bryant, a leading supporter of the Open Britain campaign which wants to preserve close links to Brussels, said Mrs May was relying on the "least stable of allies" for her Brexit plans.
He said: "Donald Trump has a narrow nationalist vision of 'America First'.
"The idea he cares about the UK's national interests is laughable. He has repeatedly insulted our country and our values.
"The fact that Theresa May's policy of hard Brexit is approved of by Trump ought to be deeply embarrassing to the Prime Minister and a signal to us all that leaving the single market and customs union is not the right policy for the UK and its people.
"As Mrs May fumbles her way towards a damaging hard Brexit, she is relying more and more on the least stable of allies, Donald Trump, whose idea of a good deal with the UK would doubtless include us selling the NHS as well as deregulating food standards."
(function(i,s,o,g,r,a,m){i['GoogleAnalyticsObject']=r;i[r]=i[r]||function(){ (i[r].q=i[r].q||[]).push(arguments)},i[r].l=1*new Date();a=s.createElement(o), m=s.getElementsByTagName(o)[0];a.async=1;a.src=g;m.parentNode.insertBefore(a,m) })(window,document,'script','//www.google-analytics.com/analytics.js','ga'); ga('create', 'UA-72310761-1', 'auto', {'name': 'pacontentapi'}); ga('pacontentapi.set', 'referrer', location.origin); ga('pacontentapi.set', 'dimension1', 'By David Hughes, Press Association Chief Political Correspondent'); ga('pacontentapi.set', 'dimension2', '29d9a908-42d3-4a16-98ac-60b5b9615166'); ga('pacontentapi.set', 'dimension3', 'paservice:news,paservice:news:uk'); ga('pacontentapi.set', 'dimension6', 'story'); ga('pacontentapi.set', 'dimension7', 'composite'); ga('pacontentapi.set', 'dimension8', null); ga('pacontentapi.set', 'dimension9', null); ga('pacontentapi.send', 'pageview', { 'location': location.href, 'page': (location.pathname + location.search + location.hash), 'title': 'Trump thinks May needs to focus on Brexit \u2013 Tillerson'});
Read Full Story