Carillion held new hospital contract before entering liquidation
Carillion was part-way through constructing a major new hospital in the Midlands when it announced it was entering liquidation.
The company had been the constructor for the new Midland Metropolitan Hospital in Smethwick, in the West Midlands.
Work was expected to be completed at the new site in 2019.
The company also held a number of contracts to provide facilities services at other NHS trusts which include maintenance, cleaning work, portering and catering.
The company's website says it prepares over 18,500 patient meals per day.
It is understood between 10 and 15 NHS trusts in England have ties to the company.
All of these organisations had full contingency plans in place, the Press Association has been told.
Commenting on the Midland Metropolitan Hospital connection to the company, Toby Lewis, chief executive of Sandwell and West Birmingham Hospitals NHS Trust, said: "We regret this morning's announcement concerning Carillion, who are the constructor for our long awaited new hospital, which is almost complete.
"We are working closely with HM Treasury and The Hospital Company as alternative arrangements are put in place to ensure that the construction of the Midland Metropolitan Hospital is completed."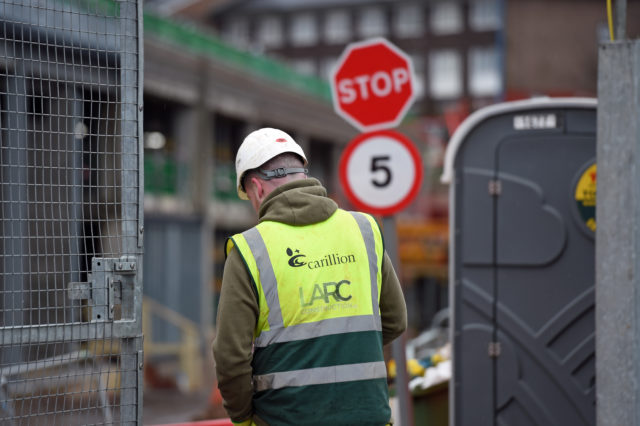 Another trust, whose PFI provider contracted Carillion for services at the organisation, said it did not expect disruption to patients.
On Carillion's website, it states it provides a number of services at the Great Western Hospital in Swindon including patient catering, cleaning, portering, mailroom, security, waste and recycling.
In a statement, Great Western Hospitals Foundation NHS Trust said: "We have planned in advance for such a situation, working closely with our PFI partners, and our teams are now working hard to ensure services provided by Carillion continue as normal.
"Although this is a developing situation, we fully expect services at GWH to continue as normal throughout today and the remainder of this week, and for there to be minimal disruption to patients or visitors."
An NHS Improvement spokesman added: "Our top priority is to keep services running safely for patients. We, alongside the trusts and the private service providers, have planned extensively for this scenario and will aim to keep any disruption to a minimum.
"We're also well aware of the concerns staff will have at this point and we thank them for their continued hard work. We will be talking to them via their line management teams as soon as possible."
Read Full Story