Sinn Fein has said a video of one of its MPs with a Kingsmill-branded loaf on his head on the anniversary of the Kingsmill massacre was "inexcusable and indefensible".
Party chairman Declan Kearney said West Tyrone MP Barry McElduff had fallen well short of the standards Sinn Fein expects of its members.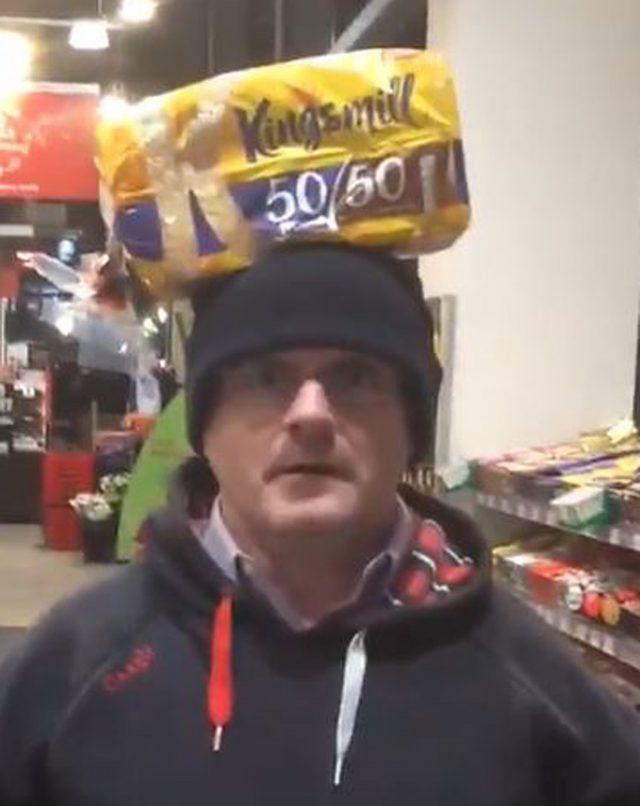 Mr McElduff has apologised for the post, insisting it was not meant as a reference to the republican murders of 10 Protestant workmen in 1976.
He has been summoned to a crunch meeting with the Sinn Fein leadership in Northern Ireland on Monday afternoon.
The well-known Kingsmill brand of bread shares a name with the south Armagh village that witnessed one of the most notorious incidents of the Troubles, when gunmen stopped a van carrying textile workers on their way home, identified the Protestant occupants, lined them up at the side of the road and shot them.
Mr Kearney became the first senior leadership figure to comment on the weekend furore on Monday morning.
"What has happened is absolutely inexcusable and indefensible and the party is taking this matter very seriously indeed," he said.
He added that Sinn Fein wished to express "deep and sincere regret".
"What happened is absolutely irresponsible," he told BBC Radio Ulster.
"Barry McElduff has already made an unreserved apology and that was the correct thing to do in the circumstances.
"The reality is huge offence has been caused and I and Sinn Fein strongly disapprove of what has happened."
Mr Kearney said Sinn Fein accepted that the incident had caused "maximum hurt" to the Kingsmill families.
"Sinn Fein expects the highest standards of not only our members but also our very senior elected representatives and what has happened here clearly falls well short of those standards," he added.
Sinn Fein's former Stormont finance minister, Mairtin O Muilleoir, has also apologised for retweeting the video. Mr Kearney said Mr O Muilleoir had offered the party a fulsome explanation for the retweet.
Mr McElduff has offered to meet relatives of the sectarian outrage but a number of them, including the only survivor of the gun attack, Alan Black, have rejected the invitation outright.
The Police Service of Northern Ireland is examining the video after receiving a number of complaints, while the Parliamentary Commissioner for Standards at Westminster has also been alerted.
In the short video, Mr McElduff, who is known for his light-hearted social media contributions, is filmed walking around a shop with a Kingsmill loaf on his head, asking where the store kept the bread.
It was posted around the 42nd anniversary of the Kingsmill outrage.
He has faced multiple calls to resign in the wake of the controversy.
Mr Black, who survived the gun attack despite being shot 18 times, rejected Mr McElduff's apology.
"It was like a punch to the stomach, it was so callous," he said of the video.
"To mock the dead and dance on their graves is depraved."
(function(i,s,o,g,r,a,m){i['GoogleAnalyticsObject']=r;i[r]=i[r]||function(){ (i[r].q=i[r].q||[]).push(arguments)},i[r].l=1*new Date();a=s.createElement(o), m=s.getElementsByTagName(o)[0];a.async=1;a.src=g;m.parentNode.insertBefore(a,m) })(window,document,'script','//www.google-analytics.com/analytics.js','ga'); ga('create', 'UA-72310761-1', 'auto', {'name': 'pacontentapi'}); ga('pacontentapi.set', 'referrer', location.origin); ga('pacontentapi.set', 'dimension1', 'By PA Reporters'); ga('pacontentapi.set', 'dimension2', 'ea31298e-4160-47aa-abba-6a1d5fed1ca4'); ga('pacontentapi.set', 'dimension3', 'paservice:news,paservice:news:uk'); ga('pacontentapi.set', 'dimension6', 'story-enriched'); ga('pacontentapi.set', 'dimension7', 'composite'); ga('pacontentapi.set', 'dimension8', 'paasset:social'); ga('pacontentapi.set', 'dimension9', null); ga('pacontentapi.send', 'pageview', { 'location': location.href, 'page': (location.pathname + location.search + location.hash), 'title': 'Video of MP with Kingsmill loaf on murders anniversary \u2018inexcusable\u2019 \u2013 Sinn Fein'});