May calls for resolution in battle between EU and Poland
Theresa May has called for a "satisfactory resolution" to a bitter dispute between the EU and Poland which has seen the government in Warsaw face the threat of sanctions.
The Prime Minister flew into the middle of the diplomatic storm as she arrived in the Polish capital for talks aimed at strengthening ties with the eastern European state.
Her visit came the day after the European Commission triggered proceedings which could see Poland's voting rights suspended over controversial reforms to its justice system.
The move came in response to a series of laws enacted by the right-wing Law and Justice party giving it greater control over the justice system.
European Council president Donald Tusk, a former Polish prime minister, has said the legislation "practically liquidated judicial independence in Poland", placing government authorities "above the law".
At a joint press conference with new prime minister, Mateusz Morawiecki, Mrs May said she hoped the dispute could be resolved through talks with Brussels.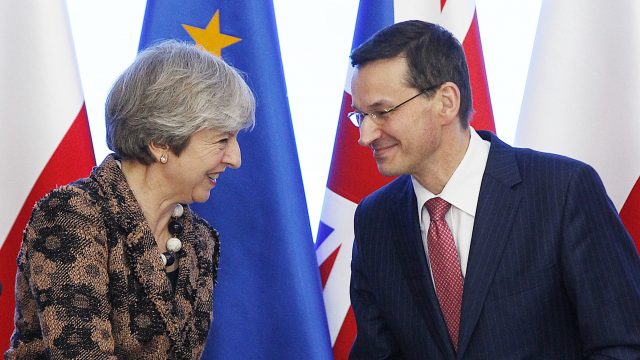 "Of course these constitutional issues are normally and should be primarily a matter for the individual country concerned," she said.
"Across Europe we have collective belief in the rule of law and I welcome the fact that prime minister Morawiecki has indicated that he will be speaking with the European Commission and I hope that that will lead to a satisfactory resolution."
Mr Morawiecki insisted that "deep reform" of the Polish justice system was needed in the light of the country's communist past as a member of the former Soviet bloc.
"I can only remind our German partners for example that after the fall of communism in the German Democratic Republic, only 35% of judges were positively vetted," he said.
"In Poland we did not have such a verification process - all judges who worked .. during the Stalinist period, remained without any problems in the system of the judiciary in the free Poland."
Mrs May welcomed the signing of a "landmark" defence and security co-operation treaty between the UK and Poland, and said they would be bolstering co-operation against Russian "disinformation" in the region.
"There could be no clearer expression of the closeness of the UK's relationship with Poland," she said.
"The Kremlin is seeking to undermine the international rules-based system and it will not succeed."
(function(i,s,o,g,r,a,m){i['GoogleAnalyticsObject']=r;i[r]=i[r]||function(){ (i[r].q=i[r].q||[]).push(arguments)},i[r].l=1*new Date();a=s.createElement(o), m=s.getElementsByTagName(o)[0];a.async=1;a.src=g;m.parentNode.insertBefore(a,m) })(window,document,'script','//www.google-analytics.com/analytics.js','ga'); ga('create', 'UA-72310761-1', 'auto', {'name': 'pacontentapi'}); ga('pacontentapi.set', 'referrer', location.origin); ga('pacontentapi.set', 'dimension1', 'By PA Reporters'); ga('pacontentapi.set', 'dimension2', 'cbfec6e8-2883-4046-9982-3fd4a4cc33da'); ga('pacontentapi.set', 'dimension3', 'paservice:news,paservice:news:uk,paservice:news:world'); ga('pacontentapi.set', 'dimension6', 'story-enriched'); ga('pacontentapi.set', 'dimension7', 'composite'); ga('pacontentapi.set', 'dimension8', null); ga('pacontentapi.set', 'dimension9', null); ga('pacontentapi.send', 'pageview', { 'location': location.href, 'page': (location.pathname + location.search + location.hash), 'title': 'May calls for resolution in battle between EU and Poland'});
Read Full Story