New car market declines for eighth month running
The new car market has declined for an eighth consecutive month, industry figures show.
Just over 163,500 new cars were registered in November, down 11.2% on the same month last year, according to the Society of Motor Manufacturers and Traders (SMMT).
The organisation blamed a 30.6% fall in demand for diesel cars amid "ongoing anti-diesel messages from government".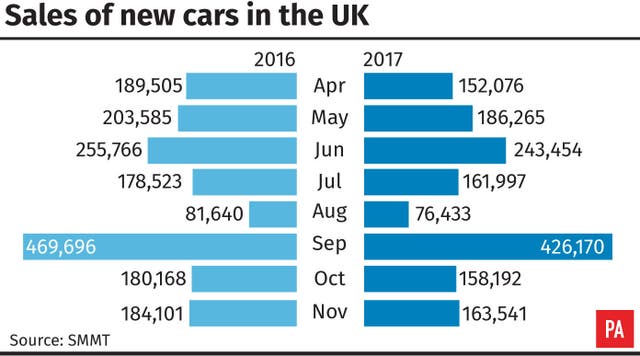 Petrol cars were up 5%, while alternatively-fuelled vehicles rose 33.1% to achieve a market share of 5.4%.
Some 2.39 million new cars have been registered so far this year, a decrease of 5% on the same period in 2016.
In last month's Budget, Chancellor Philip Hammond announced a tax hike on new diesel cars from April 1.
Diesels will be subjected to a one-band increase in the first year vehicle excise duty (VED) rate if they do not meet tougher real world emissions standards which will become compulsory from January 2020.
This came after the Government unveiled plans to ban the sale of all conventional diesel and petrol cars by 2040.
It was ordered to produce new clean air plans after the courts ruled previous proposals were insufficient to meet EU pollution limits, which the UK has breached since rules came into effect in 2010.
SMMT chief executive Mike Hawes said: "An eighth month of decline in the new car market is a major concern, with falling business and consumer confidence exacerbated by ongoing anti-diesel messages from government.
"Diesel remains the right choice for many drivers, not least because of its fuel economy and lower CO2 emissions.
"The decision to tax the latest low emission diesels is a step backwards and will only discourage drivers from trading in their older, more polluting cars.
"Given fleet renewal is the fastest way to improve air quality, penalising the latest, cleanest diesels is counter-productive and will have detrimental environmental and economic consequences."
(function(i,s,o,g,r,a,m){i['GoogleAnalyticsObject']=r;i[r]=i[r]||function(){ (i[r].q=i[r].q||[]).push(arguments)},i[r].l=1*new Date();a=s.createElement(o), m=s.getElementsByTagName(o)[0];a.async=1;a.src=g;m.parentNode.insertBefore(a,m) })(window,document,'script','//www.google-analytics.com/analytics.js','ga'); ga('create', 'UA-72310761-1', 'auto', {'name': 'pacontentapi'}); ga('pacontentapi.set', 'referrer', location.origin); ga('pacontentapi.set', 'dimension1', 'By Neil Lancefield, Press Association Transport Correspondent'); ga('pacontentapi.set', 'dimension2', '31b4683e-5b49-4aa4-abf1-e006928bd6ea'); ga('pacontentapi.set', 'dimension3', 'paservice:news,paservice:news:uk'); ga('pacontentapi.set', 'dimension6', 'story-enriched'); ga('pacontentapi.set', 'dimension7', 'composite'); ga('pacontentapi.set', 'dimension8', null); ga('pacontentapi.set', 'dimension9', null); ga('pacontentapi.send', 'pageview', { 'location': location.href, 'page': (location.pathname + location.search + location.hash), 'title': 'New car market declines for eighth month running'});
Read Full Story