Conservative MP in tears after Commons speech on effects of welfare reforms
A Conservative MP was left in tears after hearing the "destitution" faced by people as a result of government welfare reforms.
Heidi Allen (South Cambridgeshire) struggled to speak following a speech by senior Labour MP Frank Field, in which he described persuading a man not to commit suicide and how an organisation separately helped a child "crying through hunger".
Mr Field, chairman of the Work and Pensions Select Committee, said the father of the child also said he had had a "lucky week" after neighbours invited him to a funeral "so they could finish off the food" once the other guests had been fed.
A visibly emotional Ms Allen rose to speak once Mr Field concluded his speech, paused, and told the Commons: "I don't know where to start after that.
"I'm humbled by the words from my honourable, good friend from Birkenhead.
"No government is perfect, no benefits system is perfect, no debate, no motion is perfect, but by God we work together and make this better."
Ms Allen described the cross-party work of the committee, which she is a member of, before pausing again and noting: "I'm not very good at this job, am I?"
Mr Field intervened to give Ms Allen a chance to compose herself, saying: "I'm just amazed for the first time I've been able to report those events publicly without weeping.
"I'm so affected by them, I'm affected as she is. That's the debate we're really having - how do we represent here the desperateness of many of our constituents when many of us feel we can't offer them hope."
As MPs considered Universal Credit, Mr Field said it is not being introduced in isolation to welfare reforms which have occurred under Labour, coalition and the current Tory governments.
He said: "The cumulative impact of those reforms has resulted for many of my constituents in destitution.
"We've made decisions in this House to favour pensioner households against ordinary families.
"I've done surgeries for 38 years. On my last surgery Friday, for the first time ever a gentleman rose after we had spoken, I had tried to persuade him not to commit suicide, such was the desperateness that he saw the future for himself, and I realised the hand that shook my hand was wet.
"He'd been crying. And the hand that shook my hand was the hand that wiped away those tears.
"On Friday, Feeding Birkenhead - which is the most brilliant but ought to be unnecessary organisation - reported a family coming in of husband, wife and young child. The child was crying with hunger. The family was fed.
"The father said it had been a lucky week for him because neighbours had taken pity and invited him to a funeral so they could finish off the food after the other funeral guests had been fed.
"When the little boy was shown a shelf where toys were, but also on that shelf were lunch packs, he chose the lunch pack.
"This is the background of growing destitution that I see in my constituency and against which we have to judge Universal Credit and the debate we're having today."
Mr Field said many staff do not share Work and Pensions Secretary David Gauke's "confident" view about Universal Credit.
He said Feeding Birkenhead is putting a "considerable amount" of food through schools to ensure it reaches the homes of the children, adding thousands of Christmas hampers will be filled at the weekend.
Mr Field added: "Amongst the volunteers filling the Christmas hampers are 146 DWP staff. They know where this benefit is going and they are unhappy.
"Their inability to show their normal compassion by having discretion is an issue of such importance that we will return to that soon."
Mr Field said there is a need for figures to show how Universal Credit affects people, including the use of food banks and rent arrears.
He added: "The effects I have described - how does an MP persuade somebody to give them hope when I don't have hope for them, that things are radically going to improve, not to top themselves?
"What do we do to a family that last year gave toys to the project for our Christmas hampers but have so been reduced in circumstances that this year their little boy cries with hunger?"
After composing herself, Ms Allen said Universal Credit had great potential to fight poverty and that more claimants were moving into and staying in work for longer.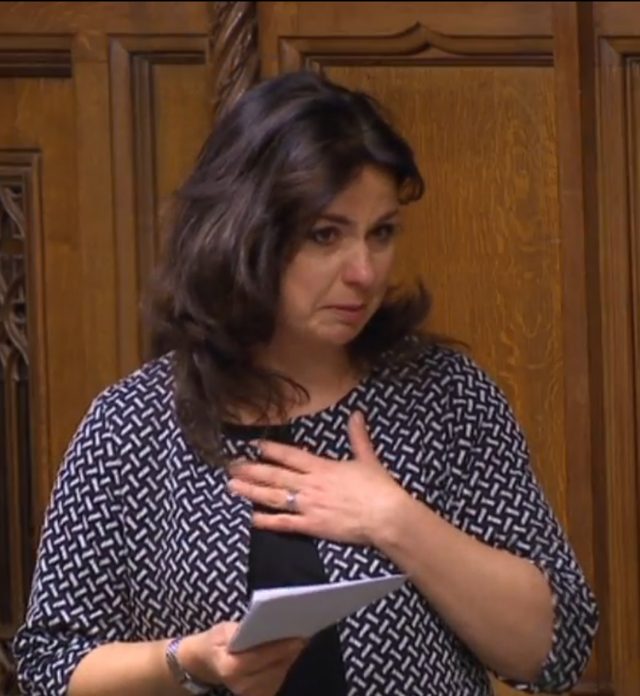 "The old system of multiple, individual benefits was no better than a game of roulette," she added.
"I'm the first to admit the roll-out has had more issues than it should have.
"There are aspects of the system I wish had been fixed before we pushed that button to roll it out further.
"But I understand why the Government was reluctant to pause it.
"They were eager to offer that support, that transformational support and potential for a better future, to more claimants. That's what this Government wants to do."
The South Cambridgeshire MP said changes introduced to Universal Credit in the Budget were "the actions of the Government I envisaged when I first heard Theresa May on the steps of Number 10".
She added: "People do have more difficult lives than I am blessed ever to have experienced.
"But work coaches are there, discretionary housing payments are there, advance payments.
"They should be offering a wraparound service."
(function(i,s,o,g,r,a,m){i['GoogleAnalyticsObject']=r;i[r]=i[r]||function(){ (i[r].q=i[r].q||[]).push(arguments)},i[r].l=1*new Date();a=s.createElement(o), m=s.getElementsByTagName(o)[0];a.async=1;a.src=g;m.parentNode.insertBefore(a,m) })(window,document,'script','//www.google-analytics.com/analytics.js','ga'); ga('create', 'UA-72310761-1', 'auto', {'name': 'pacontentapi'}); ga('pacontentapi.set', 'referrer', location.origin); ga('pacontentapi.set', 'dimension1', 'By PA Reporters'); ga('pacontentapi.set', 'dimension2', 'a88f4b4f-7938-47ea-a2f5-b0281a517aa4'); ga('pacontentapi.set', 'dimension3', 'paservice:news,paservice:news:uk'); ga('pacontentapi.set', 'dimension6', 'story-enriched'); ga('pacontentapi.set', 'dimension7', 'composite'); ga('pacontentapi.set', 'dimension8', 'paasset:video'); ga('pacontentapi.set', 'dimension9', null); ga('pacontentapi.send', 'pageview', { 'location': location.href, 'page': (location.pathname + location.search + location.hash), 'title': 'Conservative MP in tears after Commons speech on effects of welfare reforms'});
Read Full Story