Liam Fox predicts compromise deal after Tory unrest over defence cuts
A compromise deal will be found to quell Tory unrest over potential cuts to the armed forces, Cabinet minister Liam Fox has suggested.
Dr Fox, a former defence secretary, acknowledged that a review of security capabilities was causing concerns and it was "not unknown" for tensions to become public.
The International Trade Secretary's intervention came after backbenchers spoke out and a defence minister signalled he could be prepared to quit if plans are implemented to slash the Army's manpower.
Tobias Ellwood, the minister responsible for defence personnel and veterans, is understood to have concerns about proposals which could see the Army's full-time strength reduced by 12,000 to 70,000.
Meanwhile former army officer and Tory member of the Defence Select Committee Johnny Mercer said there were a number of Conservative colleagues prepared to fight back over the threat of cuts: "It is the Conservative Party as a team making sure we do the right thing for defence as a whole."
Tory grandee Sir Nicholas Soames, a grandson of Sir Winston Churchill, said: "The Conservative parliamentary party has a duty now to unite against further defence cuts to capability."
Tom Tugendhat, Tory chairman of the Commons Foreign Affairs Committee and a former army officer, said he was proud of Mr Ellwood for "standing up for defence" and warned that cuts were a "false economy".
Speculation about defence cuts has mounted in recent months since the launch of a review led by Theresa May's national security adviser Mark Sedwill.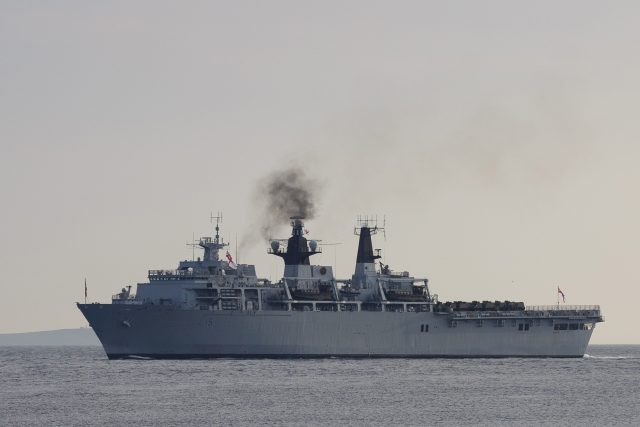 As well as rumours about potential cuts to the strength of the Army, there have been concerns about the future of armoured vehicle programmes and suggestions that amphibious assault ships HMS Albion and HMS Bulwark could be axed alongside the loss of 1,000 Royal Marines.
But Dr Fox said: "You have to look at our record. We are one of the very few Nato countries that actually spends 2% of our GDP on defence.
"There's a review going on at the present time and I think back to my time as secretary of state for defence where we had a similar review ongoing and there's always a lot of tension, not just between the MoD and the Treasury but also inside the MoD between the different parts of the armed forces and naturally there are concerns about the future shape of that.
"But this is an ongoing discussion. I'm afraid it's not unknown for some of these tensions to spill over into the public domain."
He told Sky News's Sunday with Niall Paterson: "I think we should wait and see exactly what sort of compromise we reach - because that's what it will be - and remember that the UK is the fourth biggest military budget in the world and is one of the very few Nato countries actually fulfilling promises to spend and help protect our partners."
The MoD said no decisions had been made and dismissed reports about the options being considered for cuts as "speculation".
Read Full Story