Get serious over powersharing deal, Arlene Foster warns Sinn Fein
Democratic Unionist leader Arlene Foster has warned Sinn Fein to "get serious" about the terms of a deal to restore Stormont powersharing, accusing republicans of using rights issues as a cloak to break unionism.
Mrs Foster told her party conference in Belfast she was committed to resurrecting devolution, eleven months on from its collapse, but she insisted any agreement between the DUP and Sinn Fein had to be balanced.
The former Stormont first minister got a rousing reception from Union flag-waving party faithful at the DUP's first conference since it became political kingmakers at Westminster.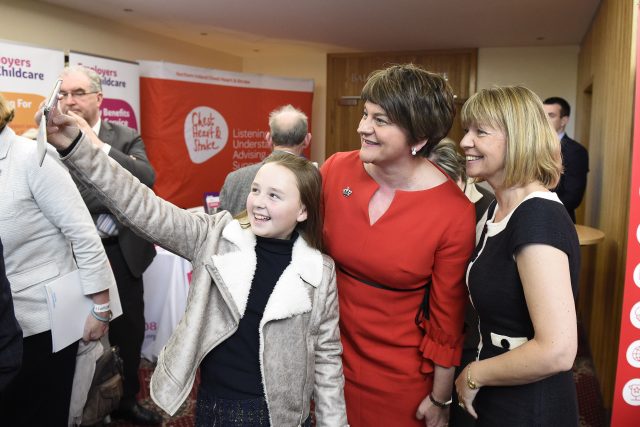 She used her speech to restate her party's determination to see powersharing restored, insisting the party blocking its return was Sinn Fein.
"It's time Sinn Fein got serious," she said. "This party will conclude a balanced deal but we will not be party to a one-sided arrangement that rewards intransigent behaviour.
"Northern Ireland needs a government and we cannot continue without ministers.
"Time is short and those in Sinn Fein blocking the restoration of local decision-making need to decide whether they want to do business with us or have direct rule ministers in place.
"I still believe that devolution is the best way to govern Northern Ireland but to do that in a way that delivers for all of our people we need serious partners in government."
Significant issues still stand in the way of a deal between the DUP and Sinn Fein that would see them return as coalition partners in a devolved executive.
A return to Westminster direct rule looks a more likely prospect at present.
One of the key sticking points is a Sinn Fein demand for a stand-alone piece of legislation to protect Irish language speakers in the region.
The DUP will countenance such laws, but only as part of a wider Act that also protects British culture in Northern Ireland.
During the address, Mrs Foster reflected on a rollercoaster year for her and her party.
From facing down intense calls to quit amid a furore about a botched green energy scheme to standing on the steps of Downing Street with the fate of Theresa May's minority government in her hands, 2017 will not be one Mrs Foster forgets in a hurry.
Despite the triumphant mood at the DUP conference, the event comes at a time of major challenges for the party at home and further afield.
The powersharing impasse, triggered in January over the botched green energy scheme, has left Northern Ireland without a voice in Brexit negotiations at a time when crucial decisions about the future of the Irish border are due to be made.
One of the loudest cheers of the speech came when Mrs Foster rejected any suggestion Northern Ireland's place within the UK was now at risk.
"I am a unionist by conviction and unashamedly so," she said. "I believe that the Union is the best basis upon which we can build a peaceful and prosperous society in Northern Ireland."
(function(i,s,o,g,r,a,m){i['GoogleAnalyticsObject']=r;i[r]=i[r]||function(){ (i[r].q=i[r].q||[]).push(arguments)},i[r].l=1*new Date();a=s.createElement(o), m=s.getElementsByTagName(o)[0];a.async=1;a.src=g;m.parentNode.insertBefore(a,m) })(window,document,'script','//www.google-analytics.com/analytics.js','ga'); ga('create', 'UA-72310761-1', 'auto', {'name': 'pacontentapi'}); ga('pacontentapi.set', 'referrer', location.origin); ga('pacontentapi.set', 'dimension1', 'By PA Reporters'); ga('pacontentapi.set', 'dimension2', '7c9296bf-130e-435e-8736-57bbdc1bd3be'); ga('pacontentapi.set', 'dimension3', 'paservice:news,paservice:news:uk'); ga('pacontentapi.set', 'dimension6', 'story-enriched'); ga('pacontentapi.set', 'dimension7', 'composite'); ga('pacontentapi.set', 'dimension8', null); ga('pacontentapi.set', 'dimension9', null); ga('pacontentapi.send', 'pageview', { 'location': location.href, 'page': (location.pathname + location.search + location.hash), 'title': 'Get serious over powersharing deal, Arlene Foster warns Sinn Fein'});
Read Full Story