Bank of England will support UK economy through Brexit, says governor
Bank of England governor Mark Carney has said the UK would be in a better position without Brexit, but vowed the Bank will do all it can to support the economy as it moves to life outside the EU.
Mr Carney said it was important for the public to understand that the Bank was ready to take action in order to curb inflation and support the wider financial system as Britain prepares for its divorce.
In an interview with ITV's Good Morning Britain, he said: "We have not done as well as we would have done, in the short term, if the vote had gone the other way, and we've moved from being the strongest in the G7 to the slowest growing economy in the G7.
"That's part of this process of adjustment, it is a short-term issue."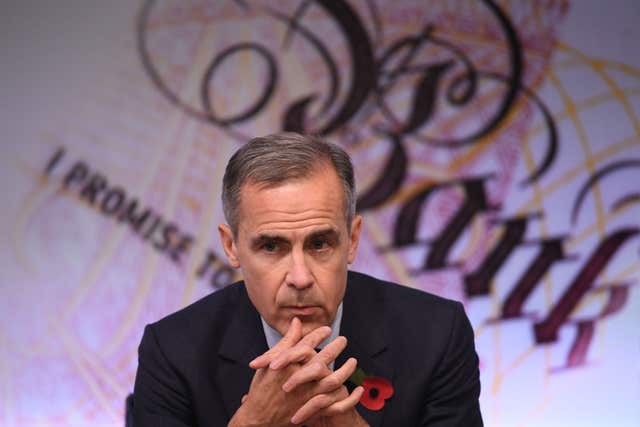 "What's important that people recognise, whatever happens in the negotiations, is we'll make sure that inflation stays low, and, secondly, we'll make sure that the banks stay strong," he added.
He said the Bank will be ready, regardless of what kind of deal is struck, "whether there's no deal or a very comprehensive deal", he said.
Mr Carney's comments come just two weeks after the Bank's Monetary Policy Committee (MPC) voted 7-2 to increase interest rates from to 0.5%, reversing a cut to 0.25% in the wake of the Brexit vote and marking the Bank's first hike in a decade.
It served as an attempt to cool surging inflation which has been sent to five-year highs of 3%, driven by the post-referendum collapse of the pound.
The Bank is tasked by the Government with keeping CPI at 2%, but had been tolerating higher inflation amid uncertainty caused by the Brexit vote to prevent shocks to the economy.
"There are two things people shouldn't have to worry about: first, inflation being neither too high nor too low.
"And secondly, that the core of the financial system - the banks, the building societies, the insurance contracts they take out - they shouldn't have to worry about them and it's our job to make sure that those are rock-solid. And we will do that."
Mr Carney was speaking ahead of the Bank's Future Forum, which this year sees Bank governors visit schools and students across Liverpool to discuss the economy and the Bank's role in society.
The Bank will then showcase initiatives including an education programme and hold a plenary session which will open the floor to the audience and social media questions on the economy and banking industry.
Alongside Mr Carney, speakers will include deputy governors Ben Broadbent, Jon Cunliffe, Dave Ramsden and Sam Woods, as well as the Bank's chief operating officer, Joanna Place.
(function(i,s,o,g,r,a,m){i['GoogleAnalyticsObject']=r;i[r]=i[r]||function(){ (i[r].q=i[r].q||[]).push(arguments)},i[r].l=1*new Date();a=s.createElement(o), m=s.getElementsByTagName(o)[0];a.async=1;a.src=g;m.parentNode.insertBefore(a,m) })(window,document,'script','//www.google-analytics.com/analytics.js','ga'); ga('create', 'UA-72310761-1', 'auto', {'name': 'pacontentapi'}); ga('pacontentapi.set', 'referrer', location.origin); ga('pacontentapi.set', 'dimension1', 'By Kalyeena Makortoff, Press Association City Reporter'); ga('pacontentapi.set', 'dimension2', '7ec181d4-dcea-4526-a717-ca92bf658600'); ga('pacontentapi.set', 'dimension3', 'paservice:finance,paservice:finance:city,paservice:news,paservice:news:uk'); ga('pacontentapi.set', 'dimension6', 'story'); ga('pacontentapi.set', 'dimension7', 'composite'); ga('pacontentapi.set', 'dimension8', null); ga('pacontentapi.set', 'dimension9', null); ga('pacontentapi.send', 'pageview', { 'location': location.href, 'page': (location.pathname + location.search + location.hash), 'title': 'Bank of England will support UK economy through Brexit, says governor'});
Read Full Story