Theresa May to 'take personal charge' of Government response to housing crisis
The shortage of affordable property risks creating a "rootless generation", the Government will acknowledge as Theresa May sets out plans to take personal charge of the response to the housing crisis.
The Prime Minister accepts that it has been decades since enough new homes were built and it will take time to fix the "broken" housing market.
Her intervention comes as Cabinet minister Sajid Javid prepares to deliver a speech warning of a generation of people "drifting" from one short-term tenancy to the next without ever being able to feel part of a community.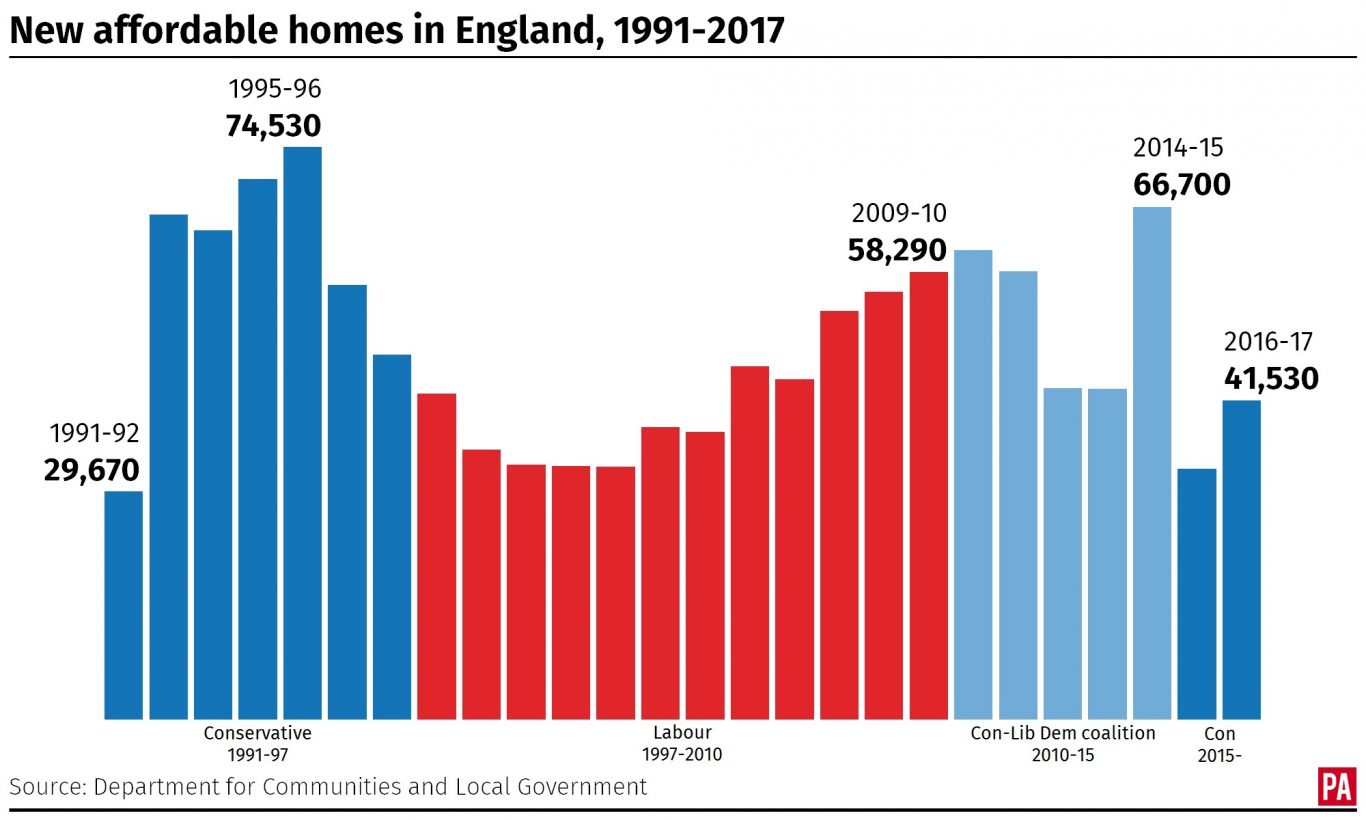 Mrs May said: "For decades we simply have not been building enough homes, nor have we been building them quickly enough, and we have seen prices rise. The number of new homes being delivered each year has been increasing since 2010, but there is more we can do.
"We must get back into the business of building the good quality new homes for people who need them most. That is why I have made it my mission to build the homes the country needs and take personal charge of the Government's response."
She vowed that the Government would ensure that "we build more homes, more quickly" but "this will be a long journey and it will take time for us to fix the broken housing market".
In a speech in Bristol to coincide with the release of statistics on new housing supply, Communities Secretary Mr Javid will say: "The generation crying out for help with housing is not over-entitled.
"They don't want the world handed to them on a plate. They want simple fairness, moral justice, the opportunity to play by the same rules enjoyed by those who came before them.
"Without affordable, secure, safe housing we risk creating a rootless generation, drifting from one short-term tenancy to the next, never staying long enough to play a role in their community."
He will announce that the Government is taking housing associations' debt off the balance sheet, giving them a stable investment environment to fund new homes.
Mr Javid will say the Government's housing white paper identified the scale of the problems in the property market and set out a course of action.
"But there are many, many faults in our housing market, dating back many, many years," he will say.
"If you only fix one you'll make some progress, but not enough. This is a big problem and we have to think big."
The interventions by Mrs May and Mr Javid come after Chancellor Philip Hammond hinted at help for first-time buyers in his Budget, but warned there was no "silver bullet" that would fix the housing market.
On Wednesday he told reporters in Number 11 Downing Street: "There isn't a single thing that solves the challenge of affordability in the housing market - we are a crowded island and this is a very complex challenge.
"But we have done a lot of work on this and next week we will start to set out our plan for addressing the housing challenges in this country, making sure that the next generation has the same opportunities as their parents did for homeownership and the accumulation of personal wealth through assets."
For Labour, shadow housing secretary John Healey said: "After seven years of failure on housing, ministers still have no plan to fix the housing crisis.
"Since 2010, housing problems have got worse on all fronts, from rising homelessness to falling home-ownership.The number of newly-built homes is still far below what is needed."
Read Full Story