Debate on Brexit bill resumes after Davis announces MPs will vote on final deal
Key Brexit legislation returns to Parliament on Tuesday after David Davis announced that MPs would be given a take it or leave it vote on any withdrawal agreement in an apparent concession to Tory rebels.
The Brexit Secretary said any deal on citizens' rights, the so-called divorce bill and a transition period will only hold if MPs and peers approve a new piece of legislation to put it into British law.
But he confirmed that if the proposed Withdrawal Agreement and Implementation Bill is voted down by MPs, the UK will still leave the EU on March 29 2019, without a deal.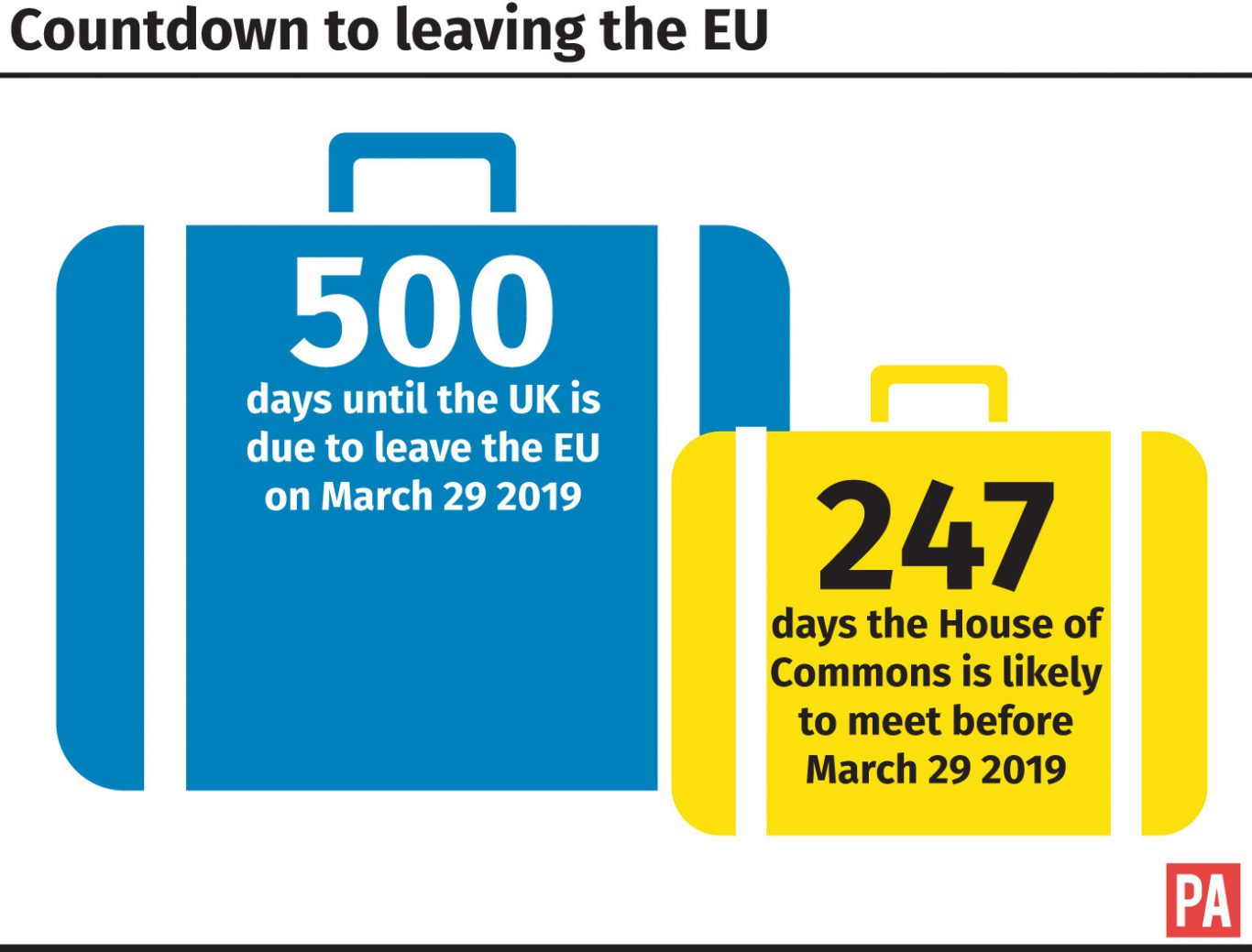 The move was seen as an attempted concession to Tory rebels as the separate EU (Withdrawal) Bill returns to the House of Commons on Tuesday, with just 500 days to go until the scheduled leave date.
And the value of the concession to the Government could be put to the test as MPs resume debate on the Withdrawal Bill, also known as the repeal bill.
Crunch votes are not expected this week but there could be opportunities for MPs to signal their intent on key areas of disagreement, including a vote on the final deal and writing exit day into the legislation.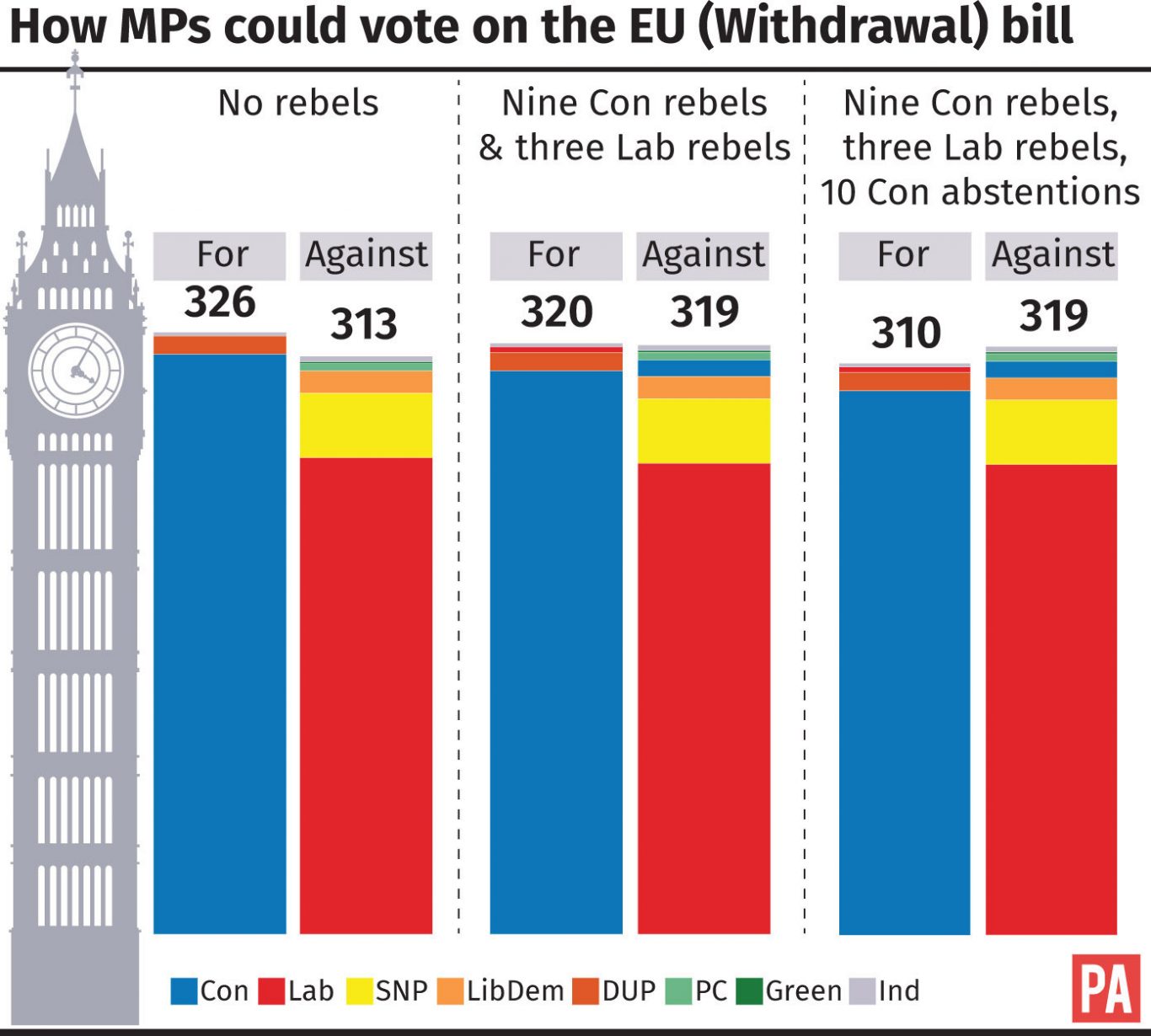 Potential Tory rebels who want a vote on the Brexit deal have suggested Mr Davis's concession may not be enough if the Government succeeds in changing the Bill to state that the UK's membership of the EU formally ends at 11pm GMT on March 29 2019.
Although that amendment will not be debated on Tuesday, MPs could get the chance to discuss the issue.
Tory former attorney general and leading rebel Dominic Grieve said on Monday: "My anxieties have greatly heightened on this by the extraordinary amendment (on the exit day) tabled by the Government on Friday.
"Surely the answer is that if we run out of time - it's none of these suggestions that have now been put forward - is that the time has to be extended under Article 50 so that all parties are able to deal with it.
"That's the mechanism that's provided and surely that's the mechanism which the House and the Government should be following?"
Reacting to the concession on a vote, Heidi Allen tweeted: "Pointless if we have enshrined a drop dead date in the Bill, & get a deal at 11th hour! There'd be no time!
"And also offers no safeguard if no deal is reached. Unacceptable."
Antoinette Sandbach told the Press Association: "The announcement is meaningless if, for any reason, the timetable slips beyond March 2019."
(function(i,s,o,g,r,a,m){i['GoogleAnalyticsObject']=r;i[r]=i[r]||function(){ (i[r].q=i[r].q||[]).push(arguments)},i[r].l=1*new Date();a=s.createElement(o), m=s.getElementsByTagName(o)[0];a.async=1;a.src=g;m.parentNode.insertBefore(a,m) })(window,document,'script','//www.google-analytics.com/analytics.js','ga'); ga('create', 'UA-72310761-1', 'auto', {'name': 'pacontentapi'}); ga('pacontentapi.set', 'referrer', location.origin); ga('pacontentapi.set', 'dimension1', 'By PA Reporters'); ga('pacontentapi.set', 'dimension2', '38faa24a-93f9-4763-8151-1bb9fb8eb25d'); ga('pacontentapi.set', 'dimension3', 'paservice:news,paservice:news:uk'); ga('pacontentapi.set', 'dimension6', 'story-enriched'); ga('pacontentapi.set', 'dimension7', 'composite'); ga('pacontentapi.set', 'dimension8', 'paasset:graphic'); ga('pacontentapi.set', 'dimension9', null); ga('pacontentapi.send', 'pageview', { 'location': location.href, 'page': (location.pathname + location.search + location.hash), 'title': 'Debate on Brexit bill resumes after Davis announces MPs will vote on final deal'});
Read Full Story