Annual house price growth picked up in September, official figures show
Annual house price growth accelerated in September, according to official figures.
Across the UK, annual house price growth stood at 5.4% in September, up from 4.8% in August, according to figures released jointly by the Office for National Statistics (ONS), Land Registry and other bodies.
The annual growth rate has remained broadly around 5% during 2017, the report said.
The average UK house price was £226,000 in September 2017, marking a 0.4% increase on the previous month.
In England, house prices increased by 5.7% over the year to September 2017, with the average price at £244,000.
Within England, the north west showed the highest annual growth, with prices increasing by 7.3% in the year to September 2017 to reach £160,951 on average.
The lowest annual growth was in London, where prices increased by 2.5% over the year to reach £483,568 typically.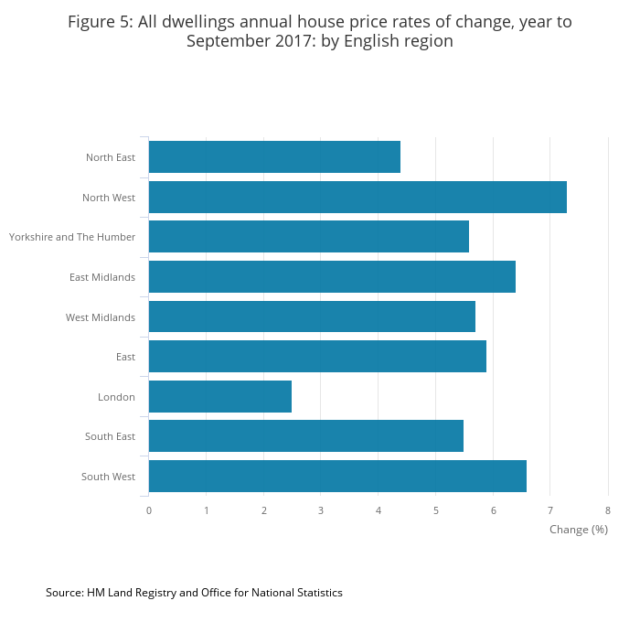 Wales saw house prices increase by 5.3% over the previous 12 months to reach £153,000 typically. In Scotland, the average price increased by 3.1% over the year, reaching £145,000. The average price in Northern Ireland was £132,000, a yearly increase of 6%.
Looking at UK local authorities, the area showing the largest annual growth in the year to September 2017 was Hinckley and Bosworth, where prices increased by 15.9% to stand at £215,000.
The lowest annual growth was recorded in Halton, where prices fell by 5.2% to stand at £127,000.
Richard Snook, a senior economist, PwC, said: "The trend that has been emerging over the summer and autumn is the rest of the UK outperforming London."
He continued: "Our latest market projection, published in July, was for growth of between 3% and 5% in 2017 with 4% as the central scenario.
"Growth for the year is now likely to be around the upper end of this range."
Mr Snook said another notable trend is increasingly low volumes of house sales.
In July 2017 the number of property transactions completed in the UK decreased by 15.2% when compared with July 2016.
Mr Snook said: "This does point to a lack of broader market momentum and may lead to a softening in price growth as we move into 2018."
Howard Archer, chief economic adviser at EY ITEM Club said: "Housing market activity is being pressurised by weakened consumer purchasing power and substantial consumer wariness over engaging in major transactions."
Read Full Story