Urgent progress required in Brexit talks 'or UK jobs will be lost'
European business leaders have told Theresa May that progress is urgently needed in Brexit talks or UK jobs and investment could be lost.
The Prime Minister hosted senior industry figures from across the continent in Downing Street to hear their concerns.
Emma Marcegaglia, president of the lobbying group BusinessEurope, said it was crucial for progress to be made within two weeks in order for trade talks to be given the green light by EU leaders at December's summit.
She told reporters in Downing Street: "The message is that as businesses all over Europe we are strongly united.
"We are very concerned for the fact that we don't really see progress in the negotiation and we know that there are two weeks to get to sufficient progress so that in the council in December it can be decided to go on to phase two.
"So, these two weeks are absolutely important.
"We need to have a transitional period where the UK stays in the customs union and single market because companies need certainty."
She added: "We don't want uncertainty, we are very concerned. We know that if companies don't see certainty probably they will have a contingency plan and probably they will leave the UK, or they will invest less."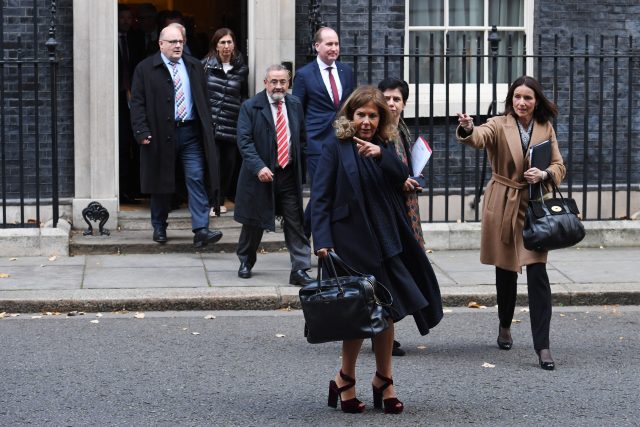 The Confederation of British Industry (CBI) as well as organisations from Germany, France and other European Union nations were present at the talks with Mrs May, Business Secretary Greg Clark and Brexit Secretary David Davis.
Ms Marcegaglia said both the UK and Brussels had to work to secure a deal.
"My view is that they both have to work more," she said, but because it was the UK's decision to leave it was for Mrs May to put a "real, concrete proposal" on the table.
CBI director-general Carolyn Fairbairn said the message from European business was that "we need urgent progress on the divorce issues so that we can move on to trade and transition by December".
Firms are "beginning to press the button" to implement contingency plans in preparation for a no deal Brexit, she said, but progress in the negotiations could result in a "win-win" situation.
She told the Press Association: "The overall impact, undoubtedly, of the ongoing uncertainty is fewer jobs, less investment, less economic prosperity across Europe.
"That was the mutual interest that was dominating today in the meeting, the idea that there is a win-win out here - sometimes it feels like lose-lose, we can turn this round into win-win and the next few weeks will be absolutely critical to that."
Read Full Story