'Solid support' for rail workers on second day of strikes
Rail passengers are suffering fresh disruption as workers staged a second day of strike action in bitter disputes over the role of guards and driver-only trains.
Members of the Rail, Maritime and Transport union on Southern, South Western Railway (SWR) and Greater Anglia continued with industrial action.
Picket lines were mounted outside stations and the union said support was again solid.
General secretary Mick Cash said the public was backing the union's campaign and he again accused the Government of blocking talks, which ministers deny.
He said: "Our members know what is at stake and are not prepared to abandon the disabled, the vulnerable and women travelling alone to their fate on a railway run solely for profit.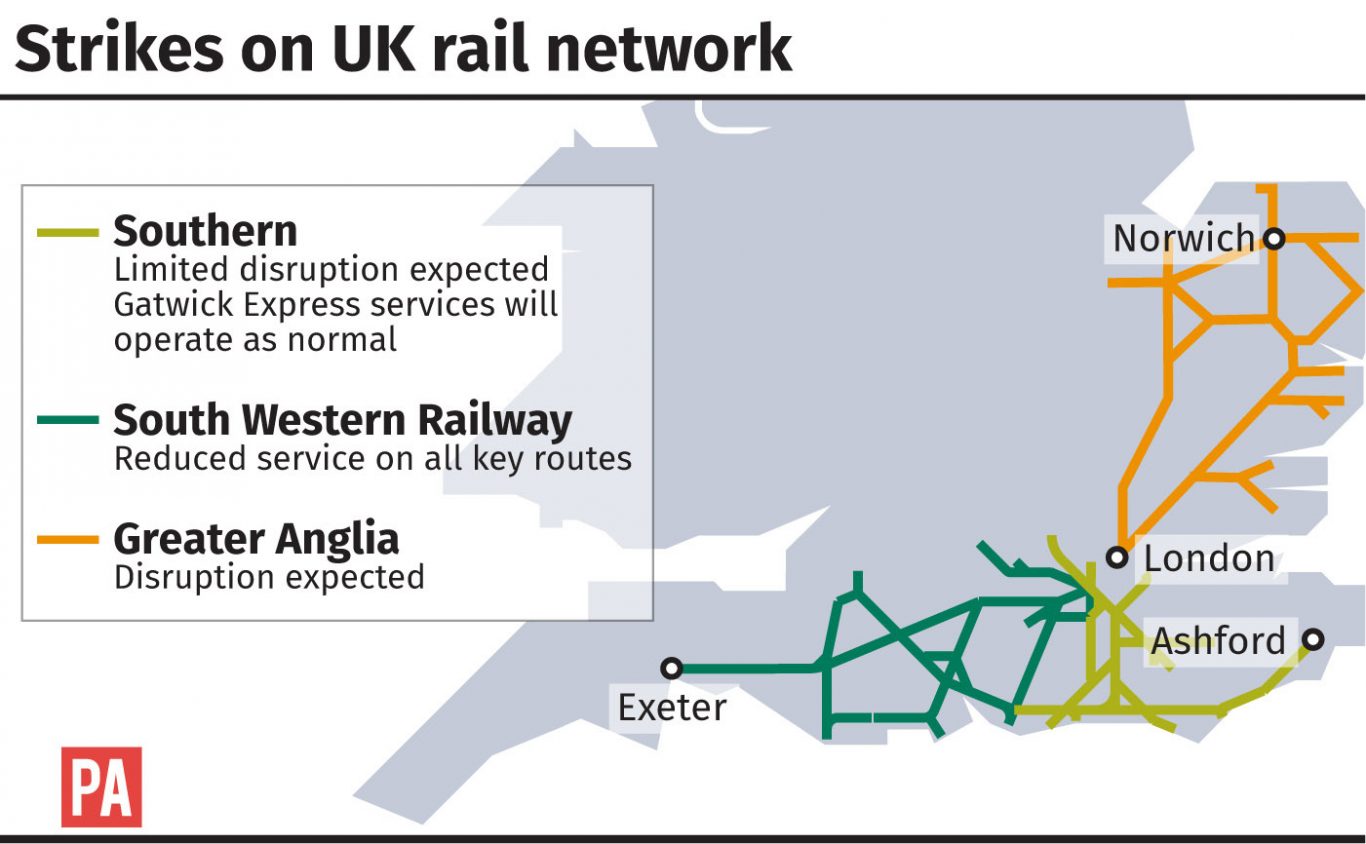 "Social media shows that public support is flooding in as our communities choose to stand by their guards against the financially and politically motivated drive to throw safety-critical staff off our trains.
"The public are telling us that they are disgusted that this minority Government are prepared to sit back and cheer on overseas operators who are robbing British passengers blind while sacrificing basic safety standards in order to subsidise transport services in Paris, Amsterdam and Hong Kong?.
"There is growing evidence that managers are being paid substantial bonuses to act as bogus guards to try and keep services running regardless of the safety rule book and the threat to public security.
"If money and effort can be put into shuttling fake guards on to our trains why can't the same energy and resources be dedicated to retaining the real, experienced guards that the public want?
"If the Government allows normal industrial relations to recommence it would free the union up to negotiate deals like the ones we have successfully struck in Wales and Scotland that? guarantee a guard on the trains."
The strikes will end at midnight on Thursday.
SWR was worst affected by the strikes, with hundreds of services expected to be cancelled and others replaced by buses.
Southern said most of its trains will run while Greater Anglia plans a normal service.
(function(i,s,o,g,r,a,m){i['GoogleAnalyticsObject']=r;i[r]=i[r]||function(){ (i[r].q=i[r].q||[]).push(arguments)},i[r].l=1*new Date();a=s.createElement(o), m=s.getElementsByTagName(o)[0];a.async=1;a.src=g;m.parentNode.insertBefore(a,m) })(window,document,'script','//www.google-analytics.com/analytics.js','ga'); ga('create', 'UA-72310761-1', 'auto', {'name': 'pacontentapi'}); ga('pacontentapi.set', 'referrer', location.origin); ga('pacontentapi.set', 'dimension1', 'By PA Reporters'); ga('pacontentapi.set', 'dimension2', '00459d61-5fca-47d7-bab2-2f234fd81adf'); ga('pacontentapi.set', 'dimension3', 'paservice:news,paservice:news:uk'); ga('pacontentapi.set', 'dimension6', 'story-enriched'); ga('pacontentapi.set', 'dimension7', 'composite'); ga('pacontentapi.set', 'dimension8', 'paasset:graphic'); ga('pacontentapi.set', 'dimension9', null); ga('pacontentapi.send', 'pageview', { 'location': location.href, 'page': (location.pathname + location.search + location.hash), 'title': '\u2018Solid support\u2019 for rail workers on second day of strikes'});
Read Full Story