Sainsbury's profits fall and sales growth slows in 'competitive' market
Supermarket giant Sainsbury's has revealed a 9% fall in half-year profits and a sharp slowdown in sales growth amid fierce competition in the market.
The UK's second biggest grocery chain posted a 0.6% rise in like-for-like sales over the second quarter, down from 2.3% in the previous three months, as trading was dragged lower by falling Argos and general merchandise sales.
Shares fell 3% as the group warned of a "challenging" general merchandise market and also revealed sales slowing across its core grocery arm.
It reported underlying pre-tax profits of £251 million for the six months to September 23, against £277 million a year earlier.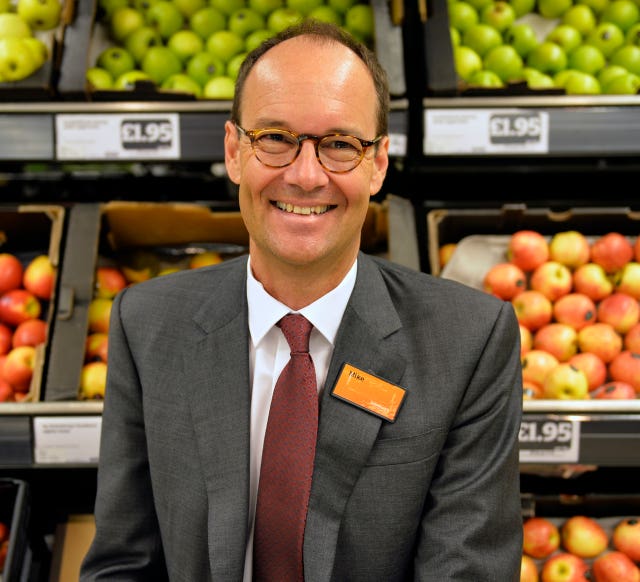 Profits were pushed lower by seasonal losses from Argos, as previously flagged by the chain, as well as efforts to keep prices low in the face of inflation and cost pressures.
Chief executive Mike Coupe said the market remained "competitive", but insisted the group was seeing "clear results" from its three-year plan.
He added that the company was on track for full-year profit expectations of £572 million, which would mark a 2% fall on the previous year's result.
Retail experts raised concerns over the sales slowdown.
Laith Khalaf, a senior analyst at Hargreaves Lansdown, said Sainsbury's was facing "industry-wide headwinds".
"Consumer spending is under pressure from higher inflation, while it's costing supermarkets more to fill their shelves with stock," he said.
Sainsbury's total general merchandise sales growth dropped to 1.6% in the second quarter, while total grocery sales growth more than halved to 1.4% from 3% in the first quarter.
Clothing sales were the bright spot, with a 6.3% hike, while online grocery sales lifted by 7%.
Mr Coupe said non-food sales were knocked by the closure of 100 Argos in Homebase stores following the DIY chain's takeover by Bunnings.
But he also blamed "soggy" August weather for tougher trading, saying the end of the summer was a "wipe-out".
Sainsbury's is putting faith in a Christmas line-up of products, including a star-dusted snow globe sandwich and its award-winning champagne, plus the roll-out of 165 Argos stores within supermarkets to help drive a solid festive season.
Mr Coupe said that while shoppers are "very cost-conscious at the moment", they are expected to "put their hands in their pockets and have a great Christmas".
The figures come just a month after Sainsbury's announced 2,000 job cuts, mainly from human resources and payroll staff as part of efforts to save another £500 million in costs over the next few years.
All the big supermarkets have announced job cuts in recent months as they look to compete with the German discounters Aldi and Lidl, as well as surging cost pressures.
Sainsbury's is hoping its £1.4 billion takeover of Argos owner Home Retail Group last year will help give it the edge in a tough market.
It has already added 112 Argos stores within supermarkets, with another 53 due to open by Christmas, while rolling out click and collect nationwide for the chain.
And in grocery, it has added 70 new food lines in a bid to win over shoppers.
Read Full Story