CityFibre shares jump on Vodafone deal to connect five million homes
Shares in CityFibre soared after the company announced a major partnership with Vodafone that will bring fibre connectivity to as many as five million UK homes and create another competitor to BT's Openreach.
The deal will see around one million homes and businesses across 12 towns and cities connected to the new fibre network during the first phase of development, with construction set to start in 2018 and be "largely completed" by 2021.
The two companies will then have the right to extend their agreement to cover another four million sites across 50 towns and cities by 2025.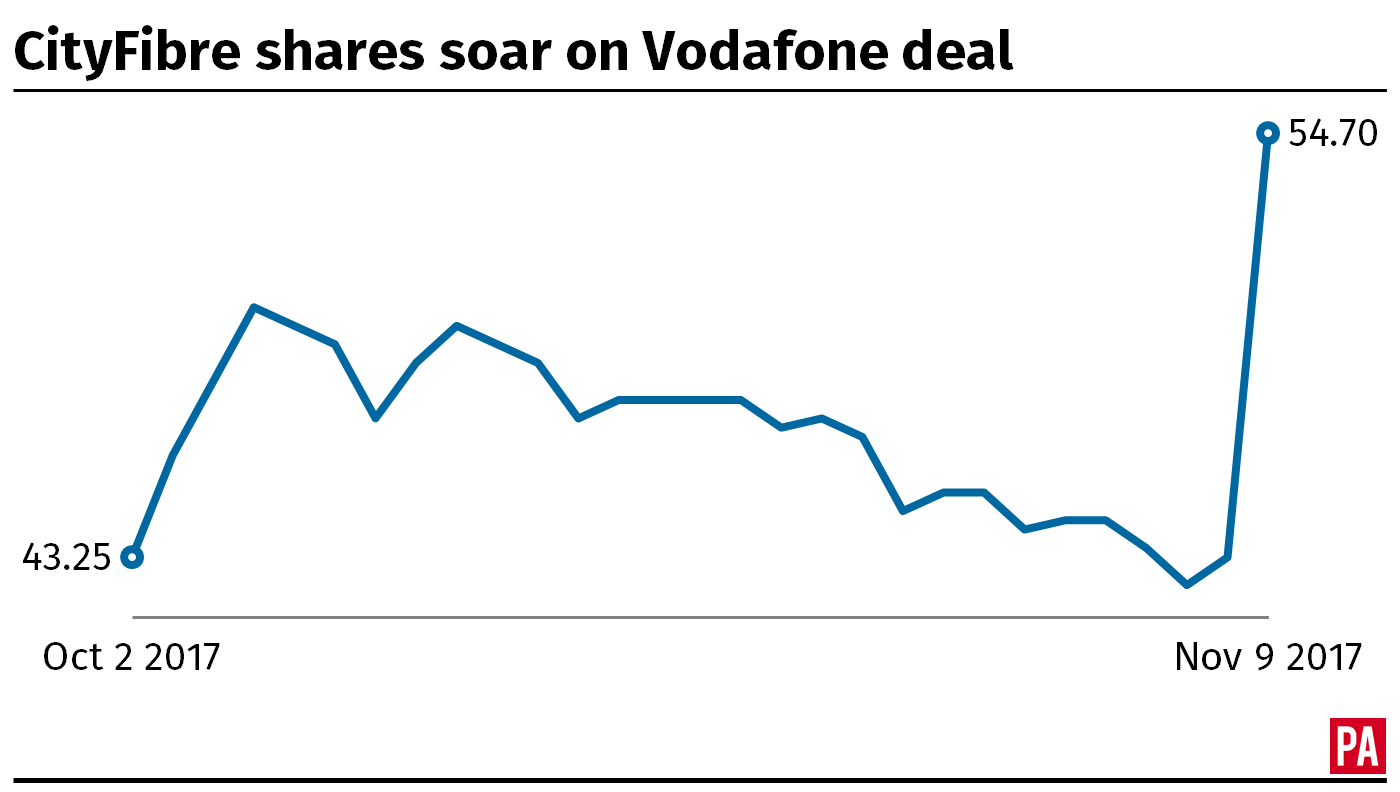 Vodafone and CityFibre have not revealed which regions will benefit from the first phase of the project, but said a list would be released over the coming months, with hopes of connecting the first customers by the end of 2018.
It creates another viable competitor to BT's Openreach, which currently dominates fibre infrastructure across the UK, through Virgin has also emerged as a rival.
Investors cheered the news, sending CityFibre's AIM-listed shares rocketing 26%, or 11.45p, to 54.7p in morning trading.
Vodafone's gains were more subdued - up 0.9% or 2.05p at 217.95p.
The wholesale agreement between the two firms gives Vodafone exclusive rights to market broadband services over the network, which will be built, operated and owned by CityFibre.
The first phase of the project is expected to be worth more than £500 million over 20 years, according to the announcement.
The deal will has been welcomed by the UK Government, which has been pushing to increase high-speed internet connectivity across the country.
Minister for Digital Matt Hancock said: "We warmly welcome this new partnership between CityFibre and Vodafone as an important step to drive investment and help build a full-fibre Britain.
"Reaching an additional five million premises by the middle of the next decade would be a significant contribution to connecting modern Britain and meeting our manifesto commitments."
In September, Mr Hancock said the Government was on track to make
superfast broadband available to 95% of the UK by the end of this year, and said reinvestments in the network could help connect extra homes and businesses from next year.
Jonathan Oxley, competition group director for communications watchdog Ofcom, said the increased competition will "help support the the UK's future economy".
"We want to see commitment to full-fibre investment right across the industry," he said.
More than 4.5 million homes and businesses can now access superfast broadband, although the take-up rate is around 38%.
Competitor Openreach is itself aiming to deliver to every home and business broadband which is fast enough to allow multiple video streams on one connection by 2020.
In March, BT reached an agreement with Ofcom to legally separate its infrastructure arm Openreach following a drawn-out battle with the regulator, creating a legally separate company with its own staff, management and strategy, while remaining a subsidiary of BT.
(function(i,s,o,g,r,a,m){i['GoogleAnalyticsObject']=r;i[r]=i[r]||function(){ (i[r].q=i[r].q||[]).push(arguments)},i[r].l=1*new Date();a=s.createElement(o), m=s.getElementsByTagName(o)[0];a.async=1;a.src=g;m.parentNode.insertBefore(a,m) })(window,document,'script','//www.google-analytics.com/analytics.js','ga'); ga('create', 'UA-72310761-1', 'auto', {'name': 'pacontentapi'}); ga('pacontentapi.set', 'referrer', location.origin); ga('pacontentapi.set', 'dimension1', 'By Kalyeena Makortoff, Press Association City Reporter'); ga('pacontentapi.set', 'dimension2', 'e1cc549e-469b-471a-aa5b-85e557988493'); ga('pacontentapi.set', 'dimension3', 'paservice:finance,paservice:finance:city,paservice:news,paservice:news:uk'); ga('pacontentapi.set', 'dimension6', 'story'); ga('pacontentapi.set', 'dimension7', 'composite'); ga('pacontentapi.set', 'dimension8', null); ga('pacontentapi.set', 'dimension9', null); ga('pacontentapi.send', 'pageview', { 'location': location.href, 'page': (location.pathname + location.search + location.hash), 'title': 'CityFibre shares jump on Vodafone deal to connect five million homes'});
Read Full Story