Priti Patel's meetings while on holiday 'not forbidden', says Liam Fox
Priti Patel did nothing "forbidden" by holding a secret meeting with Israeli prime minister Benjamin Netanyahu when she claimed to be on holiday, Cabinet colleague Liam Fox said.
Dr Fox admitted that if he was on holiday he would not be given "time off" to hold talks with political contacts.
Theresa May still has full confidence in International Development Secretary Ms Patel despite having to give her a dressing down over a series of engagements in Israel.
The Prime Minister was forced to remind Ms Patel of her obligations as a minister after she took time out from a family holiday to meet Mr Netanyahu, other politicians, businesses and charities without telling the Foreign Office.
Mrs May has also taken steps to tighten the ministerial code, asking Whitehall's top civil servant Sir Jeremy Heywood to look at how it can be clarified.
Ms Patel only made Mrs May aware of the meetings on Friday, more than two months after they took place, when reports began to emerge of talks she held with a politician and a disability charity.
The minister has apologised and admitted a "lack of precision" for suggesting last week that Foreign Secretary Boris Johnson knew about the trip, and that only two meetings had taken place when she attended 12.
But she appears to have avoided the sack after going to Number 10 on Monday to apologise to Mrs May, who "reminded her of her obligations" under the ministerial code, the PM's official spokesman said.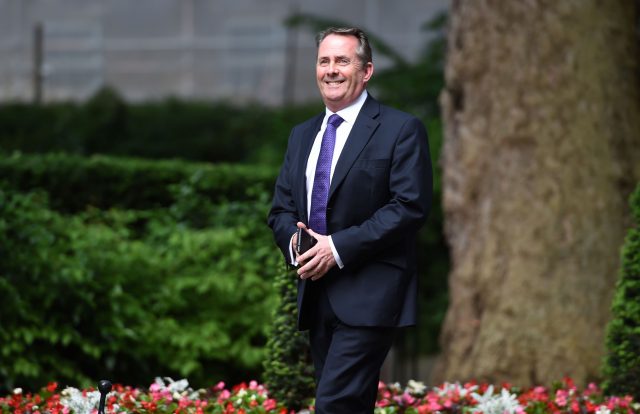 Dr Fox told BBC Radio 4's Today programme: "I find it utterly unsurprising that the International Aid Secretary would want to talk to charities while she is on holiday in a particular area about whether or not we can use the British aid budget to diminish the humanitarian problems of people in that area."
On the issue of the meeting with Mr Netanyahu, Dr Fox said: "It's not in any way forbidden to do that."
But he added: "When I'm on holiday I doubt my wife would give me time off to do anything other than have a holiday."
Dr Fox breached the ministerial code himself, resigning as defence secretary in 2011 over his links with self-styled adviser Adam Werritty.
Ms Patel's meetings in Israel between August 13 and 25 were arranged by the honorary president of the lobbying group Conservative Friends of Israel, Lord Polak, who also attended all but one.
On returning from her trip, Ms Patel commissioned Department for International Development (Dfid) work on disability and humanitarian and development partnerships between Israel and the UK.
The BBC reported that Ms Patel also suggested that some of Britain's aid budget go to the Israeli army to support humanitarian work in the occupied Golan Heights.
Shadow Cabinet Office minister Jon Trickett said there had been a "clear breach" of the ministerial code while shadow international development secretary Kate Osamor called for an investigation.
Mrs May told reporters she had accepted an apology from Ms Patel "for the way she handled that particular visit", adding: "I have spoken to her about the ministerial code and about the implications of the ministerial code."
(function(i,s,o,g,r,a,m){i['GoogleAnalyticsObject']=r;i[r]=i[r]||function(){ (i[r].q=i[r].q||[]).push(arguments)},i[r].l=1*new Date();a=s.createElement(o), m=s.getElementsByTagName(o)[0];a.async=1;a.src=g;m.parentNode.insertBefore(a,m) })(window,document,'script','//www.google-analytics.com/analytics.js','ga'); ga('create', 'UA-72310761-1', 'auto', {'name': 'pacontentapi'}); ga('pacontentapi.set', 'referrer', location.origin); ga('pacontentapi.set', 'dimension1', 'By PA Reporters'); ga('pacontentapi.set', 'dimension2', '46159b5a-8666-41a9-a9df-87c8d0e2cf86'); ga('pacontentapi.set', 'dimension3', 'paservice:news,paservice:news:uk'); ga('pacontentapi.set', 'dimension6', 'story-enriched'); ga('pacontentapi.set', 'dimension7', 'composite'); ga('pacontentapi.set', 'dimension8', null); ga('pacontentapi.set', 'dimension9', null); ga('pacontentapi.send', 'pageview', { 'location': location.href, 'page': (location.pathname + location.search + location.hash), 'title': 'Priti Patel\u2019s meetings while on holiday \u2018not forbidden\u2019, says Liam Fox'});
Read Full Story