Lewis Pugh's south Atlantic swim 'most dangerous I've ever attempted'
British endurance swimmer Lewis Pugh is set to take to the icy, dangerous waters of the south Atlantic in a bid to secure protection for the area's wildlife-rich seas.
Mr Pugh is planning to swim 1km (0.6 miles) off the coast of South Georgia, whose seas are home to dangerous predators including elephant seals, leopard seals, Antarctic fur seals and killer whales, on Tuesday.
The campaigner and UN Patron of the Oceans, who has swum in the Arctic and Antarctic and every ocean on Earth, said the "cocktail of cold and wildlife make it for me the most dangerous swim I've ever attempted".
He is undertaking the swim to urge the Government to protect the waters of South Georgia and the South Sandwich Islands, a UK Overseas Territory in the southern Atlantic, which support wildlife including seals, penguins, sea birds and blue whales.
Mr Pugh said the area is already affected by "very rapid" climate change and industrial fishing fleets seeking new stocks to exploit, having overfished other seas, could soon move in.
He wants the UK to fully protect the area, starting with the creation of a no-take zone around the South Sandwich Islands to prevent fishing, and increased environmental protection around neighbouring South Georgia.
His call to protect the area comes as the Government is being urged to deliver on its pledge to create a "blue belt" of marine protected areas around UK overseas territories, focusing on Ascension Island, St Helena, Tristan da Cunha and the South Sandwich Islands, all in the southern Atlantic.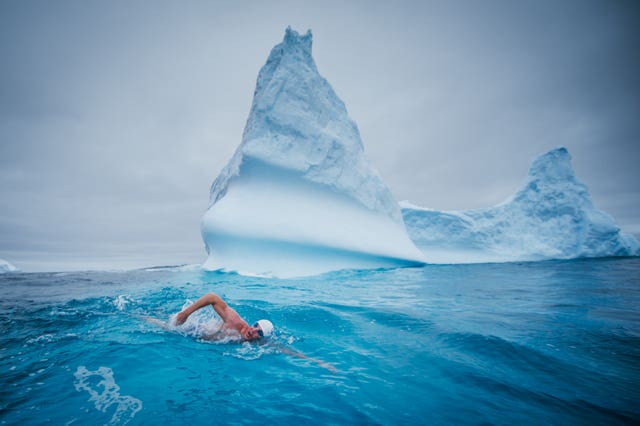 Mr Pugh plans to take to the waters of King Edward Cove in South Georgia and become the first person to swim the stretch of water past the Grytviken Whaling Station to end near the grave of explorer Sir Ernest Shackleton.
Mr Pugh has previously used "Speedo diplomacy" to help create the world's largest marine protected area in the Ross Sea, Antarctica, swimming in icy waters to raise awareness and heading to the US and Russia to help negotiate the final deal.
The latest swim is part of efforts to create a network of marine protected areas around the Antarctic.
Ahead of the swim he said: "If you were only able to protect half a dozen places on the planet, you would designate the islands of South Georgia and South Sandwich.
"They are one of the most important biodiversity hotspots in the whole world, but only 2% of their waters is fully protected.
"I'm going to do this swim, and draw attention to this amazing place."
(function(i,s,o,g,r,a,m){i['GoogleAnalyticsObject']=r;i[r]=i[r]||function(){ (i[r].q=i[r].q||[]).push(arguments)},i[r].l=1*new Date();a=s.createElement(o), m=s.getElementsByTagName(o)[0];a.async=1;a.src=g;m.parentNode.insertBefore(a,m) })(window,document,'script','//www.google-analytics.com/analytics.js','ga'); ga('create', 'UA-72310761-1', 'auto', {'name': 'pacontentapi'}); ga('pacontentapi.set', 'referrer', location.origin); ga('pacontentapi.set', 'dimension1', 'By Emily Beament, Press Association Environment Correspondent'); ga('pacontentapi.set', 'dimension2', '41ae27c6-8d8b-4abe-b2fe-7c6de30b4fcc'); ga('pacontentapi.set', 'dimension3', 'paservice:news,paservice:news:uk'); ga('pacontentapi.set', 'dimension6', 'story'); ga('pacontentapi.set', 'dimension7', 'composite'); ga('pacontentapi.set', 'dimension8', null); ga('pacontentapi.set', 'dimension9', null); ga('pacontentapi.send', 'pageview', { 'location': location.href, 'page': (location.pathname + location.search + location.hash), 'title': 'Lewis Pugh\u2019s south Atlantic swim \u2018most dangerous I\u2019ve ever attempted\u2019'});
Read Full Story