UBS less likely to move 1,000 staff from London, chief executive says
The chief executive of UBS says it is becoming "more and more unlikely" that the bank will move 1,000 staff from London after receiving "regulatory and political clarifications" around Brexit.
The Swiss bank has previously said that around a fifth of its 5,000-strong UK staff were involved in operations dependent on passporting rights that allow financial services to operate across the bloc.
As those rights are expected to be lost after Brexit, UBS was believed to be preparing to relocate around 1,000 staff.
But UBS chief Sergio Ermotti told reporters on Friday that the bank was less likely to trigger a mass move.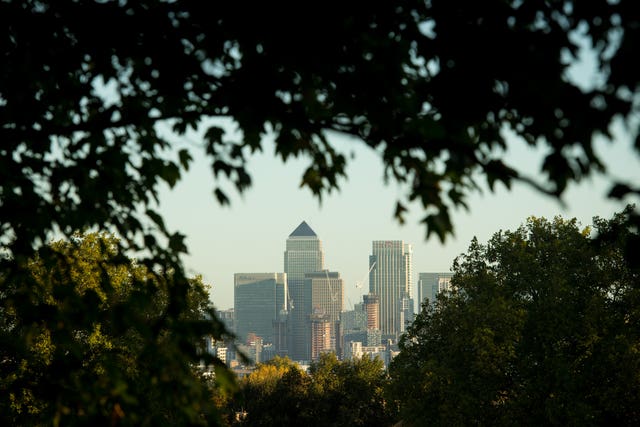 "We are finalising our plan on where to move people that need to be moved over the next ... one to three years depending on the outcome of this political discussion and negotiation," he said.
He said that the 1,000 jobs moves were "becoming in the last few months more and more unlikely ... because we got also some regulatory and political clarification about what we need to do," he said.
Mr Ermotti said that his "target" is to "keep as many people as we can in London".
UBS has not given any further details on how many jobs could now be moved.
The news is likely to raise questions over what kind of reassurances businesses are receiving around post-Brexit agreements between the UK and EU.
A spokesman for the Treasury said: "The Chancellor has made it clear that it is his priority to ensure the UK remains the financial services centre of the world.
"We will continue to work closely with the City to negotiate a transitional arrangement which avoids unnecessary disruption, and allows firms to adjust in an orderly way to the new arrangements after Britain leaves the EU."
Earlier this week, the City of London Corporation penned a letter to Chancellor Philip Hammond warning that Square Mile firms would start activating their Brexit contingency plans unless the Government provides clarity over a transition period by year-end.
London lobby group TheCityUK also said companies will pull the trigger on "irreversible" Brexit job relocations in the new year without similar assurances.
That message was even echoed by the president of German financial regulator Bafin, who told reporters that it will be hard for companies to stall or halt Brexit contingency plans if Britain fails to strike a deal by the first quarter of 2018 - a period he said could be a "point of no return" for financial services firms.
Just last week, Goldman Sachs chief executive Lloyd Blankfein took to Twitter to detail a recent trip to Frankfurt where the US bank is planning to relocate some of its own business.
He said: "Just left Frankfurt. Great meetings, great weather, really enjoyed it. Good, because I'll be spending a lot more time there."
Reports have emerged that the group - which employs around 6,500 people in the UK - had signed a contract to lease eight floors of a skyscraper in the city, capable of holding 800 staff.
(function(i,s,o,g,r,a,m){i['GoogleAnalyticsObject']=r;i[r]=i[r]||function(){ (i[r].q=i[r].q||[]).push(arguments)},i[r].l=1*new Date();a=s.createElement(o), m=s.getElementsByTagName(o)[0];a.async=1;a.src=g;m.parentNode.insertBefore(a,m) })(window,document,'script','//www.google-analytics.com/analytics.js','ga'); ga('create', 'UA-72310761-1', 'auto', {'name': 'pacontentapi'}); ga('pacontentapi.set', 'referrer', location.origin); ga('pacontentapi.set', 'dimension1', 'By Kalyeena Makortoff, Press Association City Reporter'); ga('pacontentapi.set', 'dimension2', '4d5fae10-da68-4277-9e30-2f841ec87f22'); ga('pacontentapi.set', 'dimension3', 'paservice:finance,paservice:finance:city,paservice:news,paservice:news:uk'); ga('pacontentapi.set', 'dimension6', 'story'); ga('pacontentapi.set', 'dimension7', 'composite'); ga('pacontentapi.set', 'dimension8', null); ga('pacontentapi.set', 'dimension9', null); ga('pacontentapi.send', 'pageview', { 'location': location.href, 'page': (location.pathname + location.search + location.hash), 'title': 'UBS less likely to move 1,000 staff from London, chief executive says'});
Read Full Story