Full-time workers' weekly earnings fall for first time since 2014
Full-time workers' weekly earnings have fallen in real terms for the first time since 2014, new figures show.
Median weekly earnings are £550 a week, down by 0.4% on last year when adjusted for inflation.
The figure is 2.2% more than a year ago, reported the Office for National Statistics.
The gender pay gap based on median hourly earnings for full-time employees has fallen to 9.1%, from 9.4% in 2016, the lowest since the survey began in 1997.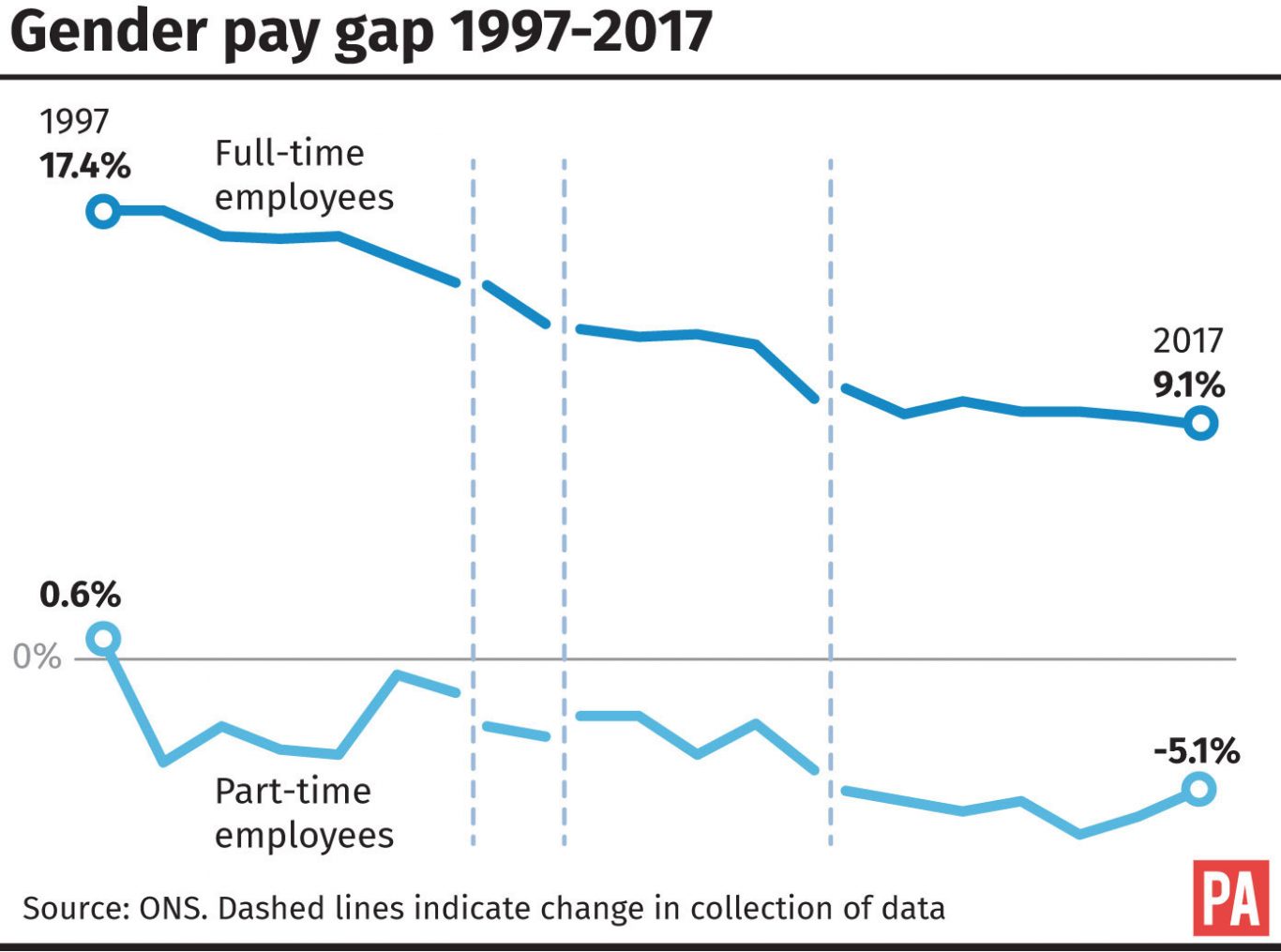 Weekly earnings are 4.7% lower than in 2008 in real terms, the ONS reported.
Weekly pay for part-time workers increased by 2.9% in the past year to £182. The gender pay gap for full and part-time workers increased by 0.2% to 18.4%.
ONS statistician Roger Smith said the 2.2% increase in median earnings was the joint highest since the economic downturn in 2008, in cash terms.
"However, higher inflation meant real earnings were down overall on the year for the first time since 2014. This wasn't the case for everyone though. The lowest paid 10% of workers and those in some regions like the East Midlands still saw real increases, while other areas saw decreases."
TUC general secretary Frances O'Grady said: "The full-time gender pay gap has inched a bit smaller but there is still a chasm between men and women's earnings.
"At this rate it'll take decades for women to get paid the same as men.
"The Government needs to crank up the pressure on employers. Companies shouldn't just be made to publish their gender pay gaps.
"They should be forced to explain how they'll close them and those bosses who flout the law should be fined."
Stephen Clarke, policy analyst at the Resolution Foundation, said: "Today's release confirms what we already knew about the return of the pay squeeze in 2017.
"The failure of nominal wage growth to match increases in inflation has left real weekly earnings down on the year for the first time since 2014.
"The silver lining is good progress for lower-paid people, with the national living wage helping to boost pay packets.
"Because more women are low paid they have disproportionately benefited from this boost, with the full-time gender pay gap ticking down once again to its lowest level since the survey began two decades ago."
Gerwyn Davies, of the Chartered Institute of Personnel and Development, said: "Despite good news on the gender pay gap, the latest figures show that there is much more to do in order to deliver genuine pay equality.
"This is particularly true when we consider that relatively few women work full time and that women still tend to be concentrated in low-paid sectors of the economy - especially among the over 30s."
(function(i,s,o,g,r,a,m){i['GoogleAnalyticsObject']=r;i[r]=i[r]||function(){ (i[r].q=i[r].q||[]).push(arguments)},i[r].l=1*new Date();a=s.createElement(o), m=s.getElementsByTagName(o)[0];a.async=1;a.src=g;m.parentNode.insertBefore(a,m) })(window,document,'script','//www.google-analytics.com/analytics.js','ga'); ga('create', 'UA-72310761-1', 'auto', {'name': 'pacontentapi'}); ga('pacontentapi.set', 'referrer', location.origin); ga('pacontentapi.set', 'dimension1', 'By PA Reporters'); ga('pacontentapi.set', 'dimension2', 'ffd42dd9-fa59-4441-b09b-711af1135752'); ga('pacontentapi.set', 'dimension3', 'paservice:news,paservice:news:uk'); ga('pacontentapi.set', 'dimension6', 'story-enriched'); ga('pacontentapi.set', 'dimension7', 'composite'); ga('pacontentapi.set', 'dimension8', null); ga('pacontentapi.set', 'dimension9', null); ga('pacontentapi.send', 'pageview', { 'location': location.href, 'page': (location.pathname + location.search + location.hash), 'title': 'Full-time workers\u2019 weekly earnings fall for first time since 2014'});
Read Full Story