Britain 'has one of largest numbers of returnees from IS conflict in Syria'
Britain has one of the largest populations of returning fighters and others who travelled to join Islamic State in the world, a new report suggests.
Around 850 UK-linked individuals "of national security concern" made the journey to engage with the conflict in Syria, with just under half of those believed to have come back.
The figure of approximately 425 returnees is the fourth highest for individual nations in an analysis published by the Soufan Centre and the Global Strategy Network.
Out of countries for which data was available, only Turkey (900), Tunisia (800) and Saudi Arabia (760) had larger numbers of returning "foreign fighters", according to the study.
The number who have come back to the UK compares with around 300 in Germany and 271 in France.
The paper, written by Richard Barrett, a former director of global counter-terrorism at MI6, said: "While returning foreign fighters have not as yet added significantly to the threat of terrorism around the world, the number of attacks inspired or directed by the Islamic State continues to rise.
"All returnees, whatever their reason for going home, will continue to pose some degree of risk."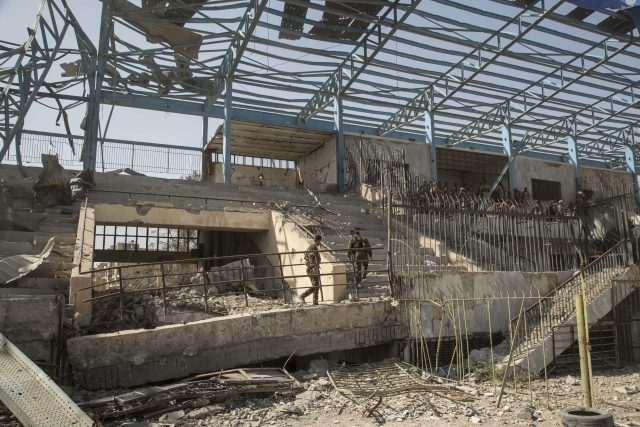 Previous research has suggested that overall more than 40,000 individuals travelled to join Islamic State from more than 110 nations both before and after it declared a caliphate in June 2014.
The new assessment calculates that at least 5,600 citizens or residents have gone back to their home countries.
It says: "Added to the unknown numbers from other countries, this represents a huge challenge for security and law enforcement entities."
The report notes that most returnees "will be unlikely to experience anything in their lives at home that matches the intensity of their experience as a member of IS, whether or not they were fighting on the front line".
Questions over how returning extremists are managed by the counter-terrorism agencies have intensified as IS comes under fierce military pressure.
At the weekend a Government minister suggested the only way of dealing with most British IS fighters in Syria was to kill them.
Rory Stewart, the international development minister, later emphasised that combatants should be dealt with "in accordance with law".
(function(i,s,o,g,r,a,m){i['GoogleAnalyticsObject']=r;i[r]=i[r]||function(){ (i[r].q=i[r].q||[]).push(arguments)},i[r].l=1*new Date();a=s.createElement(o), m=s.getElementsByTagName(o)[0];a.async=1;a.src=g;m.parentNode.insertBefore(a,m) })(window,document,'script','//www.google-analytics.com/analytics.js','ga'); ga('create', 'UA-72310761-1', 'auto', {'name': 'pacontentapi'}); ga('pacontentapi.set', 'referrer', location.origin); ga('pacontentapi.set', 'dimension1', 'By PA Reporters'); ga('pacontentapi.set', 'dimension2', '0650a233-3b80-4566-8658-dc8f8e465d61'); ga('pacontentapi.set', 'dimension3', 'paservice:news,paservice:news:uk'); ga('pacontentapi.set', 'dimension6', 'story-enriched'); ga('pacontentapi.set', 'dimension7', 'composite'); ga('pacontentapi.set', 'dimension8', null); ga('pacontentapi.set', 'dimension9', null); ga('pacontentapi.send', 'pageview', { 'location': location.href, 'page': (location.pathname + location.search + location.hash), 'title': 'Britain \u2018has one of largest numbers of returnees from IS conflict in Syria\u2019'});
Read Full Story