Storm Brian causes flooding on south-west coast of Ireland
Storm Brian has caused flooding in some coastal areas on Ireland's south-west coast.
Limerick city appears to be one of the areas worst-hit, with the River Shannon having overflowed.
In Galway city, temporary flood defences erected close to the Spanish Arch landmark proved effective, though the waters came close to reaching some properties.
There have been reports of flooding on roads in other south and west coastal areas.
Many popular visitor locations, such as the Cliffs of Moher in Co Clare, have been closed to the public on Saturday due to the weather warnings.
"Do not visit, it is unsafe and extremely dangerous," said a warning on the venue's website.
Racing at the Fairyhouse track in Co Meath has been postponed.
Less than a week after ex-hurricane Ophelia battered the country, resulting in three deaths, Storm Brian brought high winds and large Atlantic waves through Friday night and into Saturday.
The weather warnings are not quite as dire as those ahead of ex-hurricane Ophelia, when Met Eireann issued a red alert for the entire Irish Republic on Monday.
However, an orange wind warning, the second highest, has been issued for southern and western coastal areas, spanning counties Mayo, Galway, Clare, Kerry, Cork, Waterford and Wexford.
Gusts of up to 130 km/h (80mph) are forecast.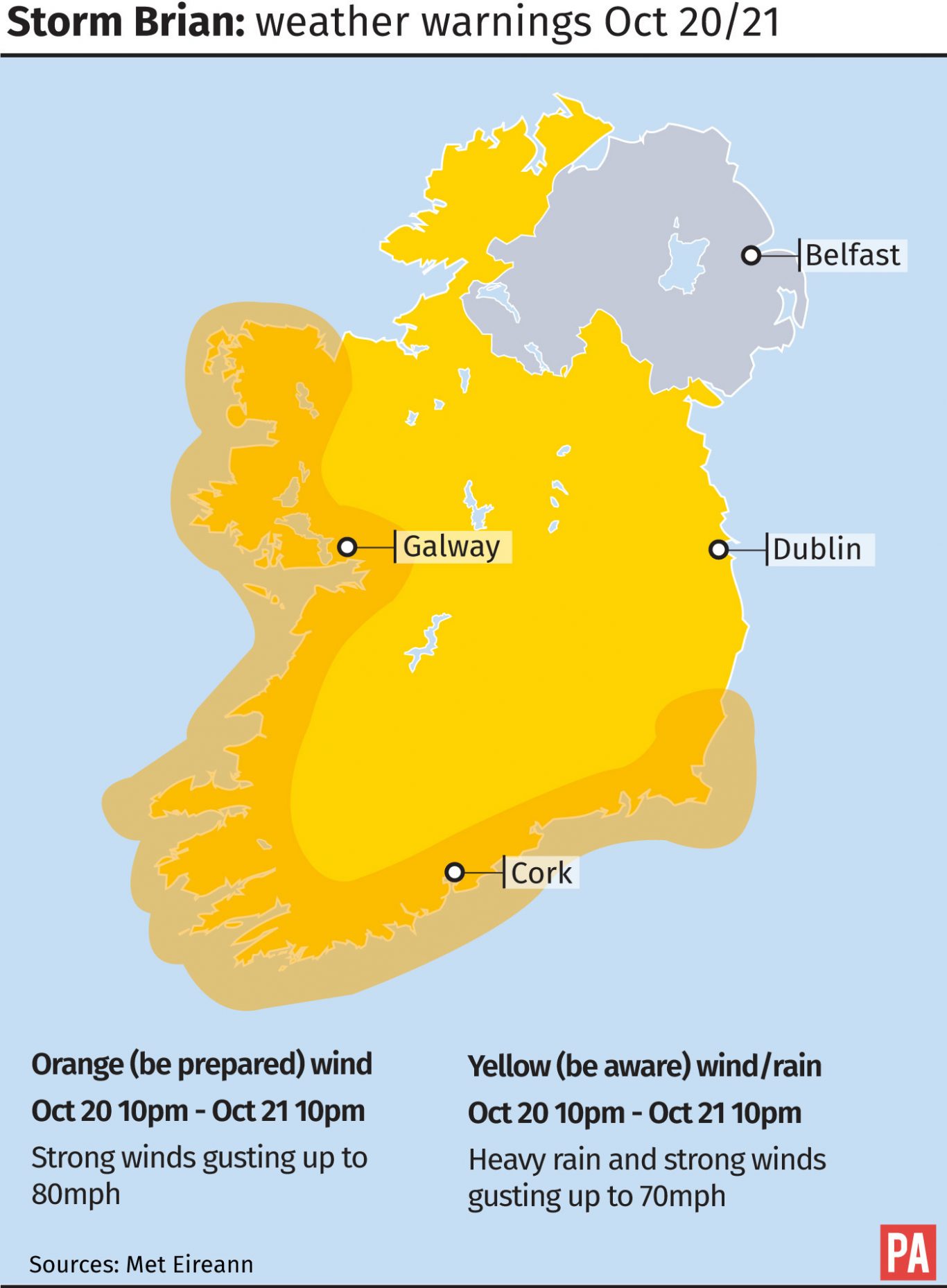 A yellow wind warning is in place for the rest of the Irish Republic.
A yellow rain warning covers counties Donegal, Galway, Leitrim, Mayo, Sligo, Clare, Cork, Kerry, Limerick and Waterford.
Storm Brian is the result of a "weather bomb" of low pressure in the Atlantic Ocean.
It has arrived in Ireland as the country is still picking up the pieces in the wake of Ophelia.
Electricity network operator ESB has warned that the latest burst of bad weather will hamper efforts to restore power to around 37,000 customers still without electricity in the wake of Monday's violent winds.
Read Full Story