Europe agrees no physical border between N Ireland and Republic, says May
Theresa May has said Europe agreed that there will be no physical border on the island of Ireland after Brexit.
The Prime Minister said it was vital that the UK's split from the EU has no impact on the Northern Ireland peace process.
At the close of her involvement in the European Council summit in Brussels, Ms May said the Good Friday Agreement must be at the heart of any deal.
The PM said: "Northern Ireland's unique circumstances demand specific solutions.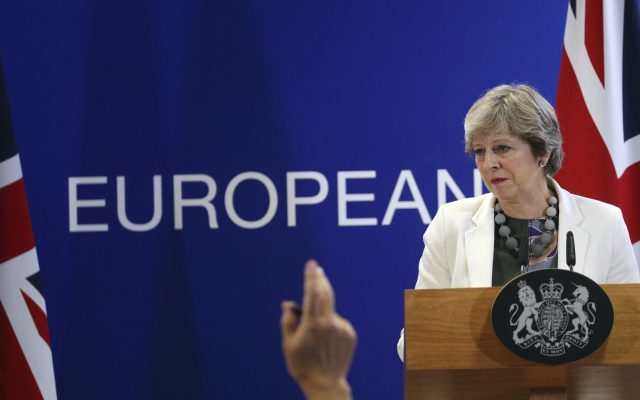 "It's vital that joint work on the peace process is not affected in any way. It's too important for that.
"Both sides agree that there cannot be any physical infrastructure at the border."
The PM said European leaders also gave commitments that the Common Travel Area between Britain and Ireland should be protected.
Earlier, Taoiseach Leo Varadkar revealed Ms May had made the British position clear on no hard border in her address at the European Council summit dinner in Thursday night.
The Taoiseach said he was heartened by the PM's strengthened language on the issue.
"She specifically referenced the unique situation for both Ireland and Northern Ireland, which I think was very positive," he said.
"She strengthened her language in relation to the border.
"She said the UK would not accept a physical border on the island of Ireland - again, very positive language."
The Taoiseach said talks on the border question were "inching forward" but he repeated his call for more detail.
"We don't have more detail yet - in a sense that's part of the difficulty," he said.
"We need to see sentiment backed up."
Brexit will dominate day two of the summit, which involves all EU leaders bar Ms May. Mr Varadkar also said the question of the UK's divorce bill is not as big an issue for Ireland as it is for other countries.
He said his focus was on citizens' rights on the island of Ireland, Europeans living in Britain and British citizens in Ireland along with the question about of future UK-Ireland trade.
The Taoiseach also said EU leaders agreed that any changes to tax rules for digital multinationals should be done at a global level, not at the EU level.
And he said governments were keen to improve responses to natural disasters, with the wildfires that have raged across Portugal and Spain this year raised.
The impact of Storm Ophelia was also discussed at the summit with the option left open for Ireland to apply for EU Solidarity funds over the next 12 weeks to meet the repair bill.
(function(i,s,o,g,r,a,m){i['GoogleAnalyticsObject']=r;i[r]=i[r]||function(){ (i[r].q=i[r].q||[]).push(arguments)},i[r].l=1*new Date();a=s.createElement(o), m=s.getElementsByTagName(o)[0];a.async=1;a.src=g;m.parentNode.insertBefore(a,m) })(window,document,'script','//www.google-analytics.com/analytics.js','ga'); ga('create', 'UA-72310761-1', 'auto', {'name': 'pacontentapi'}); ga('pacontentapi.set', 'referrer', location.origin); ga('pacontentapi.set', 'dimension1', 'By PA Reporters'); ga('pacontentapi.set', 'dimension2', '1832c5b3-a4cc-4656-a456-77d415220bba'); ga('pacontentapi.set', 'dimension3', 'paservice:news,paservice:news:uk,paservice:news:world'); ga('pacontentapi.set', 'dimension6', 'story-enriched'); ga('pacontentapi.set', 'dimension7', 'composite'); ga('pacontentapi.set', 'dimension8', null); ga('pacontentapi.set', 'dimension9', null); ga('pacontentapi.send', 'pageview', { 'location': location.href, 'page': (location.pathname + location.search + location.hash), 'title': 'Europe agrees no physical border between N Ireland and Republic, says May'});
Read Full Story