Buyers in England face a £30,000 premium to live in a market town home, report finds
Homebuyers looking to live in one of England's market towns will typically need to pay a premium of more than £30,000, a report has found.
With their vibrant communities and abundance of local produce, the typical cost of a property in a market town is £30,788 more compared with house prices in neighbouring areas, Lloyds Bank found.
The average house price in one of England's market towns is £280,690 - 7.9 times average earnings.
Property values in market towns across England are on average 12% higher than their county average.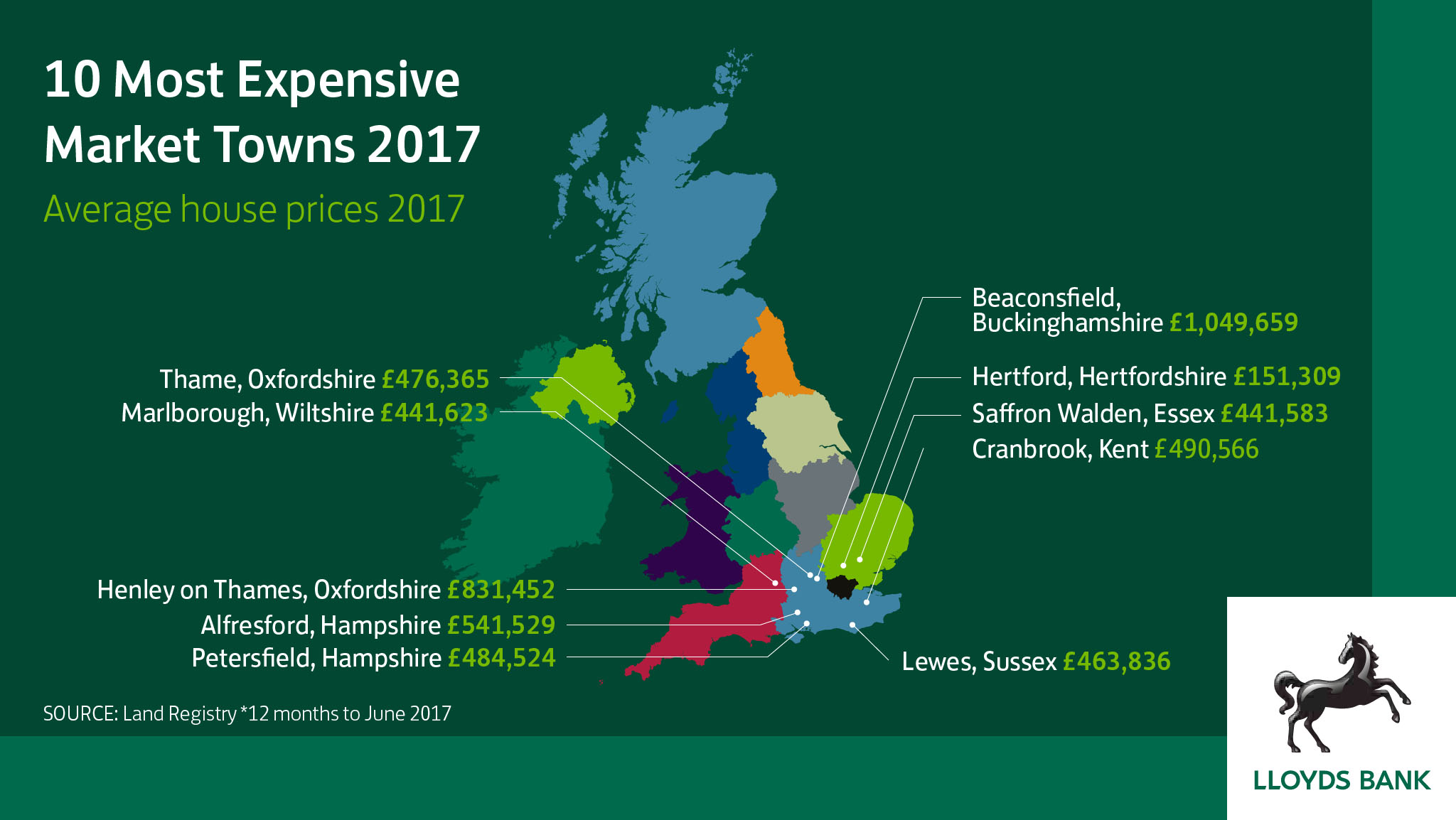 House prices in around two-thirds (67%) of market towns across England cost more when compared with the surrounding county, Lloyds Bank found.
Lloyds said South East England dominates the top 10 most expensive market towns with Beaconsfield being the most expensive, with an average house price of £1,049,659 - the only market town on the list to break above the £1 million mark.
Nestled by the Chiltern Hills, Beaconsfield, with its close commuting links to London, also carries the largest house price premium, with homes costing 161% (or £647,623) above the county average of £402,036.
Henley on Thames (£831,452) and Alfresford in Hampshire (£541,529) are the next most expensive market towns.
Outside southern England, Altrincham, with its lively market being a big destination for foodies and its popularity with Manchester commuters, is the most expensive market town with an average property value of £431,295.
For homebuyers looking for more affordable market town living, Lloyds said Ferryhill with an average property value of £78,184 and Crook, at £115,659, both in Durham, are the least expensive market towns.
Andrew Mason, mortgages product director at Lloyds Bank, said: "Understandably, homebuyers continue to be attracted to the charm and high quality of life offered by market towns and are typically happy to pay extra to live there."
Here are England's 10 most expensive market towns, according to Lloyds Bank, with the average house price:
1. Beaconsfield, Buckinghamshire, South East, £1,049,659
2. Henley on Thames, Oxfordshire, South East, £831,452
3. Alfresford, Hampshire, South East, £541,529
4. Cranbrook, Kent, South East, £490,566
5. Petersfield, Hampshire, South East, £484,524
6. Thame, Oxfordshire, South East, £476,365
7. Lewes, Sussex, South East, £463,836
8. Hertford, Hertfordshire, South East, £452,843
9. Marlborough, Wiltshire, South West, £441,623
10. Saffron Walden, Essex, South East, £441,583
Here are the market towns with the highest premiums compared to average house prices in the surrounding county, with the average house price in the market town followed by the premium in percentage and cash terms:
1. Beaconsfield, Buckinghamshire, £1,049,659, 161%, £647,623
2. Wetherby, West Yorkshire, £366,873, 110%, £191,817
3. Henley on Thames, Oxfordshire, £831,452, 108%, £431,991
4. Bakewell, Derbyshire, £355,264, 88%, £166,794
5. Keswick, Cumbria, £323,288, 81%, £144,522
6. Altrincham, Cheshire, £431,295, 80%, £191,583
=7. Southwell, Nottinghamshire, £308,563, 74%, £131,071
=7. Alfresford, Hampshire, £541,529, 74%, £229,726
=9. Stamford, Lincolnshire, £311,467, 65%, £122,842
=9. Middleton St George, Durham, £218,377, 65%, £85,985
And here are the most affordable market towns in England, according to Lloyds Bank, with the average house price:
1. Ferryhill, Durham, North, £78,184
2. Crook, Durham, North, £115,659
3. Immingham, Lincolnshire, Yorkshire and the Humber, £115,769
4. Stanhope, Durham, North, £142,535
5. Saltburn, Durham, North, £144,717
6. Tickhill, Derbyshire, East Midlands, £147,543
7. Guisborough, North Yorkshire, Yorkshire and the Humber, £151,309
8. Marsden, West Yorkshire, Yorkshire and the Humber, £154,830
9. Boston, Lincolnshire, East Midlands, £161,538
10. Cartmel, Cumbria, North, £165,335
Read Full Story