Universities could face fines for failing to protect free speech
Universities that fail to protect free speech, or are unable to justify high salaries for bosses, could face fines or lose funding under Government plans.
Institutions will be told they must ensure students can take part in "rigorous, open debate" or risk action from the new higher education watchdog.
Under new proposals, universities will also have to publish the pay of anyone earning more than £100,000 and give an explanation if someone is earning in excess of £150,000 - equivalent to the Prime Minister's salary.
The measures are set out in a consultation on the Office for Students (OfS), a new regulator that will be launched next April.
It outlines plans to protect free speech on campus, with Universities Minister Jo Johnson warning: "Freedom of speech and debate is sometimes threatened by groups operating under the banner of 'no platforming' and 'safe spaces'."
University leaders said it is "crucial" that controversial subjects and ideas can be discussed on campuses.
The consultation says: "Freedom of speech within the law is the cornerstone of higher education.
"It is important on many levels, but perhaps the most important aspect of it is that it develops and encourages a culture of vigorous thought and debate. It allows for conventional wisdom to be rigorously challenged.
"Students develop the ability to think critically, to challenge extremist narratives, and put forward new and controversial ideas. These are essential skills in a modern, forward-facing society.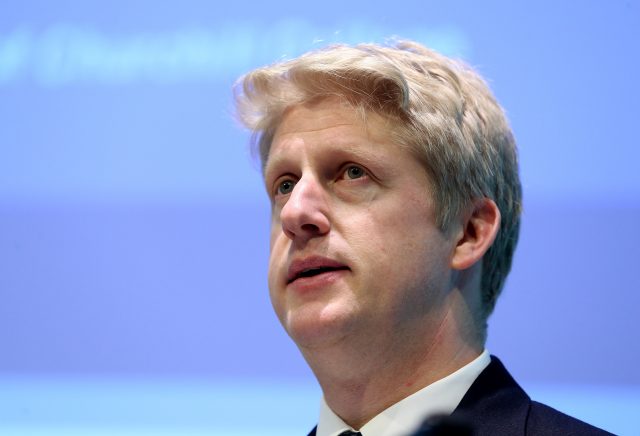 "In a democratic country, we strongly believe it is in the public interest to preserve and encourage freedom of speech within the law. This is why the responsibility of universities to actively secure freedom of speech was enshrined in legislation."
Universities that fail to comply could face action including fines, suspension or deregistration by the OfS - which means they could lose access to benefits such as student loans and grant funding.
The OfS could also "publicly call out" those that do not protect free speech.
"As a result of the changes we propose in this consultation, our higher education will be second to none in ensuring that students can take part in rigorous, open debate and our providers will be the home of innovative thought," the consultation adds.
Professor Janet Beer, president of vice-chancellors' group Universities UK, said: "There is already a legal duty on the sector to secure free speech within the law and universities take these responsibilities very seriously.
"It is absolutely crucial that universities remain places where controversial subjects are discussed and ideas challenged."
The consultation also says that pay for university chiefs has risen significantly in recent years, and in 2015/16 the typical salary of a UK vice-chancellor was 6.4 times that of the average university worker.
Average pay last year including pensions and benefits was more than £280,000.
"Higher education providers are autonomous institutions, and they are solely responsible for setting the salaries of their staff," the document says.
"However, the taxpayer is the sector's most significant single funder and there is a legitimate public interest in their efficiency, including of senior staff pay.
"Increasing salaries divert money away from a provider's core mission of teaching and research. Exceptional pay can only be justified by exceptional performance."
(function(i,s,o,g,r,a,m){i['GoogleAnalyticsObject']=r;i[r]=i[r]||function(){ (i[r].q=i[r].q||[]).push(arguments)},i[r].l=1*new Date();a=s.createElement(o), m=s.getElementsByTagName(o)[0];a.async=1;a.src=g;m.parentNode.insertBefore(a,m) })(window,document,'script','//www.google-analytics.com/analytics.js','ga'); ga('create', 'UA-72310761-1', 'auto', {'name': 'pacontentapi'}); ga('pacontentapi.set', 'referrer', location.origin); ga('pacontentapi.set', 'dimension1', 'By PA Reporters'); ga('pacontentapi.set', 'dimension2', '7928c58b-0fdc-4ca7-9ac5-28a1adda6f30'); ga('pacontentapi.set', 'dimension3', 'paservice:news,paservice:news:uk'); ga('pacontentapi.set', 'dimension6', 'story-enriched'); ga('pacontentapi.set', 'dimension7', 'composite'); ga('pacontentapi.set', 'dimension8', null); ga('pacontentapi.set', 'dimension9', null); ga('pacontentapi.send', 'pageview', { 'location': location.href, 'page': (location.pathname + location.search + location.hash), 'title': 'Universities could face fines for failing to protect free speech'});
Read Full Story