Man almost killed by fish prank: It's beyond a lottery win, I'm lucky to be here
A fisherman has spoken of his relief after he almost died during a prank when he swallowed a Dover sole he had just caught.
Sam Quilliam, 28, was trying to "kiss the fish" - a tradition of saying thank you to the catch before returning it to the water - when the 14cm Dover sole wiggled free and jumped down his throat.
As Mr Quilliam collapsed and stopped breathing, his friends desperately tried to revive him and were assisted over the phone with performing CPR by an emergency medical dispatcher until paramedic Matt Harrison arrived and took over.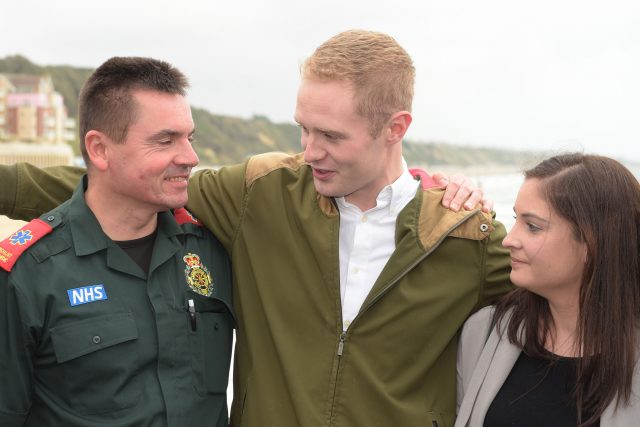 Mr Quilliam said he did not have much memory of the incident which happened on the night of October 5 on Boscombe pier, Bournemouth, Dorset.
"I don't really remember a lot, I just remember Matt telling me how lucky I was at the hospital at the end," he said. "That was about it really. I'm much better now."
Asked how lucky he felt, Mr Quilliam, who was accompanied by his girlfriend Sandra Souto, said: "Beyond winning the lottery, I am lucky to be here with my mates and my family are really grateful to all their great work."
When Mr Harrison arrived at the scene, he realised Mr Quilliam was in a desperate situation, with a blocked airway and was now in cardiac arrest.
Further assessment of Mr Quilliam's airway indicated that despite artificially ventilating him with a bag and mask, his chest remained silent, suggesting that there was total airway occlusion and despite best efforts he was not receiving any oxygen.
Mr Harrison said that re-assessment of the patient inside the ambulance indicated further deterioration of his condition and a decline of cardiac output.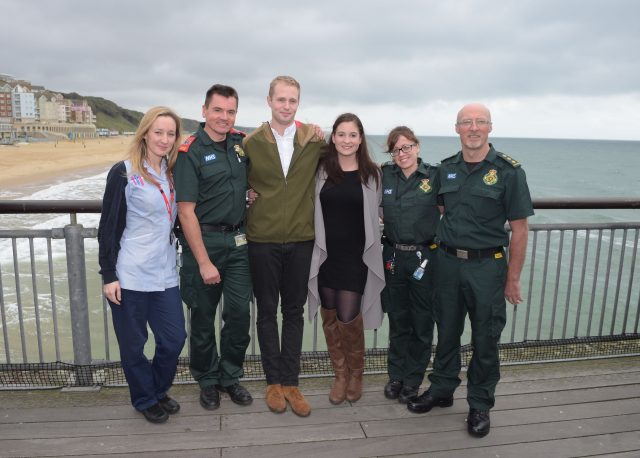 "It was clear that we needed to get the fish out or this patient was not going to survive the short journey to Royal Bournemouth Hospital," he said.
"I used a laryngoscope to fully extend the mouth and throat and saw what appeared like an altered colour of tissue in his throat.
"Using a McGills forceps I was able to eventually dislodge the tip of the tail and very carefully, so as not to break the tail off, I tried to remove it - although the fish's barbs and gills were getting stuck on the way back up.
"I was acutely aware that I only had one attempt at getting this right as if I lost grip or a piece broke off and it slid further out of sight then there was nothing more that we could have done to retrieve the obstruction."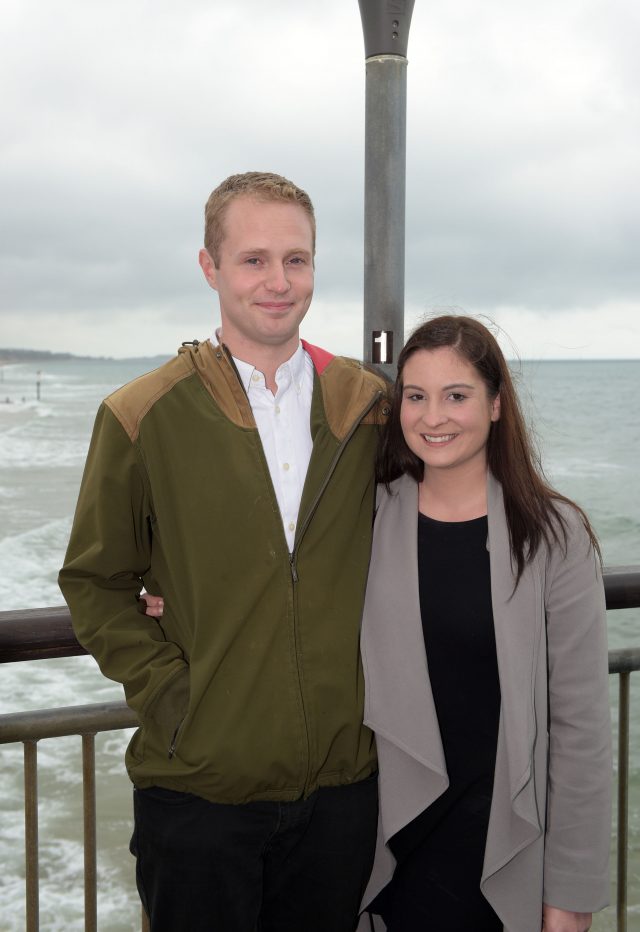 Eventually after six attempts the fish came out in one piece and to our amazement it was a whole Dover sole, measuring approximately 14cm in length.
Mr Harrison added: "I have never attended a more bizarre incident and don't think I ever will - but we're all so glad the patient has no lasting effects from his cardiac arrest, which could so easily have had such a tragic and devastating outcome."
Read Full Story