Chancellor urged to 'stop the productivity rot'
The Government is being urged to take action to stop the UK's productivity "rot" after new figures were published.
The labour productivity figure fell by 0.1% in the second quarter of the year, but was down by 1.3% in manufacturing, said the Office for National Statistics (ONS).
Productivity was 15.1% below the average for the rest of the G7 group of countries last year, a slight improvement from the 15.5% recorded in 2015.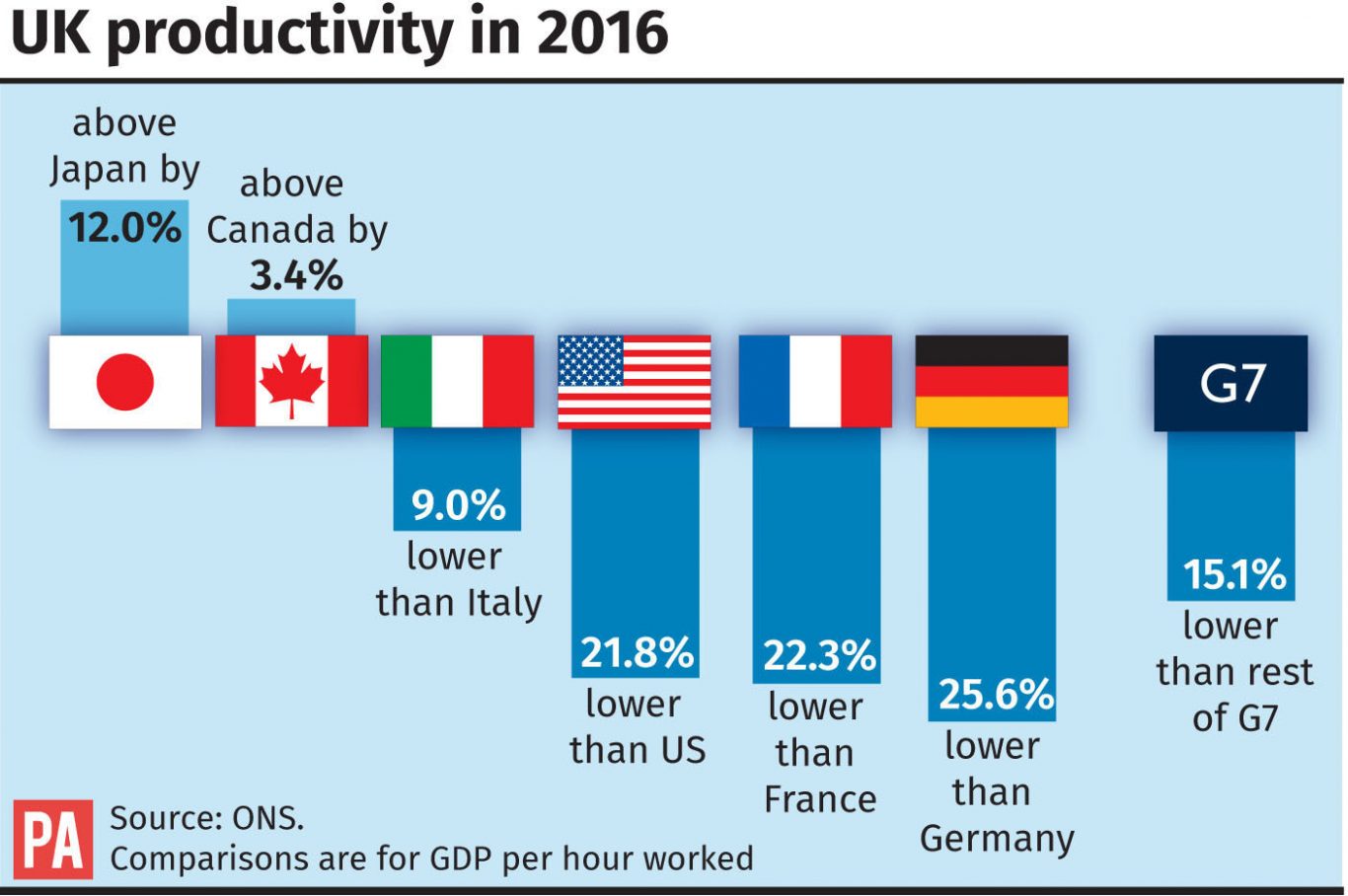 ONS head of productivity Philip Wales said: "Labour productivity fell back slightly in the second quarter as growth in the number of hours worked outstripped GDP growth.
"UK labour productivity continued to lag behind our international partners in 2016.
"New innovative analysis suggests that this lower level of productivity was evident across all industries, although the size of the gap varies considerably.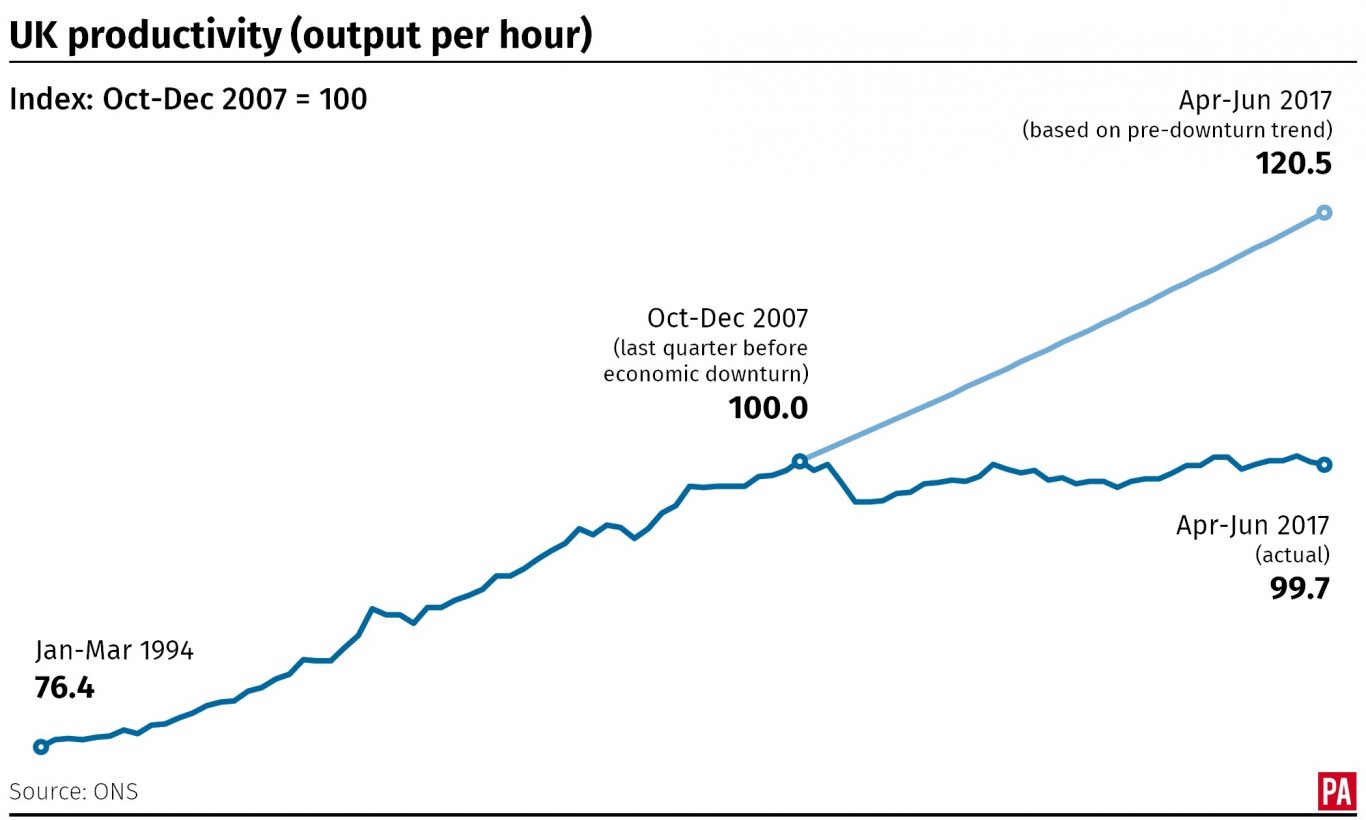 "UK companies in receipt of investment from abroad were significantly more productive than those that were not in 2015, even after controlling for firm size, industry and region.
"However, this may be a reflection that international investment tends to flow into the most successful businesses."
Mike Cherry, chairman of the Federation of Small Businesses, said: "It's troubling to see sluggish productivity serving as such a persistent barrier to UK growth.
"The Chancellor must intervene to stop the productivity rot at the autumn Budget.
"It's particularly striking to see manufacturers, often touted as the great beneficiaries of a weakened pound post-Brexit, seeing such a marked fall in output per hour.
"No doubt spiralling input costs are starting to weigh on the sector.
"The introduction of export vouchers, simplification of R&D tax credits and expansion of the Small Business Research Initiative would provide a much-needed boost to the industry."
(function(i,s,o,g,r,a,m){i['GoogleAnalyticsObject']=r;i[r]=i[r]||function(){ (i[r].q=i[r].q||[]).push(arguments)},i[r].l=1*new Date();a=s.createElement(o), m=s.getElementsByTagName(o)[0];a.async=1;a.src=g;m.parentNode.insertBefore(a,m) })(window,document,'script','//www.google-analytics.com/analytics.js','ga'); ga('create', 'UA-72310761-1', 'auto', {'name': 'pacontentapi'}); ga('pacontentapi.set', 'referrer', location.origin); ga('pacontentapi.set', 'dimension1', 'By PA Reporters'); ga('pacontentapi.set', 'dimension2', 'bd94e8d7-1622-4563-a59b-275d3c170f1f'); ga('pacontentapi.set', 'dimension3', 'paservice:news,paservice:news:uk'); ga('pacontentapi.set', 'dimension6', 'story-enriched'); ga('pacontentapi.set', 'dimension7', 'composite'); ga('pacontentapi.set', 'dimension8', null); ga('pacontentapi.set', 'dimension9', null); ga('pacontentapi.send', 'pageview', { 'location': location.href, 'page': (location.pathname + location.search + location.hash), 'title': 'Chancellor urged to \u2018stop the productivity rot\u2019'});
Read Full Story