William praises 'fantastic' search-and-rescue volunteers as he names new boat
The Duke of Cambridge has praised the "fantastic" work of search-and-rescue volunteers during a trip to Belfast.
The former lifesaving helicopter pilot mixed with dozens of fellow rescuers and named a new boat for the Lagan Search and Rescue Service after watching an exercise at Belfast Harbour.
William said: "It is fantastic what you are doing."
One of the helicopters from the recently-established Northern Ireland Air Ambulance service was parked nearby as the former RAF search-and-rescue pilot chatted with emergency workers.
He clocked up more than two years at the East Anglian Air Ambulance flying medical crews to emergencies.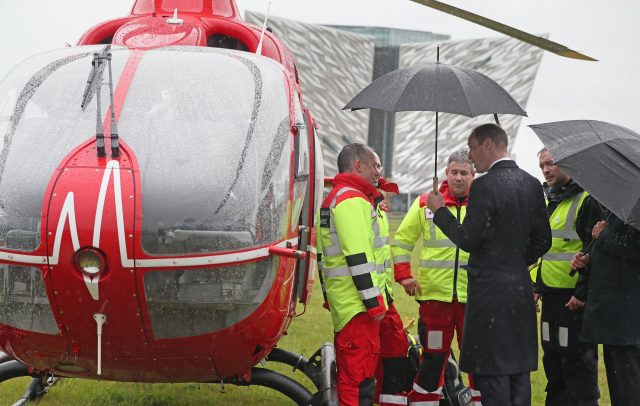 William named the new inflatable-style boat the Ray of Hope, after fundraiser Ray Atkinson who helped raise the money for it - christening it with a dash of Bushmills whiskey.
He earlier watched a demonstration of a rescue in the steel-grey waters of the harbour amid heavy rain.
As he was presented with a bottle of Bushmills he told volunteers: "You guys deserve this after that."
Mr Atkinson, from Edinburgh, runs a project reusing surplus office furniture in Belfast.
Desks and chairs from large companies are sold to dealers and the funds go to good causes.
Lagan Search and Rescue was established in 2012 and has saved more than 50 lives, Mr Atkinson said.
"So now they have the capability of saving twice as many people."
Some have attempted to take their lives in the waters of Belfast Harbour, organiser's of the event said in acknowledging William's work on mental health.
LSR is Belfast's only water rescue charity and received a major boost from the new boat.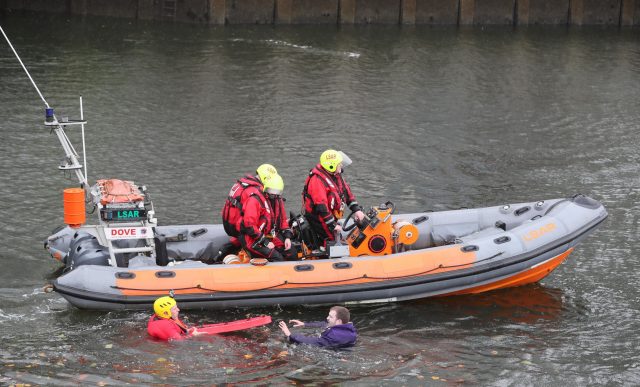 Andrew Hirst, 40, who helps run it, said: "It has been the work of all the volunteers, it has certainly been a group effort."
He said Mr Atkinson had been invaluable.
"He put it to us, there was a lot of left-over redundant furniture and through various discussions we were able to avail of that, sell it on on behalf of the charity to turn it into cash for the charity."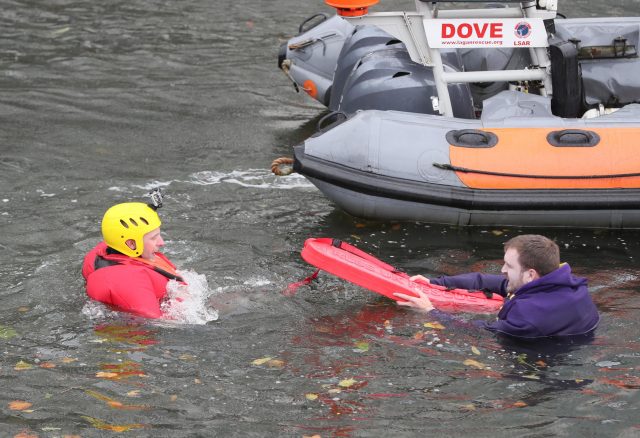 Conor McKenna demonstrated a rescue, swimming strongly to pull a casualty to safety using buoyancy equipment.
He said that William asked about the types of rescue and the hours they put in.
He said he had been out saving lives on many occasions.
"We tried our best to follow our standard operating procedure and that was a scenario where a rescue swimmer would be deployed and then the boat crew was deployed as well."
(function(i,s,o,g,r,a,m){i['GoogleAnalyticsObject']=r;i[r]=i[r]||function(){ (i[r].q=i[r].q||[]).push(arguments)},i[r].l=1*new Date();a=s.createElement(o), m=s.getElementsByTagName(o)[0];a.async=1;a.src=g;m.parentNode.insertBefore(a,m) })(window,document,'script','//www.google-analytics.com/analytics.js','ga'); ga('create', 'UA-72310761-1', 'auto', {'name': 'pacontentapi'}); ga('pacontentapi.set', 'referrer', location.origin); ga('pacontentapi.set', 'dimension1', 'By PA Reporters'); ga('pacontentapi.set', 'dimension2', 'bcf3dc80-b33e-46b0-a67f-32206d3ade6a'); ga('pacontentapi.set', 'dimension3', 'paservice:news,paservice:news:uk'); ga('pacontentapi.set', 'dimension6', 'story-enriched'); ga('pacontentapi.set', 'dimension7', 'composite'); ga('pacontentapi.set', 'dimension8', null); ga('pacontentapi.set', 'dimension9', null); ga('pacontentapi.send', 'pageview', { 'location': location.href, 'page': (location.pathname + location.search + location.hash), 'title': 'William praises \u2018fantastic\u2019 search-and-rescue volunteers as he names new boat'});
Read Full Story