Theresa May to apologise to activists for Tory general election performance
Theresa May has said she plans to say sorry to activists at the Conservatives' annual conference in Manchester for the party's performance in the snap election she called earlier this year.
The apology comes as the Prime Minister launched a bid to target young voters with a tuition fee freeze and a £10 billion boost for first time buyers as she tries to stop Tory tensions over Brexit dominating the gathering.
The move came amid renewed Brexit back-biting after another incendiary intervention by Foreign Secretary Boris Johnson who laid down a raft of red lines for EU withdrawal including an insistence that a transition phase must not last "a second more" than two years.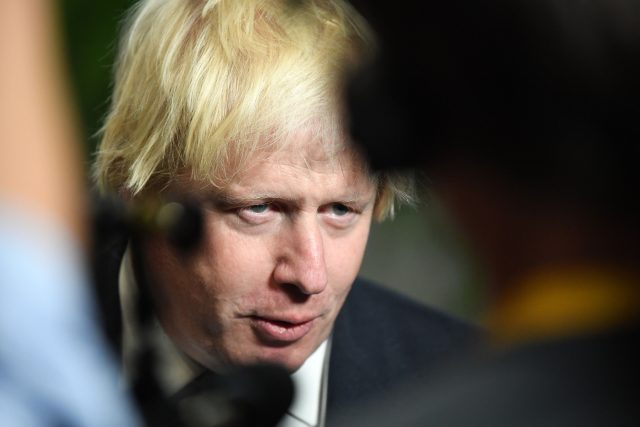 As Conservatives converged on Manchester, the Prime Minister pledged to "look again" at student finance after the party's disastrous general election showing.
Attempting to shift the focus from Brexit to a good news domestic agenda, Mrs May announced that tuition fees will be frozen at the current £9,250 level until 2019, rather than increase with inflation by £250.
She said she would tell activists on Sunday that she takes responsibility for the June 8 election, in which she lost her overall majority in the House of Commons.
"I have been very clear that I called the election, I led the election, I take the responsibility and I am sorry that some very good Members of Parliament lost their seats and some very good candidates didn't gain seats," Mrs May told BBC1's Andrew Marr Show.
"I have spoken to my Members of Parliament and I will be speaking later today to the party activists."
Mrs May said that the message she took from the election was that Tories need to "listen to voters", who appeared to feel "even more keenly" than she had realised the pressures which she identified when she came into power promising to help the "just about managing".
Under Mrs May's plans, the amount graduates can earn before making student loan repayments will also rise from £21,000 to £25,000.
The figure will then increase in line with earnings after next year, with the Tories saying the package will produce a saving of £360 in 2018/19 for graduates earning at least £25,000.
The Foreign Secretary's Brexit demands drew a stern rebuke from former education secretary Nicky Morgan who said people behaving like Mr Johnson have "no place in a responsible government".
Writing in the Independent, Ms Morgan said: "Those who are pushing this agenda have no place in a responsible government - it is a dereliction of their duty to act in the national interest. And it has to stop."
Scottish Conservative leader Ruth Davidson also entered the Tory fray, calling for "serious people" to take charge of the Brexit process.
Mrs May told the Sunday Telegraph: "I will fight the next election. I'm not a quitter, I'm in it for the long term and I believe there is a long-term job to do."
The comments came as the Observer reported that Communities Secretary Sajid Javid declined to reply when asked if Mrs May should lead the Tories into the next election.
Mr Javid laughed when asked the question, then stood up and declared "I think we are out of time," the newspaper said.
(function(i,s,o,g,r,a,m){i['GoogleAnalyticsObject']=r;i[r]=i[r]||function(){ (i[r].q=i[r].q||[]).push(arguments)},i[r].l=1*new Date();a=s.createElement(o), m=s.getElementsByTagName(o)[0];a.async=1;a.src=g;m.parentNode.insertBefore(a,m) })(window,document,'script','//www.google-analytics.com/analytics.js','ga'); ga('create', 'UA-72310761-1', 'auto', {'name': 'pacontentapi'}); ga('pacontentapi.set', 'referrer', location.origin); ga('pacontentapi.set', 'dimension1', 'By PA Reporters'); ga('pacontentapi.set', 'dimension2', '9243f71f-70a9-41b8-8e90-ac30ec958781'); ga('pacontentapi.set', 'dimension3', 'paservice:news,paservice:news:uk'); ga('pacontentapi.set', 'dimension6', 'story-enriched'); ga('pacontentapi.set', 'dimension7', 'composite'); ga('pacontentapi.set', 'dimension8', null); ga('pacontentapi.set', 'dimension9', null); ga('pacontentapi.send', 'pageview', { 'location': location.href, 'page': (location.pathname + location.search + location.hash), 'title': 'Theresa May to apologise to activists for Tory general election performance'});
Read Full Story