Corbyn leads shadow cabinet push through marginal constituencies
Labour leader Jeremy Corbyn is leading a shadow cabinet push through marginal constituencies on Saturday as he accused the Tories of being too weak and divided to rule.
Mr Corbyn and prominent frontbenchers are fanning out across the country in what they call a "day of hope".
The Labour leader, who is visiting the marginal seat of Thurrock, which the Tories held by 345 votes at the June election, insisted his party was ready for government.
He said: "We are campaigning in regions and nations across the UK, setting out our message of hope for the country.
"Labour is ready. Ready to provide hope for young people held back by lack of opportunity, for pensioners anxious about health and social care, for public servants trying to keep services together and for low and middle earners, the self-employed and employed, facing insecurity and squeezed living standards."
Mr Corbyn said the Conservative Party conference would expose a Government divided.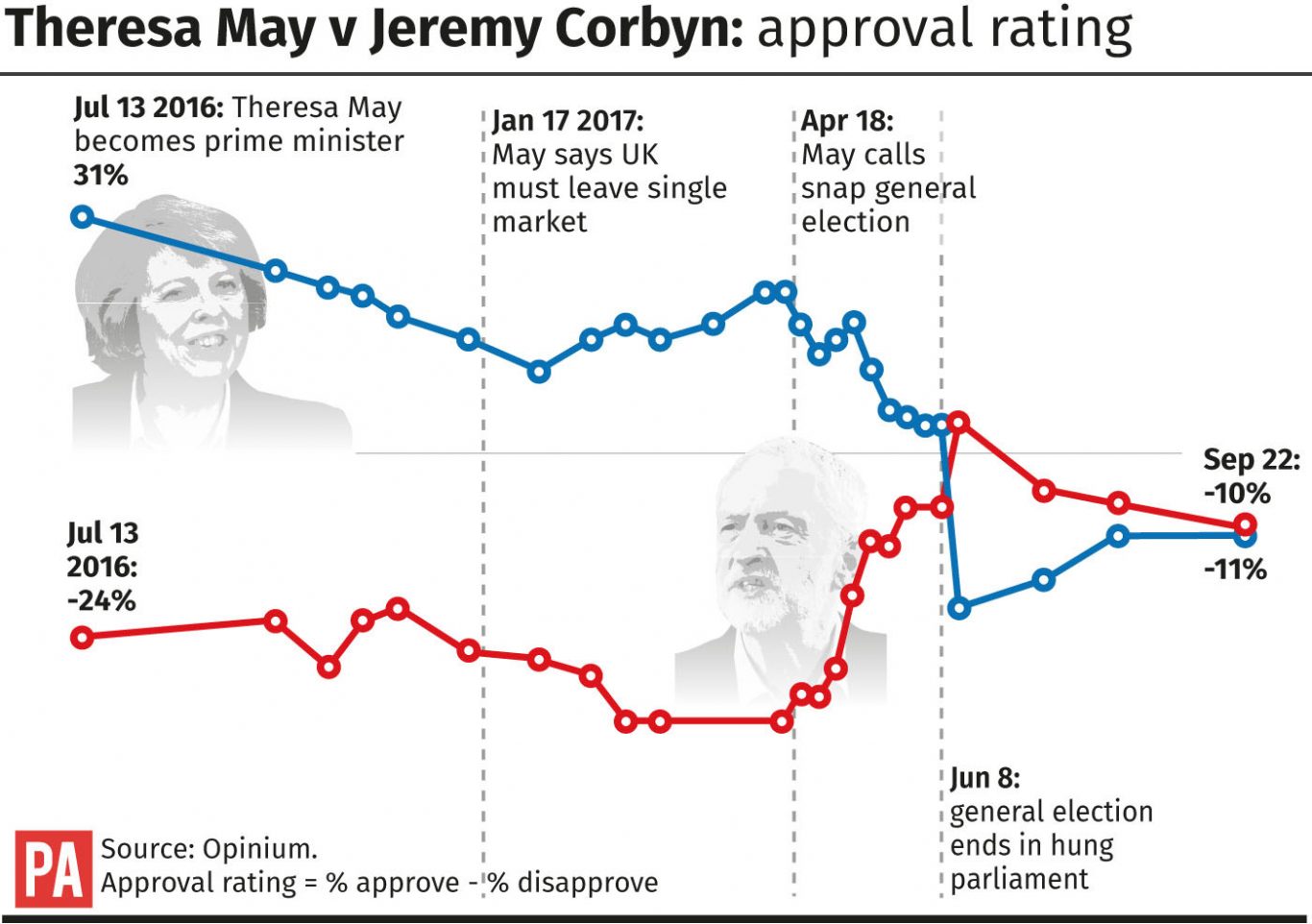 "The Tories will meet tomorrow in Manchester as a weak and divided party, bereft of ideas and energy, too distracted by the squabbling and plotting in their Cabinet of chaos to offer any solutions to the momentous issues facing our country.
"Since the election, they have been forced to U-turn over some of their most damaging policies.
"The cruel dementia tax was scrapped within three days of being announced, their threat to the pensions' triple lock has been abandoned and their plan to end free school meals in primary schools has been binned.
"Labour is offering hope for the real wealth creators - all of us - and winning the arguments for a new common sense about the direction our country should take, one that transfers wealth, power and opportunity to the many from the few."
The vote-drive is happening as Labour called for a post-Grenfell "rescue package" for social housing, including switching £1.1 billion of starter homes funding into social rent.
Labour's shadow housing secretary John Healey said: "The social housing system is on its knees.
"It needs a big adrenaline shot to kick it back into life. The post-Grenfell test for the Prime Minister is what she does, not what she says and if she launches a proper rescue package for social housing, she'll get cross-party backing for it.
"After seven years of failure on housing under the Conservatives, all Government funding for new social-rented homes has been axed, Labour's Decent Homes programme has been scrapped and the voice of tenants has been silenced.
"Theresa May must not use an open-ended review of social housing as an excuse to put off action needed now to help deal with the crisis.
"She should act now: putting funding back into building new genuinely affordable homes and maintaining existing ones."
A Conservative spokesman said: "This smacks of hypocrisy from Labour. Under Labour, and while John Healey was housing minister, house building fell to record lows not seen since the 1920s - particularly social housing.
"This Conservative Government is committed to building and improving all types of housing - including social housing. Which is why we launched our social housing green paper earlier this month."
(function(i,s,o,g,r,a,m){i['GoogleAnalyticsObject']=r;i[r]=i[r]||function(){ (i[r].q=i[r].q||[]).push(arguments)},i[r].l=1*new Date();a=s.createElement(o), m=s.getElementsByTagName(o)[0];a.async=1;a.src=g;m.parentNode.insertBefore(a,m) })(window,document,'script','//www.google-analytics.com/analytics.js','ga'); ga('create', 'UA-72310761-1', 'auto', {'name': 'pacontentapi'}); ga('pacontentapi.set', 'referrer', location.origin); ga('pacontentapi.set', 'dimension1', 'By PA Reporters'); ga('pacontentapi.set', 'dimension2', '0375bff9-69d8-40f4-8e36-3c82ec8f7cff'); ga('pacontentapi.set', 'dimension3', 'paservice:news,paservice:news:uk'); ga('pacontentapi.set', 'dimension6', 'story-enriched'); ga('pacontentapi.set', 'dimension7', 'composite'); ga('pacontentapi.set', 'dimension8', 'paasset:graphic'); ga('pacontentapi.set', 'dimension9', null); ga('pacontentapi.send', 'pageview', { 'location': location.href, 'page': (location.pathname + location.search + location.hash), 'title': 'Corbyn leads shadow cabinet push through marginal constituencies'});
Read Full Story